The Las Vegas Shooting Led This Father To Perform A Selfless Act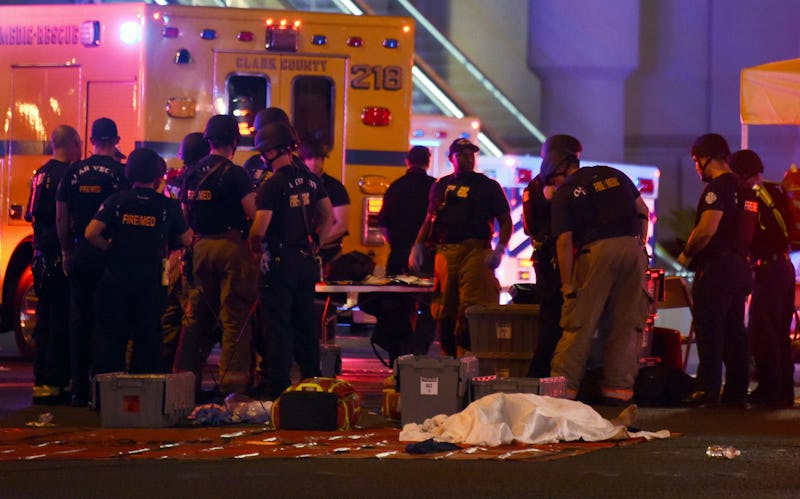 Ethan Miller/Getty Images News/Getty Images
On Oct. 1, in the midst of a country music concert outside of Mandalay Bay Resort and Casino in Las Vegas, a shooter opened fire on concertgoers. The act left over 50 people dead, and more than 400 injured, making it the deadliest mass shooting in United States history.
There are dozens of reports from the crowd, including one from Mike McGarry, a 53-year-old financial adviser from Philadelphia. According to a report from Reuters, McGarry threw himself on top of his children as soon as shots began to fire.
"They're 20. I'm 53," McGarry told Reuters. "I lived a good life."
The Washington Post reported that McGarry had footprints on the back of his shirt, marks from where the crowd stepped over him while he laid atop his children.
McGarry's act is just one of dozens of reports coming from the scene in Las Vegas. As thousands of people tried to flee the scene amidst gunfire, chaos ensued. Many were unsure where the shots were coming from.
"It sounded like a thousand shots," Michelle Leonard told ABC News in a phone interview on Monday. According to the report, Leonard and her friend were forced to step over several dead people in their attempts to leave the scene.
"I turned around and I looked and people just started running," she said. "People were just running and falling and screaming. It sounded like maybe 16 to 20 rounds. I had no idea of where it was coming from or where to run to."
According to The Washington Post, the gunman opened fire on the concert from high in the hotel above. According to police reports, over 22,000 people were at the concert when the shooting began .
"It sounded like fireworks," Steve Smith, a 45-year-old visitor from Phoenix, Arizona, who'd flown in for the concert told Reuters. "Probably 100 shots at a time. It would sound like it was reloading and then it would go again. People were shot and trying to get out. A lot of people were shot."
The shooting took place at the final night of the Route 91 Harvest Festival, a sold-out three-day country music festival that brought in thousands. The first two days of the festival were without incident. Jason Aldean, one of the fetival's top billed performers, posted a message on his social media after the incident.
"Tonight has been beyond horrific," Aldean said in a statement on Instagram. "It hurts my heart that this would happen to anyone who was just coming out to enjoy what should have been a fun night."
Sunday night's shooting adds the Route 91 festival to a growing list of violent attacks at music venues. Back in May in Manchester, a bomb exploded at an Ariana Grande concert, killing 22 people. In November 2015, attackers opened fire at a concert in Paris, leaving 130 people dead.
Here are some ways you can help the victims in Las Vegas.