These 4 Groups Are Most At Risk For Measles, Doctors Say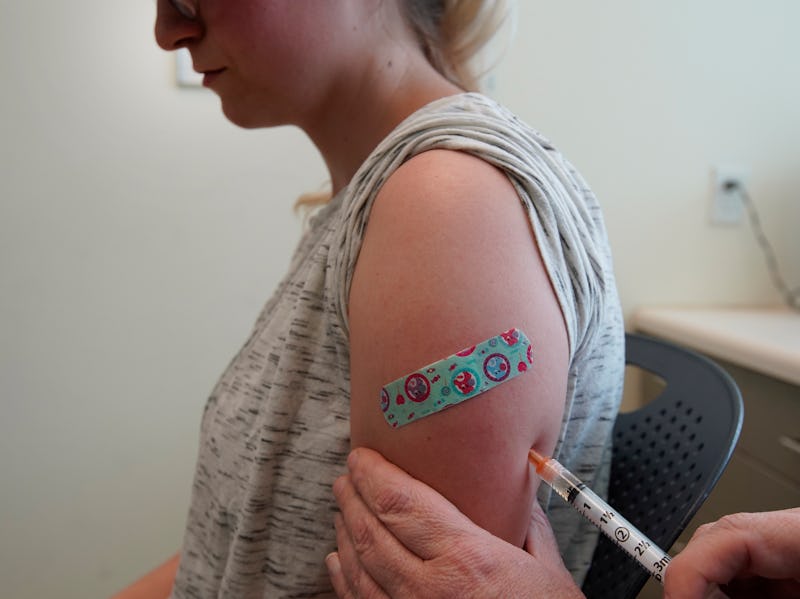 George Frey/Getty Images News/Getty Images
After being declared eradicated in the U.S. in 2000, a measles outbreak has infected over 750 people with the disease in 2019, according to the CDC. Most people will be inoculated against the virus thanks to the measles, mumps, and rubella (MMR) vaccine, which is typically administered in childhood, but the current outbreak is believed to have originated with undervaccinated or nonvaccinated communities. And this lack of herd immunity — when enough people are vaccinated against a disease that it's prevented from spreading — puts these groups of people most at risk for measles: young children, unvaccinated travelers, pregnant people, and immunocompromised folks.
Measles is very contagious, and it can be dangerous. "Any droplets or airborne exposure to someone with the first symptoms of measles can lead to an infection in the non-immune (non-vaccinated) person. This can happen even up to two hours after the patient with measles has left the same room," Dr. Julie E. Mangino MD, FSHEA, FIDSA, Professor Emeritus at the Ohio State University Department of Internal Medicine, tells Bustle. "About one in four cases with measles will require hospitalization and up to one in three cases can experience one or more complications," Dr. Mangino says, including diarrhea, pneumonia, encephalitis, or for pregnant people, premature labor, low birth weight, or miscarriage.
If you or someone you love is at risk of contracting measles, practice good hygiene and stay home if you think you might be exposed to measles in your community.