Mr. Poe In 'ASOUE' Is Frustratingly Perfect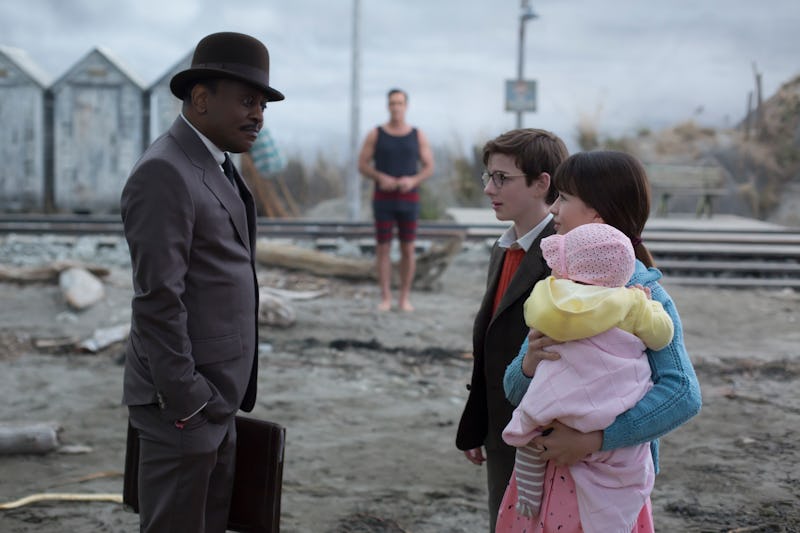 Joe Lederer/Netflix
As infuriating as his character is, Mr. Poe in A Series of Unfortunate Events is essential to the misfortunes that plague the Baudelaire orphans — Violet, Klaus, and Sunny. If you embark on the Netflix series based on the books, then you'll be introduced fairly quickly to the latest actor to play Mr. Poe in A Series of Unfortunate Events. Timothy Spall portrayed the easily deceived character in the 2004 movie with Jim Carrey, but K. Todd Freeman is Mr. Poe in the Netflix series — and he plays the coughing character to pure perfection.
While Neil Patrick Harris' Count Olaf is made to be a scene stealer, Freeman is still a standout in the Netflix series. Like his costar Harris, Freeman is a Tony-nominated actor for his roles in the plays The Song of Jacob Zulu in 1993 and Airline Highway in 2016. (Harris won in 2014 for his turn in the musical Hedwig and the Angry Inch.) Freeman has also portrayed Dr. Dillamond on Broadway in the musical Wicked, was Mr. Trick in the TV show Buffy the Vampire Slayer, and has been in movies like Grosse Pointe Blank, The Cider House Rules, and The Dark Knight in supporting roles.
In A Series of Unfortunate Events, Freeman plays the frustratingly naive banker from Mulctuary Money Management. Arthur Poe is a reoccuring character throughout the book series — and thus, Season 1 of the Netflix adaptation — and he is the person to tell Violet, Klaus, and Sunny Baudelaire that their parents have perished in a terrible fire. (He makes sure to tell the highly intelligent children that, "Perished means killed.")
Through his position at the bank, the particular Mr. Poe is in charge of placing the orphans into the care of new guardians. While he is quite unsympathetic and motivated by his own self-interest since he is fueled by his desire to be promoted, he does eventually want to protect Violet, Klaus, and Sunny from Count Olaf once he realizes their new guardian is evil. Unfortunately for these unfortunate children though, Mr. Poe is continuously conned by Count Olaf and fooled by his numerous disguises. One of the only good things you can say about Mr. Poe is that at least he's not as completely awful as his wife.
Although Mr. Poe's outrageous bumbling almost always negatively affects Violet, Klaus, and Sunny, Freeman is simultaneously exasperating and hilarious in the role, which means his performance is thoroughly enjoyable in Netflix's A Series of Unfortunate Events if you are anyone but the Baudelaires.