Meet Natasia Demetriou, One Half Of The Sibling Comedy Duo Behind 'Stath Lets Flats'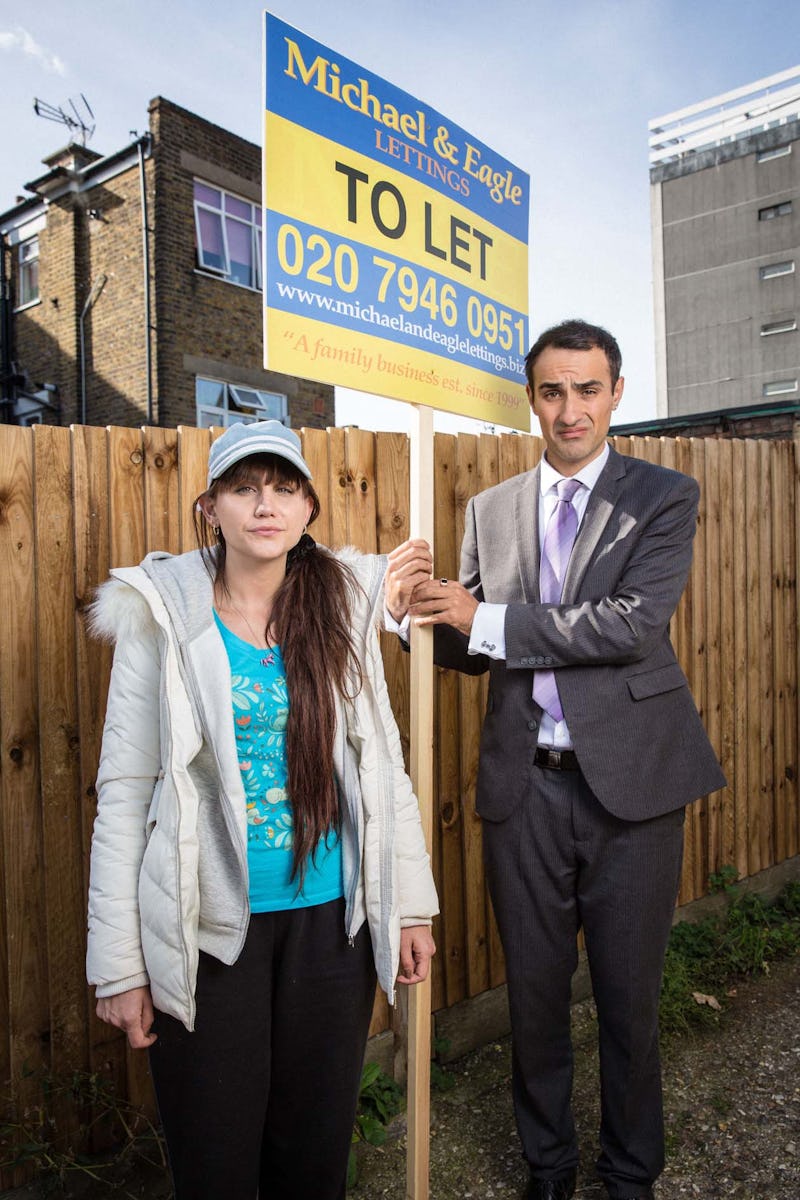 Channel 4
Channel 4 is known for its incredible ability to churn out shows that keep the nation giggling. The comedy department in particular has supplied us with absolute comedy greats like Father Ted, The I.T. Crowd, and Smack The Pony, as well as more recent and just as hilarious offerings like Catastrophe, Peep Show, and Stath Lets Flats. It's the latter that has brought to the fore some new and exciting talent. And the show's creator Jamie Demetriou, playing title character Stath, has cast his real-life sister as his on-screen sister, Sophie. But who is Natasia Demetriou, and what more should you know about her?
First off, she stars, as I previously said, in C4's hit show Stath Rents Flats. This comedy gem does something that we all love doing: takes the Mickey out of estate agents (disclaimer, no estate agents were harmed in the making of this show). Playing up to their north London, Greek-Cypriot roots, the Demetrious play Stath and his sister Sophie, who are gearing up to take over the family estate agent business. And, you guessed it, they are not so good at it. However, the characters are painfully believable.
This show has that sort of funny–cuz–it–could–be–true element, which always makes a show great. Watching the characters describe insanely over-priced flats that are in appalling nick is basically the constant pain of modern existence, making it relatable and funny. Demetriou plays the gormless Sophie, an adorable twit who is not-so-secretly enamoured with one of the lads in the office. And her sidesplittingly funny portrayal on this show left me wondering, who is she and why don't I know her yet?!
Demetriou has been working as a comedian and actor for quite some time. As the Guardian reports, she studied acting at Leeds University, where she appeared in a sketch group called Oyster Eyes. In 2014, she took her debut solo show to the Edinburgh Fringe, where she won the Skinny Debutant Award. She was also a member of the critically lauded Invisible Dot comedy group, where she appeared in various stage productions. She's also had parts in Sky One's Sick Note, starring Rupert Grint, and in BBC 2's Morgana Robinson's The Agency.
But she is probably best know for her work with fellow comedian and actor Ellie White. You may well recognise White from other C4 smash hit The Windsors, in which she plays a pretty excellent version of princess Beatrice. The very brilliant comedy duo even managed to live out most comedians' dreams and get a flipping sketch show commissioned for BBC3. Hell yes for women in comedy. I can assure you it's an uphill battle that they are bloomin' smashing right now. I will for sure be tuning into Tash And Ellie and you better had too.
Apart from all this, she also stars in the TV version of comedy cult classic Kiwi film, What We Do In The Shadows, which features legend Matt Berry as the lead.
And it's not just the small screen that Demetriou has conquered. Oh no. In summer of 2018as she is due to appear as one of the main characters in The Festival. This film comes from Iain Morris, one of the creators of another British comedy classic, The Inbetweeners. It is the story of mates going to a festival and all the ups and downs of your average camping experience.
With more talent and potential than you could shake a comedy stick at, I am absolutely sure, nay positive, that we are going to be seeing a load more of Natasia Demetriou on our screens, so get ready for giggles y'all.
Stath Lets Flats season 2 is on Channel 4 on Mondays at 10 p.m.