Everything 'Game Of Thrones' Fans Need To Know About Nikolaj Coster-Waldau's Wife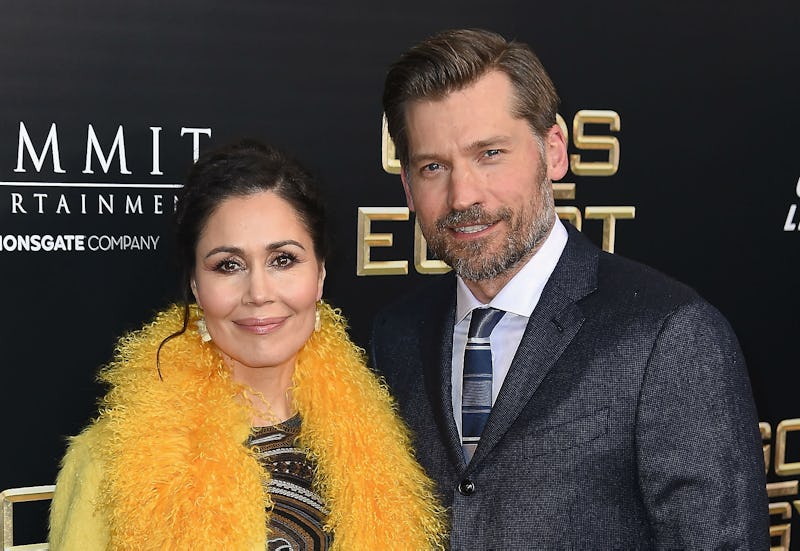 Nicholas Hunt/Getty Images Entertainment/Getty Images
First thing's first: He is not, in fact, in a twisted, long-term relationship with his sister, à la the character he plays on Game of Thrones, Jaime Lannister. So if you've been wondering who Nikolaj Coster-Waldau's wife is, just rest assured knowing that in this case, art does not imitate life. Coster-Waldau has been married to his wife, Nukaaka, for more than twenty years. Nukaaka has long-been a star in her own right, and earned success as a global pageant queen before becoming an actor and singer.
Both Mr. and Mrs. Coster-Waldau hail from Greenland, which is where Nukaaka was first crowned a queen — a pageant queen, that is — back in 1990. Nukaaka (who was going by Sascha Nukâka Motzfeldt at the time) won Miss Greenland that year, and went on to represent her country in the Miss Universe pageant as well.
Even though she placed 19th in the global competition, her ranking in 1990 marked an important milestone. Nineteenth place was the highest Greenland had ever achieved in Miss Universe, and is a record Nukaaka still holds for the country today, according to Missology.org. To be fair, Greenland stopped participating in international beauty pageants in 1992, according to the same website, but it's still a pretty big accomplishment.
Since then, Nukaaka has gone on to have a career as a singer and an actor, but she and her husband don't exactly trade notes on their shared profession. During an interview on The Tonight Show Starring Jimmy Fallon in 2017, Nikolaj told the host that Nukaaka has yet to watch a single episode of Game of Thrones.
"When you know someone really well, it becomes a little ridiculous to see them pretending to be someone else," he admitted to Fallon. "I mean, what we do is quite a silly thing."
Of course, the couple has managed to find plenty of other things to enjoy together over the last two decades — like, um, in the bedroom. Back in 2014, when Cosmopolitan asked Nikolaj for the secret to a happy marriage, the actor replied, "You have to like each other — that's a good start. And of course, you have to stay physical together," he said. "But you also have to be able to laugh. If you can't have fun, then there's no point."
The publication also asked him to reveal the most romantic thing his wife had ever done, to which he quipped, "A lot of things I wouldn't want in print, so let's just leave it at that!" Oh. *Blushes* Alrighty then.
Speaking of romantic, during an interview with InStyle in 2014, Nikolaj told the publication that — for him — it was love at first sight with his wife. "I think it took longer for her," he admitted. "I wore her down. I was just crazy in love." Swoon.
The couple has two daughters together, and are clearly still "crazy in love" today — in a good way, though. A healthy way. Definitely not in the way of like, Jaime and Cersei Lannister. They're Nikolaj and Nukaaka, and it seems like they're pretty much meant to be.