Nikolaj Coster-Waldau Hints At Cersei & Jaime's Future, & Fans Are Gonna Be Pissed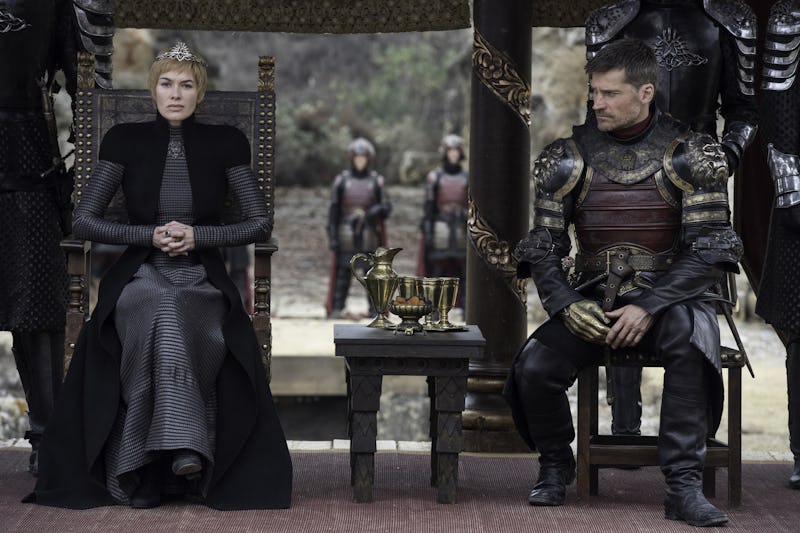 Macall B. Polay/HBO
With just about a year to go before the final season of Game Of Thrones premieres, fans are trying their hardest to get any clues about how it might end. Now, thanks to Nikolaj Coster-Waldau, they're getting one very important clue about a possible Cersei and Jaime reunion in GoT Season 8 that might mark the end for the Kingslayer. Yes, Cersei might be the death of Jaime, which might not be all that surprising, but is certainly still heartbreaking.
In an interview with Vanity Fair, Coster-Waldau talked about how when fans last saw Jaime in Season 7, he was relinquishing his job as his sister/lover's righthand man after she chose to go back on a truce with Jon Snow, Daenerys, and her brother Tyrion to take down the White Walkers before they take over the Seven Kingdoms. She chose power, deciding that saving her place on the Iron Throne was more important than saving humanity, something Jaime couldn't get on board with.
"I knew that I was leaving at the very end," Coster-Waldau said of Jaime decision to get out of King's Landing. "That was great, because then you know. . . . She's actually almost ready to kill him, it seems for a second, and that breaks his heart, because his whole life has been about her."
While many are asking whether Jaime will die in the final season, Coster-Waldau implied to Vanity Fair that Jaime has already experienced something worse than death: a broken heart. In that pivotal Cersei-Jaime scene in the Season 7 finale, Cersei she threatens to kill him only to have him say "I don't believe you." In Coster-Waldau's opinion, what he's really saying is something far sadder: "I don't love you anymore."
Of course, this was said in a vulnerable moment, during a huge fight, and Coster-Waldau hinted that Jaime's opinions might change once he goes out into the world without Cersei. The actor even compared his character's lover's quarrel with his twin sister to fighting with his own wife of 20 years. "You can be so angry that for a second in your passion and anger you can go, 'Oh, f*ck this,'" he said. "Of course, three seconds later, you go, 'No, no, no. What am I doing? What am I thinking?'"
Coster-Waldau's point that Jaime might not be able to stay away from Cersei for too long shouldn't be ignored. While many cheered at the image of Jaime finally leaving his sister, it's still very possible that he'll get sucked back into this toxic relationship. As Coster-Waldau notes, one of the main questions driving Jaime's final season arc is "Can we redefine ourselves?" In other words, can Jaime really break free of Cersei? "The core of him has always been Cersei," Coster-Waldau explained. "When that's taken away, what are you then? What's left? Is there anything left? When he leaves, obviously he has no idea. He doesn't know the answer to that question."
No surprise, Coster-Waldau wasn't going to say whether Jaime goes back to Cersei or not, but he did reveal that he was satisfied with the ending. "The boys have done an amazing job with ending Game of Thrones," he told Vanity Fair. "It's definitely been the toughest season — by far — that we've shot, ever. But it's also been the most fulfilling."
The theories for Game Of Thrones' final season have Jaime and Cersei closely linked, with some believing he'll take her life or she'll end up taking his. And, let's be honest, it's unlikely that Jaime will get a happy ending either way. After all, this is a show that has already teased that basically all of its characters will die in the end, and it's a spoiler to no one. Worse, though, may be knowing that Jaime will get away from the clutches of his sister only to die without getting a chance to find himself.