Olivia Colman's First Ever TV Role Will Have You Feeling SO Nostalgic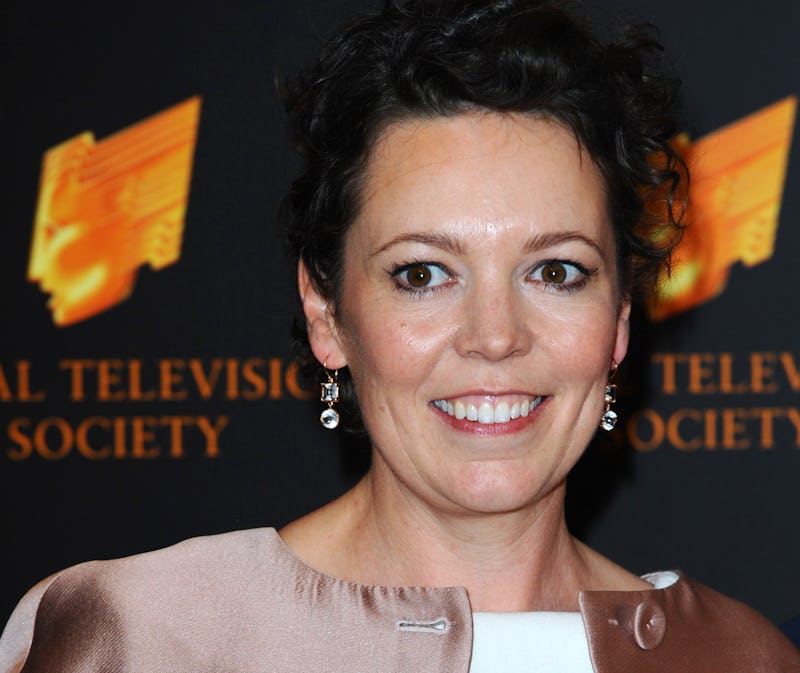 Anthony Harvey/Getty Images Entertainment/Getty Images
You may know Olivia Colman as the forthcoming replacement of Claire Foy as Queen Elizabeth on Netflix's The Crown. But in all honesty, she was a megastar long before landing the role of Her Majesty. Broadchurch, Peep Show, Flowers, and The Night Manager are just a few of the strings on her bow. And now, she's taking part in Who Do You Think You Are on Monday night. Personally, I for one want to know who is Olivia Colman? And, you know, what is her general history? By the looks of things, the answer may be complicated.
In a preview for the BBC series, Colman shows the world that she herself isn't totally clued up when it comes to, well, herself. During the episode, she discovers for the first time that she has Indian heritage. She tells the cameras on the show: "My great-great-great-grandmother is Indian! This is so exciting! I'm much more interesting than I thought I was." And that's not the only revelation fans will learn, as Colman offers a glimpse into the real her in the episode. She admits: "I'm the least adventurous person I know. I don't really go out. I like to be at home in my pyjamas, with my family. Maybe that will change."
If, like me, you find yourself in the position of being a willing Olivia Colman stan without all that much knowledge of the future (TV) monarch herself, here's a little debrief on everything you should probably already know about her.
Where was Olivia Colman born & how old is she?
Sarah Caroline Olivia Colman — that's right, her first name isn't even Olivia — was born in Norwich on January 30, 1974. I'm sure viewers will learn more about Colman's birth and childhood during Monday's episode of Who Do You Think You Are, but according to my very basic mathematic calculations, this means the actress is currently 44-years-old.
Why is she so very familiar?
Olivia Colman has become a pretty famous face over the past two decades. But her television and film debut came in 2000, when she featured in comedy sketch show Bruiser. The series certainly wasn't shy of talent — with David Mitchell, Robert Webb, and Hollywood actor Martin Freeman all involved. From there, Colman secured a series of non-recurring roles in a number of TV shows including People Like Us, Holby City, and The Office UK. Oh and she also appeared in films such as Hot Fuzz and Confetti.
Despite working an awful lot during the early noughties, it wasn't until she was offered the role of Sophie Chapman in Peep Show that Colman really had her big break. During this period, she also starred in Olympics satire Twenty Twelve, Rev and That Mitchell and Webb Look.
But, what about Broadchurch?
There's no Olivia Colman explainer without including ITV drama Broadchurch. Colman joined the cast as D.S Ellie Miller in 2013, and — alongside David Tennant — starred as the detective solving shocking crimes in the normally quiet seaside town. The role won her a BAFTA (which I'll recap below) and catapulted her onto the world stage. Since her gig ended, Colman has gone on to star in the likes of BBC One's The Night Manager, Kenneth Branagh's 2017 adaptation of Agatha Christie's Murder on the Orient Express, and who can forget her winning role as the artistic but douche-y step mother in Fleabag?
How successful is her acting career?
To be brief, very. Since beginning her onscreen acting career in 2000, Colman has gone on to win three BAFTA awards (two for her Twenty Twenty role and one for Broadchurch), as well as three BIFA awards and one Golden Globe (for her role as Angela Burr in The Night Manager). With her next role lined up as Queen Elizabeth in The Crown — for which, Claire Foy was nominated for an Emmy — it looks like there's more where those gongs came from.
Is Colman married?
She's totally married. Indeed, Colman tied the knot with her fellow Cambridge University graduate Ed Sinclair in 2001 and the pair have since had three children.
Right, that's all your getting from me. If you want to know even more about Colman, be sure to check out Who Do You Think You Are later on.
Who Do You Think You Are with Olivia Colman airs on Monday at 9 p.m. on BBC One.