ITV's New Lead Actor Counts Harry Styles & Steven Spielberg As Former Colleagues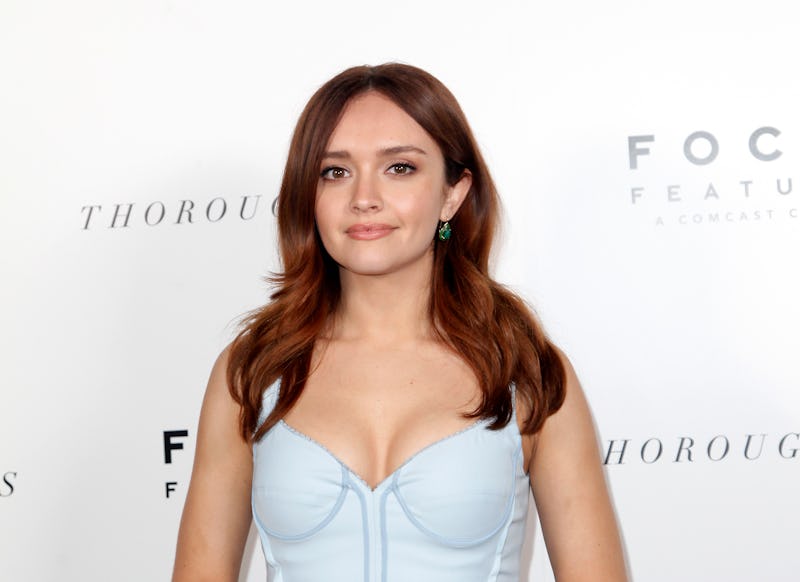 Tibrina Hobson/Getty Images Entertainment/Getty Images
Olivia Cooke has been the name on everyone's lips for a long while now. And for good reason: she has impressive acting chops. She's set to lead what will surely be the this autumn's most talked about new television show Vanity Fair, she's the star of the latest Steven Spielberg blockbuster Ready Player One, and is a cast member of one of the most controversial films in recent times, Thoroughbreds. Yep, she's certainly smashing it. But just who is Olivia Cooke?
Well, she is perhaps most famous for appearing in one of Netflix's hottest hits, Bates Motel. This pitch black series offered an unusual premise, as it was a prequel to the 1960 cult Hitchcock horror film Psycho — albeit a prequel set in modern times. The series saw the two most nefarious characters from the film, Norma and Norman Bates, moving to the fictional town of White Pine Bay, Oregon, to run a motel — following the death of Norma's husband (Norma being the elusive "mother"). Cooke plays the best friend of Psycho-in-the-making Norman Cooke. The show ran for five series, and Cooke was praised for her thoughtful depiction of the character, with The AV Club saying she was an "engaging ray of sunlight that can cut through the ennui and dramatics." Not bad, eh?
Cooke admits she didn't have that hard a job getting the role, either. "So, I just put myself on tape for it and sent it off," she told Collider in 2013. "And then, two weeks later, they were like, 'We've put a pin in you.' I was like, 'Really? I just sent a tape off for you. Are you sure?! You're not going to screen test me?' After that, I got the role and I was like, 'Are you sure? You've only seen the tape.'"
The British actress is from Oldham in Greater Manchester, where she was involved with a local drama group, the Oldham Theatre Workshop, before signing with a small Manchester agency, after landing a few theatre productions and a small BBC role, according to Interview. She then landed a role in the One Direction tour video Autumn Term, in which she got a piggyback from Harry Styles no less, before being cast in Bates Motel at the age of 18, then in The Quiet Ones, according to the Chicago Sun Times. And that was when things started getting super exciting for the Lancashire actress.
In 2014, Cooke landed a role in the indie breakthrough film Me, Earl And The Dying Girl, playing the character of Rachel — a highschool girl with leukemia, befriended by the quirky and somewhat awkward Greg (played by Thomas Mann). The film follows their unlikely friendship, and the deterioration of Rachel's condition. Rolling Stone said, based on the performances of Cooke and Mann, that they "deserve to be stars of tomorrow", in a review of the film.
Cooke then went on to star in British horror-mystery The Limehouse Golem and the independent film Katie Says Goodbye. But it was her next film that garnered the most attention: Thoroughbreds. This widely-praised dark comedy (Empire called it a "devilishly delight" and The Guardian said it was "elegantly twisted") is about two rich, upper-class high school students, plotting to kill one of their fathers. Cooke played the sociopathic Amanda. "I don't have any feelings ever," Amanda tells her friend Lily (Anya Taylor-Joy) in the film. "And that doesn't necessarily make me a bad person. Just means I have to work a little harder to be good."
It was her most recent film that finally launched her into mega-stardom though, the much-hyped and critically acclaimed film Ready Player One. Adapted by Steven Spielberg from the cult novel-of-the-same name, this film is set in a virtual reality world, in which the protagonist Parzival (Tye Sheridan) and Art3mis (played by Cooke), attempts to find "Easter eggs" within the virtual world in order to win the quest and take control of this universe.
In a recent interview, Cooke admitted to being a fan of Spielberg's, and said it was important to try and not get too star-struck when working with the renowned director, instead just getting on with the business of acting. "I've seen nearly all his movies and I grew up watching him," she told Collider earlier this year, "I had to forget all of that, and then try to do some vulnerable acting stuff."
So what's next for this emerging starlet? Well, she is set to appear in a film made by the creators of This Is Us titled Life Itself, and can be seen in the short teaser trailer. Of course she will also star in the much-anticipated Vanity Fair TV adaptation on ITV. But beyond this, well, I predict massive things.