Here's Who Is & Isn't Paid During A Partial Government Shutdown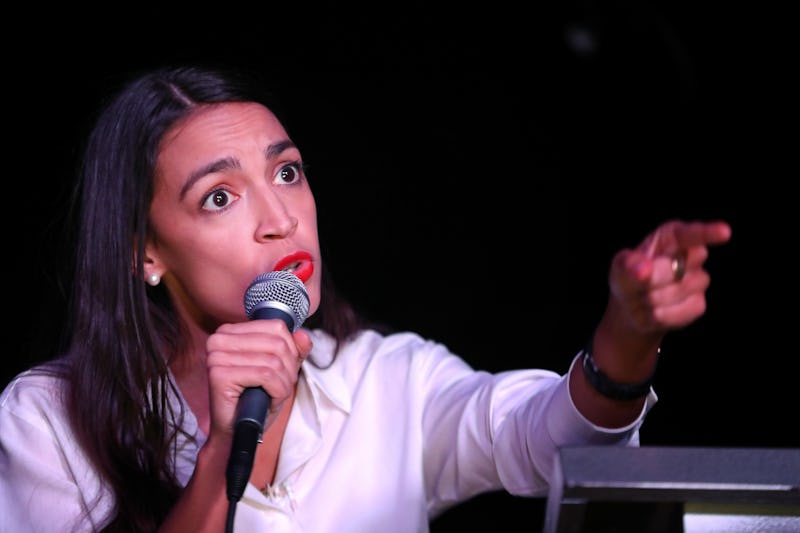 Rick Loomis/Getty Images News/Getty Images
The House and Senate failed to reach an agreement for a short-term spending bill as President Donald Trump demanded border wall funding. So now the government is partially shut down, and who is paid during a government shutdown becomes a bit complicated as the country heads into the holidays.
The shutdown is a partial government shutdown, so if you're an hourly governmental worker, it's possible you're not being paid this holiday. But if you're the president or a member of Congress, your salary is fine. That's because, according to The Washington Post, congressional salaries are funded under an already-passed spending bill. According to The Washington Post, about 75 percent of the government's funding is already in place.
New York Rep.-elect Alexandria Ocasio-Cortez tweeted that it's "completely unacceptable" that Congressional salaries are exempt from a partial shutdown. "Next time we have a gov shutdown, Congressional salaries should be furloughed as well. It's completely unacceptable that members of Congress can force a government shutdown on partisan lines & then have Congressional salaries exempt from that decision," Ocasio-Cortez tweeted. "Have some integrity."
Among the agencies affected by the partial government shutdown are: the State, Agriculture, Interior, Treasury, Justice, Commerce, Homeland Security, Transportation, and Housing and Urban Development departments as well as the Environmental Protection Agency, and a number of smaller independent agencies, according to The Washington Post.
Government Executive, a daily news organization that covers the daily business of American government, estimated in mid-December that the furlough would affect about 345,000 of the 850,000 people who are employed by these agencies. Furthermore, employees who must work under an affected agency during a shutdown (such as the Transportation and Safety Administration) are working without pay until a funding deal is reached.
If an employee is furloughed, they aren't guaranteed pay for that time, according to Government Executive. However, on Friday, the Senate passed a bill that would mean these workers receive backpay when the government does reopen.
Ocasio-Cortez isn't the only member of Congress displeased with the fact that Congressional salaries are still being paid during the shutdown. Nevada Democratic Sen. Catherine Cortez Masto tweeted on Friday night that she would again be donating her salary during the shutdown. (Cortez Masto also donated her salary during the January 2018 government shutdown.)
"I cannot take a salary during a government shutdown knowing that so many federal workers in Nevada and across the country will go without pay," Cortez Masto tweeted shortly after the shutdown began at midnight. "I'll be donating my salary to a Nevada charity for every day of the Trump shutdown."
Numerous congresspersons and senators donated their salaries during the January shutdown, according to CNN. Reps. John Delaney of Maryland, Rick Allen of Georgia, and Mia Love of Utah also donated their salaries during the January closure.
In late January 2018, a bill was introduced in the Senate by 10 Democrats to withhold congressional paychecks during government shutdowns as well as a companion bill in the House of Representatives, according to the Federal News Network.
"It's wrong that members of Congress would still get paid in the event of a shutdown while paychecks for members of our military could be disrupted. This bill ensures members of Congress will not get paid and another bill I have cosponsored makes sure our troops will," Sen. Debbie Stabenow said in a statement in January. "Even if these bills do not pass, I will donate my salary for every single day a shutdown occurs." The bill never made it out of the Senate.