How Paul De Gelder Went From Shark Attack Victim To Shark Advocate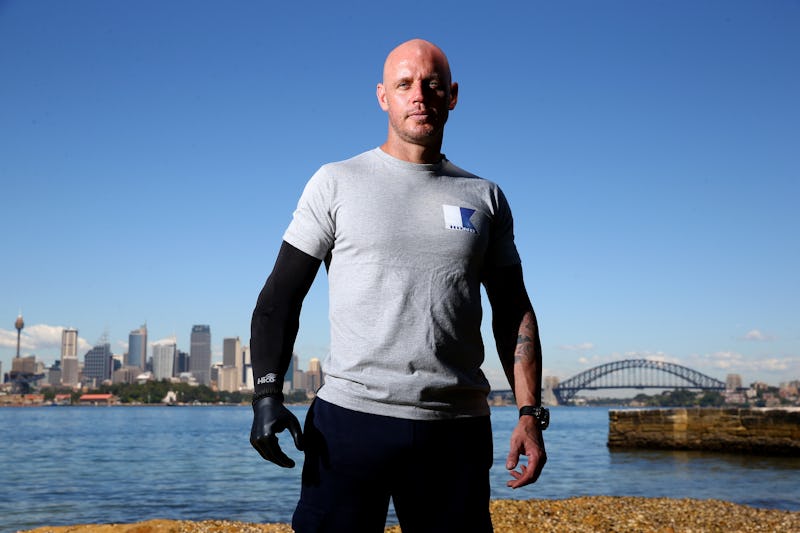 Cameron Spencer/Getty Images News/Getty Images
Shark Week has some repeat customers in the form of celebrities, scientists, and shark experts when it comes to its annual summer programming. Yet, not every Shark Week contributor can say that they've come face-to-face with a shark and lived to tell the tale like shark attack survivor Paul de Gelder. The Australian Navy diver-turned-motivational speaker has been involved in Shark Week since 2013 when de Gelder was featured in I Escaped Jaws. Since then, he has appeared in the shark-themed week as a guest on programs like Shark After Dark and as a host of other Shark Week specials. So if you're invested in all things shark during Discovery Channel's Shark Week 2017, you'll want to get acquainted with de Gelder and his amazing survival story.
If you continued watching Shark Week after Michael Phelps' race against a great white shark on July 23, you'll have seen de Gelder in Shark-Croc Showdown. As the host of the show, he traveled with Dr. Mark Meekan to a remote part of Australia where 14-foot salt water crocodiles have joined sharks in the ocean. He's also in Return to the Isle of Jaws, airing on Monday, July 24 at 9 p.m. ET, where he'll get back in shark-infested waters to investigate why a high number of male sharks gather near the same island every year. On why you should watch this special, de Gelder told Entertainment Weekly, "Well, for starters, how many times have you witnessed a shark-attack survivor swim with great whites without the safety of a cage?"
The fact that de Gelder has continued to work with sharks in the water shows how fearless he is since his shark attack story is many people's worst nightmare. According to his website, de Gelder was a paratrooper in the Australian Army before becoming a Navy clearance diver as part of the elite diving unit of the Royal Australian Navy. While doing a counter-terrorism exercise in Sydney Harbor in 2009, de Gelder was attacked by a bull shark. As he has described for numerous outlets and in his book No Time for Fear: How a Shark Attack Survivor Beat the Odds, the shark bit off his right hand and the back of his right thigh. He lost both limbs and now has a prosthetic hand and leg.
Yet, his horrifying experience hasn't stopped him from entering shark-infested waters again. As he wrote for Huffington Post, "Some people asked me if I wasn't afraid that I'd be attacked again by a shark, but I'm not. I'd have to be pretty unlucky to be attacked again, and likely as not the next shark will get a mouthful of a prosthetic. I've even spoken at the United Nations in favour of shark conservation."
His advocating for sharks as an environmentalist is actually something that happened after his attack. In an interview with People about his 2014 Shark Week special, Great White Matrix, with underwater cameraman Andy Casagrande, de Gelder explained that before the attack, he was "petrified of sharks." Afterwards, Pew Charitable Trusts asked him to speak to the U.N. on behalf of the fish and though initially he was more excited about a free trip to New York City, he ended up becoming an advocate for the very animal that almost killed him. As he said to People:
"But when they gave me the paperwork and the things I need to know about, I started to realize how important they are to the ocean, how essential they are to the ecosystems. They keep they oceans healthy. So I jumped on board and just continued to learn more and more. Now, it's at the point where my name is affiliated with sharks and Shark Week. I get my own show to host with Andy [Casagrande]. The sharks and I have become quite good friends."
As his website states, De Gelder left the Navy full-time in 2012, but trained Navy divers for another three years. He continues to be a motivational speaker and environmentalist and you can be inspired by him during 2017's Shark Week — and his sense of adventure and conservationism just might make you want to protect sharks too.