Why Busy Philipps Is Prouder Than Ever Of Her BFF & 'I Feel Pretty' Co-star Michelle Williams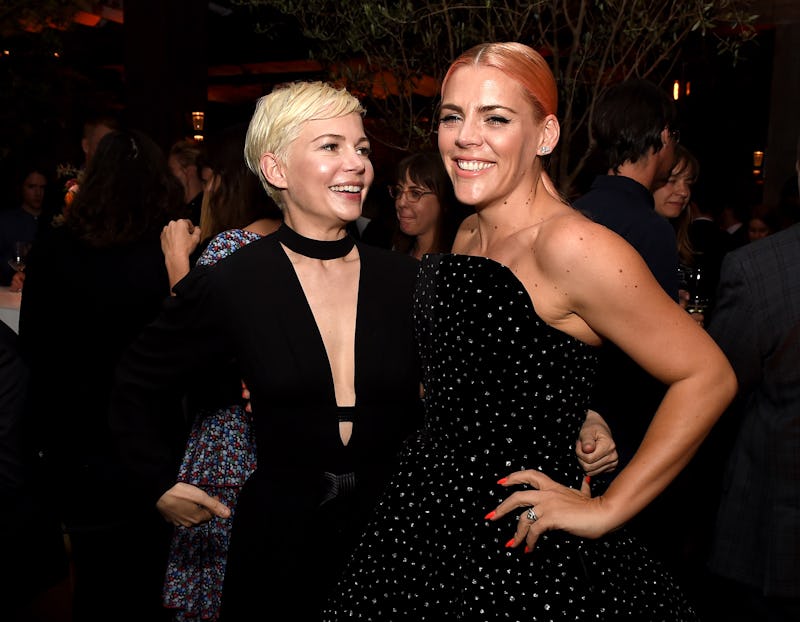 Kevin Winter/Getty Images Entertainment/Getty Images
To most people, a lighthearted comedy about body image might not seem like the kind of project that'd feature a four-time Oscar-nominee in a supporting role. But not only does Michelle Williams appear in the new movie I Feel Pretty as nervous, high-voiced cosmetics mogul Avery LeClaire, she steals the show. Like, really steals it, in a "holy crap, did anyone know she could do this?!" way. It's the kind of hilarious, over-the-top performance that Williams, known for tear-jerking dramas, hardly ever gives — and no one is happier to see her show off her comedic side than her I Feel Pretty co-star and real-life BFF, Busy Philipps.
"I'm so excited for people to see her in this movie," says Philipps, sitting barefoot on a sprawling couch at New York's Whitby Hotel in April. "She's f**king amazing... I'm so proud of everything that she puts forth in this movie."
Philipps' love for her friend is palpable; talking about Williams, she sounds like she's about to cry with pride. Ever since they met while starring together on Dawson's Creek in the early '00s, the duo have been inseparable, and their bond has become the stuff of celeb BFF lore. They've supported each other through career changes, heartbreak, Oscar ceremonies, and so much more; most recently, they adorably posed together on the cover of Entertainment Weekly's Dawson's Creek reunion issue. With that kind of history, it's no wonder that Philipps is emotional when talking about Williams' incredible turn in I Feel Pretty, out April 20.
"The response has been so great — everybody we've talked to the last couple days is like, 'are you kidding me? She's gonna get nominated for a Golden Globe. She's gonna get nominated for an Academy Award,'" Philipps recalls with a laugh. "[Williams] is amazing in the movie… I can't speak for her, but I'm so thrilled with how [her performance] turned out."
Sadly, Williams doesn't share any scenes with Philipps, who plays Jane, the best friend of Amy Schumer's lead character. Yet while Philipps, whose husband Marc Silverstein co-directed and co-wrote the movie, "knew going into it" that the duo wouldn't get to act together, she was still happy to have Williams take part in I Feel Pretty regardless. "It was such a thrill to have her do the film," says Philipps. "She's so funny in it, and it's not something that she generally gravitates towards, doing comedy like this... it's so unexpected."
If the actor's praise of Williams makes her seem like the ultimate friend, well, that's because she basically is. Thanks to frequent Instagram posts and interviews featuring Williams and other pals, Philipps has become as well known for her famous friendships as her acting. "Certainly that's something I'm known for — people kind of have attached [friendship] to my persona," she explains. But she doesn't mind; there are definitely worse things to be than the emblem of what being a good friend looks like, and Philipps is happy to share her own tips for keeping that title strong.
"The key to having long term, strong female friendships is that you have to have the understanding that your friends are going to go through phases that are tricky or difficult, and your job as a friend is to not judge them but to just be there with them and sit with them through it," says Philipps. "Showing up for your friend is the most important thing — I think that that's the secret to being someone who's a good friend who has long term relationships with women. You just have to understand."
With the amount of praise she's lavishing on Williams, it's clear that Philipps is showing up for her pal in a major way — and making the rest of us seriously jealous over their epic friendship while doing it.