This Cast Member From Bravo's New Reality Show Is *Already* Involved In Drama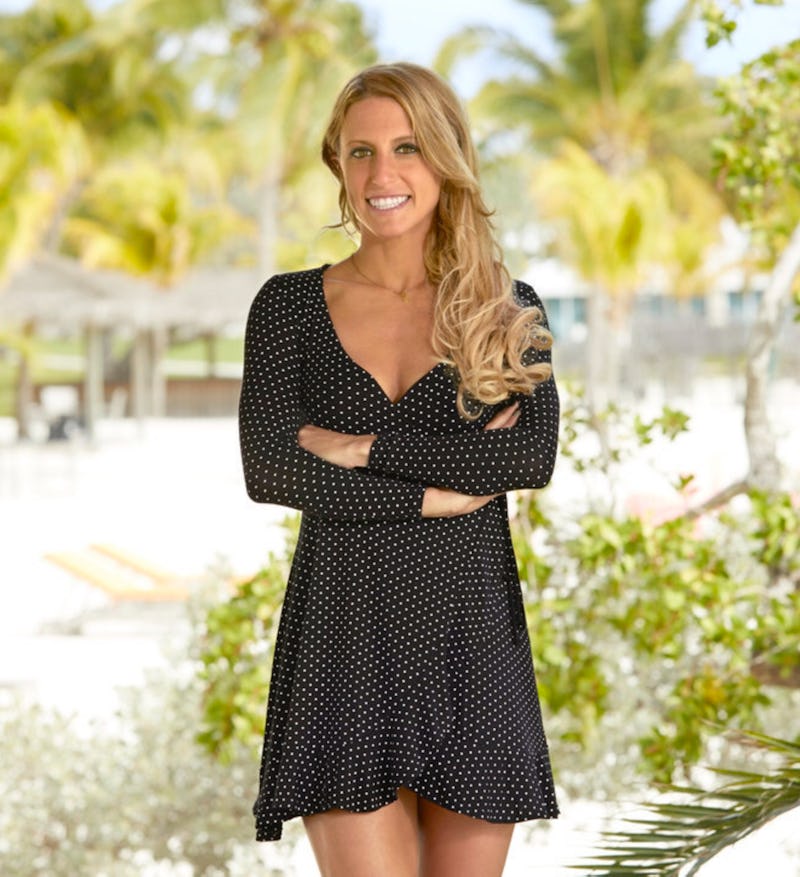 Greg Endries/Bravo
Bravo's Unanchored arrives at port on December 3, and as the name suggests, it shows that the network is keen on delivering even more ocean-set drama to its viewers. The cast is comprised of — you guessed it — a ton of partying friends who hope to make everlasting memories as they set sail through the Bahamas, and it's a powder keg for drama. There are a ton of new people to meet, but let's start with figuring out who Unanchored's Rachel McGowan is when she's not living it up on the sea.
According to her official Bravo biography, Rachel is a kindergarten teacher during her time on land, and she is basically known as the "mom" of the group. Her romance with Albie is probably going to be a point of contention this season — the bio continues that they swiftly moved in together after Rachel packed up to be with him in Boston, but the relationship quickly fizzled. They're both on the boat for Unanchored, though, so goodness knows what could end up happening between them.
Rachel's Instagram account is pretty bare, with the first post less than a week old, and the presence is seemingly all built to promote the show. Photos of herself, her friends and castmates make up the 18 photos found in the feed, and basically all they can tell you is that she likes dressing up in costumes and partying by the sea.
There's no Twitter account listed in Rachel's bio like there are in some of her castmates' profiles, and even a LinkedIn isn't easily detectable for her career updates, so it's probably safe to assume she's just not a big social media user. For now, viewers will just have to bypass their routine social media scans and tune into Unanchored to really get to know her personality.
The show and the trip it follows both promise to be "life-changing" for its cast, and according to Bravo, Unanchored has success weaved right into its DNA. Some of the brains behind the new show also have their fingerprints all over another Bravo hit, Vanderpump Rules. "We're taking a lot of the same crew members, same people from Vanderpump Rules, and we're doing this new show that's all gonna be on the water," Jeremiah Smith, a co-executive producer of Unanchored, told Bravo's Daily Dish.
Aside from the ties to Vanderpump's drama, Unanchored is also reminiscent of another Bravo original, Below Deck. That show has seen plenty of success, is in its sixth season, and even lead to a multi-season spinoff, Below Deck Mediterranean. Basically any reality series that comes to the home of iconic programs like Vanderpump, Real Housewives, Southern Charm and more has the possibility of being the next big hit, so there's no telling where Unanchored could go next.
The show is part of a slew of new and returning series in a buffed up seven-day-a-week lineup, according to Deadline. "Our brand offers a unique environment for our viewers to escape with drama that is fun and funny, yet far from their normal reality," Jerry Leo, Executive Vice President, Program Strategy for Lifestyle Networks and Production NBCUniversal said, according to the outlet. "By doubling down on noisy format and big characters, expanding our lifestyle programming in the design and home space, and offering seven nights a week of originals, we'll be able to serve our fans more of what they crave while also attracting new viewers with our wide scope of programming."
Noisy and big are definitely some hallmark traits of Bravo shows, and if Unanchored follows suit, it could stay afloat for some time to come.