Oprah Honored Recy Taylor At The Globes — Now Her Niece Is Going To The SOTU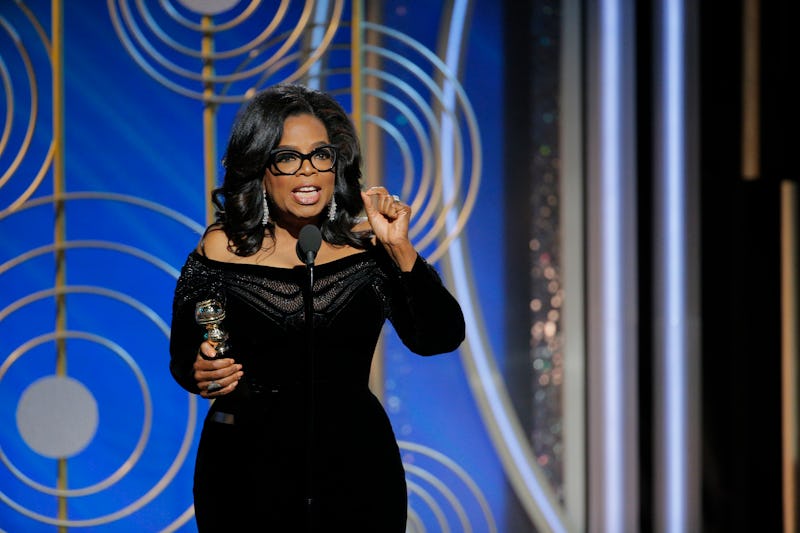 Handout/Getty Images Entertainment/Getty Images
The #MeToo movement has stolen the show at awards nights for music, television, and film this year — and politics may be about to face the same. Several representatives and senators have chosen to bring guests to the State of the Union who reflect the challenges the country faces with sexual harassment and assault. One big name from the Golden Globes comes full circle at the SOTU event: Recy Taylor. Her niece, Rose Gunter, will be Rep. Bonnie Watson Coleman's SOTU guest.
For most, Recy Taylor was not a household name before Oprah Winfrey included her in her Golden Globes acceptance speech in January. Oprah's overall message fit with what the politicians who are hosting sexual assault survivors are saying: Enough is enough — time's up.
Oprah explained how Taylor fits into that message, telling the audience that she's a "name I know and I think you should know, too." In 1944, Taylor was a young wife and a mother walking home from church in Alabama when she was "abducted by six armed white men, raped, and left blindfolded by the side of the road."
"They threatened to kill her if she ever told anyone," Oprah said in her speech, "but her story was reported to the NAACP where a young worker by the name of Rosa Parks became the lead investigator on her case, and together they sought justice. But justice wasn't an option in the era of Jim Crow. The men who tried to destroy her were never prosecuted" — even though one of the men involved admitted to his involvement.
As her obituary in The New York Times put it:
Two all-white, all-male grand juries refused to indict the men, even though one of them had confessed.
Taylor passed away in December, just 10 days before Winfrey spoke of her life, sharing these powerful words.
She lived as we all have lived, too many years in a culture broken by brutally powerful men. For too long, women have not been heard or believed if they dared to speak their truth to the power of those men. But their time is up. Their time is up!
Their time is up. And I just hope — I just hope that Recy Taylor died knowing that her truth, like the truth of so many other women who were tormented in those years, and even now tormented, goes marching on.
And it's because of Gunter's connection to Taylor — she's her niece — that New Jersey Democratic Rep. Watson Coleman was inspired to invite her.
I am excited to announce that I have the honor of bringing Rose Gunter, niece of Recy Taylor, as my guest to #SOTU. Her aunt's legacy lives on through the many women and allies who are advancing the transformative #MeToo and #TimesUp movements in this country.
Moreover than being Taylor's niece, Gunter was also her caregiver until her death in December.
"Ms. Taylor's story represents that of many marginalized women who have spoken up, spoken out and have long been ignored," Watson Coleman said in a statement.
The transformative movement that's happening in this country around sexual misconduct must include amplifying the voices of victims that we, in some cases, chose not to hear. Beyond her terrifying experience, Ms. Taylor, herself, is a representation of the many communities this Administration has chosen to leave behind.
Other representatives have felt the same. Among the other noteworthy guests connected to the #MeToo include Danielle McGuire, a historian and author who researched and wrote about Taylor; Rep. Brenda Lawrence, a Democrat of Michigan, has invited her.