Another Woman Claims George H.W. Bush Groped Her 15 Years Ago, When She Was A Teen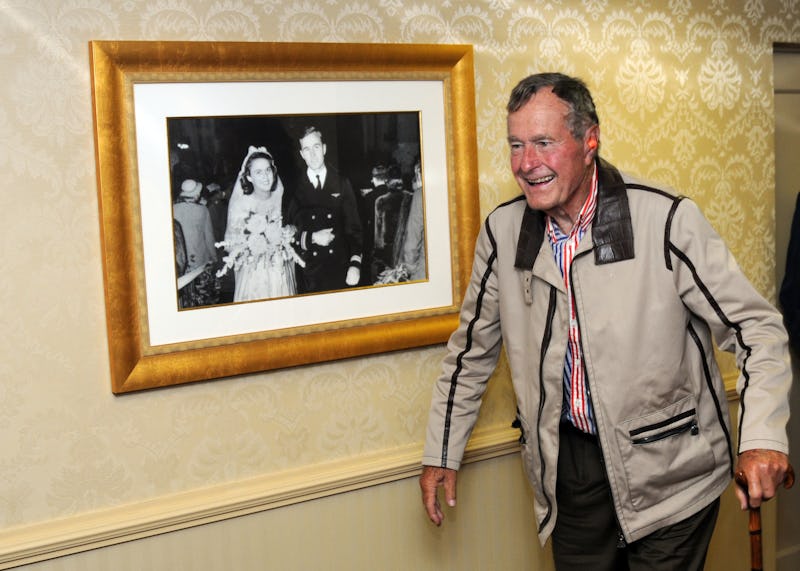 U.S. Navy/Getty Images News/Getty Images
The sixth woman to accuse the 41st President of the United States, George H.W. Bush, of groping has come forward, alleging that the elder Bush grabbed her buttocks when she was 16 years old. In a statement given to TIME magazine, the former president's spokesperson said: "George Bush simply does not have it in his heart to knowingly cause anyone harm or distress, and he again apologizes to anyone he may have offended during a photo op."
Roslyn Corrigan tells TIME magazine that the incident occurred at a November 2003 Central Intelligence Agency event in Texas. While posing with her family and the former President for a photograph, Corrigan says that Bush grabbed her from behind, telling the publication that her initial reaction was "absolute horror":
I was really, really confused. The first thing I did was look at my mom and, while he was still standing there, I didn't say anything. What does a teenager say to the ex-president of the United States? Like, 'Hey dude, you shouldn't have touched me like that?'
According to TIME, Corrigan's story was backed up by "seven people, including family members and friends."
Corrigan is the sixth woman to accuse the former President of groping and her story is strikingly similar to the others. In October, actress Heather Lind wrote in a since-deleted Instagram post that Bush touched her "from behind from his wheelchair" and made a "dirty joke" while posing for a photo. Bush apologized through a spokesperson for that incident. In a statement issued to CNN, the spokesman, Jim McGrath, says that "President Bush would never — under any circumstance — intentionally cause anyone distress, and he most sincerely apologizes if his attempt at humor offended Ms. Lind." The nation's 41st president "has patted women's rears in what he intended to be a good-natured manner," the statement continues.
A second woman, actress Jordana Grolnick, echoed that story, telling Deadspin that a similar incident happened to her during a photo op with the President: "We all circled around him and Barbara for a photo, and I was right next to him. ... He reached his right hand around to my behind, and as we smiled for the photo he asked the group, 'Do you want to know who my favorite magician is?' As I felt his hand dig into my flesh, he said, 'David Cop-a-Feel!'"
In an article published on Slate, novelist Christina Baker Kline said the former president used the same line while allegedly groping her during a 2016 fundraiser for the Barbara Bush Foundation for Family Literacy.
Kline said Bush told her she was "beautiful" before asking her, "You wanna know my favorite book?" Of course, his answer, according to Kline, was "David Cop-a-feel." Kline added that Bush then "squeezed my butt, hard, just as the photographer snapped the photo," and that a Bush family friend later asked her to be "discreet" about the whole thing.
A fourth woman, former Republican state Senate candidate Amanda Staples, wrote of her experience with Bush in an Instagram post. Staples alleged that Bush fondled her in 2006, when she was 29 and running for to represent the area around Kennebunkport, Maine, where the former President has a home. "He also grabbed my butt and joked saying 'Oh, I'm not THAT President,'" she wrote beneath a picture of her standing next to Bush, adding, "I can only imagine how many women have had their butt grabbed in a photo op."
Other victims of the older Bush's alleged unwanted advances include Corrigan and Liz Allen, a Democratic nominee for the Erie, Pennsylvania City Council. In a Facebook post published in late October, Allen alleged that she was touched inappropriately by the former President in 2004, during a Manufacturer and Business Association event. While she wrote that she wasn't "traumatized" by the incident, Allen said she still "didn't like it." "It did not rise to the level of assault, but it was in my (personal) space," she wrote.