Russell Westbrook & His Wife Are The Cutest NBA Couple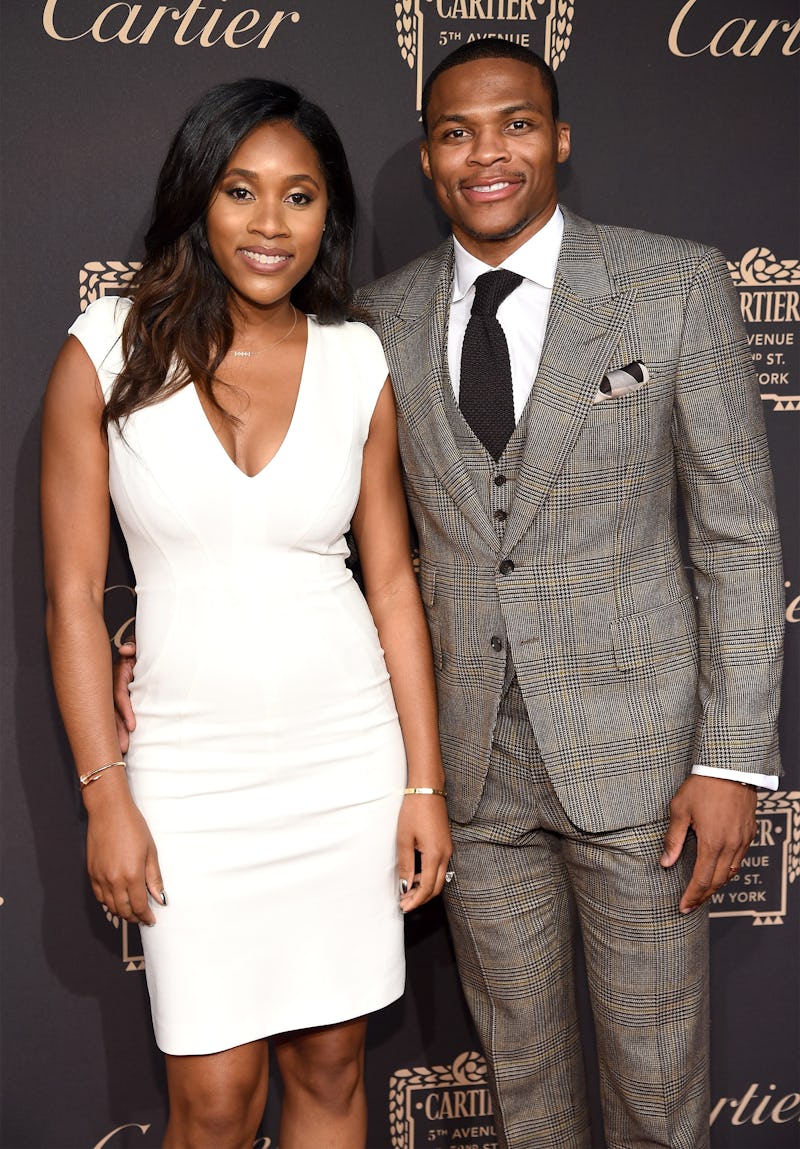 Dimitrios Kambouris/Getty Images Entertainment/Getty Images
You've probably heard the name Russell Westbrook a time or two, especially if you consider yourself an Oklahoma City Thunder fan. Well, as famous and important as he is (like when he's becoming the NBA MVP or worshipping Taylor Swift), you really need to get to know his significant other. So just who who is Russell Westbrook's wife? Her name is Nina Earl and like her husband, she, too, also knows quite a bit about basketball.
Both Westbrook and Earl attended UCLA together, which is where they met. While attending the California university, Earl played basketball for UCLA, just like Westbrook, and obviously knew what she was doing. According to the college's official website, she played all positions and was considered one of the "fastest players" on the team. Now that is how one wants to be remembered. When she wasn't busy rocking the basketball court, Earl was majoring in English.
Based on an ESPN magazine interview Westbrook did in April 2013, it sure seems like he admires Earl greatly. Why wouldn't he? She sounds pretty fantastic — and super talented. "But she's a smart girl," he said. "She's in school right now, trying to get her master's in psychology. She knows what she wants to do in life, which is great. That's easy for me to cope with."
In 2014, Westbrook proposed to his longtime love and she, obviously, said yes. Now, they are married and each other's biggest support systems. In May, they welcomed their first child, Noah. The couple also appear to be head over heels in love with each other. Like, really in love with each other. Seriously, just take a look at these Instagrams of them.
How They Do Europe
Perfection.
Some Cuteness In Paris
This just might be the sweetest picture ever.
They Even Make Time For Date Night
It's great that they make time for just themselves.
They Take The Best Selfies
The cuteness is too much.
They Support Their Foundation
The Russell Westbrook Why Not? Foundation is all about inspiring children and making sure they never give up on their dreams.
They Post Things Like This
This is what true love looks like.
They Like Free Dessert
As posted on Earl's Snapchat in May, Westbrook really wanted free dessert, so he lied and said it was his wife's birthday. Who hasn't done this at least once when dining out?
It's not often you find someone who sticks by your side for years, so these two are very lucky. They definitely know what being a dedicated, loving, and fun couple is all about.