Sarah Is Creating Some Serious Drama On 'BiP'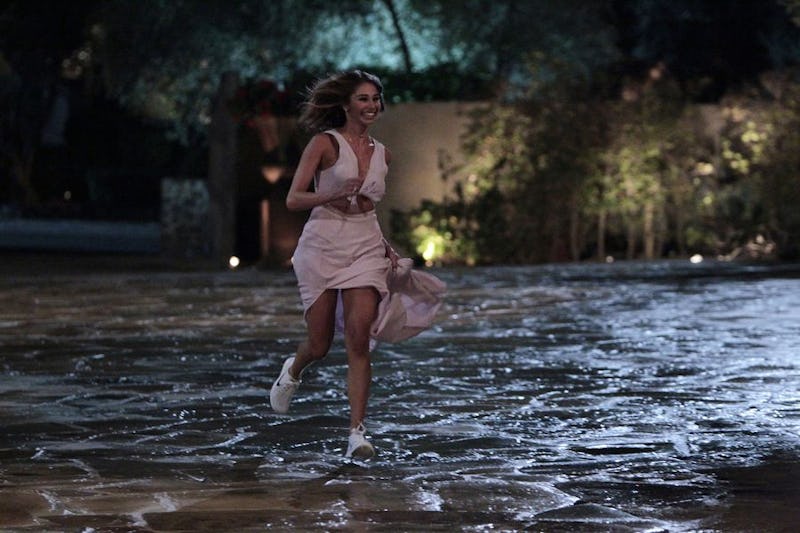 Rick Rowell/ABC
Another week of Bachelor In Paradise, another new arrival to throw things in disorder and panic. But who is Sarah, Bachelor In Paradise's latest contestant? You've seen her pretty recently in Bachelor Nation.
We met Sarah on Nick Viall's season of The Bachelor, when she was a 26-year-old grade school teacher from Newport Beach, California. Sarah was nice and all, but I think she hit it off better with the other contestants than with Nick himself — she got sent home after Nick's Wisconsin hometown date. According to her ABC.com profile from the show, Sarah would love to be "Meredith Grey, Olivia Pope, or Carrie Bradshaw," and her favorite flower is the white rose, which is close enough if you're on a Bachelor franchise show. The best part about Sarah, though, is her bubbly personality and outgoing demeanor. Sarah seems like she's pals with everyone from her season of The Bachelor, and even though the aim of the game on Bachelor In Paradise is to make love, not friends, she's pretty comfortable there, too.
So who will Sarah stick with? It's hard to say, mostly because this season of Bachelor In Paradise is so blown wide open. There aren't many couples due to the production shutdown — everyone is still getting to know each other. It's actually unlike any other season we've ever seen before. I think the men and women are hanging out separately more than joining the sexes together. It's basically built like a middle school dance, and everyone is too afraid to cross the dance floor. Sarah could be the gal that makes it happen, though — from the looks of her Instagram, she loves to hang out and have a good time.
So far, Adam and Sarah have had a date, but since Raven is also sort of into Adam, I totally see Sarah backing down — she said it herself that she would never hurt a friend like that. It's too soon to tell if Sarah will find love in Paradise, but she'll certainly have fun trying.