Russia's Foreign Minister Could Be A Frequent White House Visitor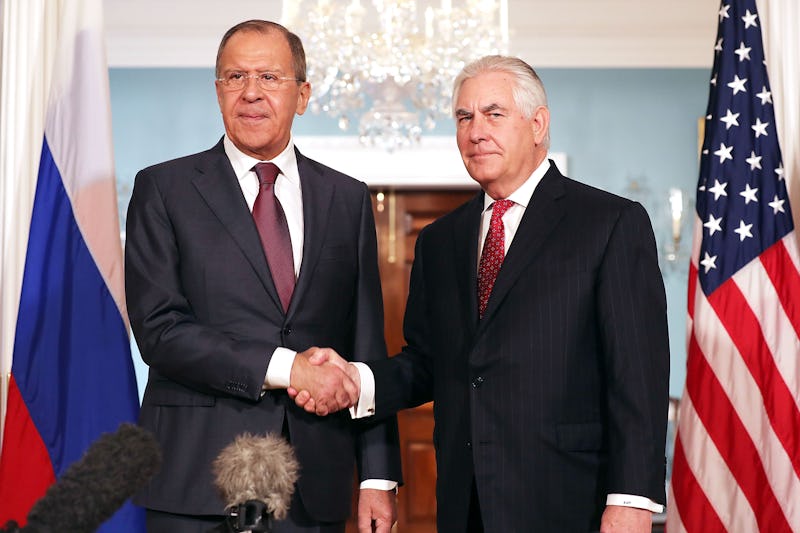 Chip Somodevilla/Getty Images News/Getty Images
In America's current political climate, it's useful to know a few powerful Russians (other than the two Vladimirs, Lenin and Putin). One important man is Sergey Lavrov, the Russian foreign minister, who met with his U.S. counterpart Rex Tillerson and President Donald Trump on Wednesday.
Lavrov, Russia's top diplomat, is an interesting figure in Putin's government. Unlike many of Putin's closest circle of advisors, Lavrov does not have a background in the Russian security services; he spent 10 years representing Russia at the U.N. Security Council instead. He's a popular figure in Putin's government, and he wasn't affected by the sanctions that targeted many top officials after Russian invaded Crimea in 2014. Still, Lavrov made no secret of the fact that he did not harbor kind thoughts towards the Obama administration during its second term. He's also publicly said that he was looking forward to beginning a dialogue with Trump and his administration.
Secretary Tillerson has now met with Lavrov twice, once in Moscow and now again in Washington, D.C., but this meeting was the first time that the president actually met face-to-face with the top Russian diplomat. But even with the uproar surrounding former FBI director James Comey's firing, it seems as though Lavrov discussed Russia's involvement in the 2016 American election with neither Tillerson nor Trump. "We didn't raise those absurd issues," he said in a post-meeting press conference. Instead, they apparently focused on issues like ISIS and the ongoing war in Syria.
Lavrov, who is known to sometimes for his dry sense of humor, joked about Comey's firing when he was asked about it at his brief appearance with Tillerson. "He was fired? You are kidding!" Lavrov quipped sarcastically.
This seemingly lighthearted take on the episode may seem a bit strange coming from a Russian diplomat, as Comey's ouster has raised numerous questions about the ongoing investigation into connections between Russia and the Trump campaign. The situation got even more bizarre when Trump allowed the Russian press into the Oval Office for his meeting with Lavrov and Russian ambassador to the U.S., Sergey Kislyak, while simultaneously keeping American journalists out.
The meeting today apparently went well, to hear the Trump administration and Russian state media tell it. Lavrov seems excited to work with Trump, and Trump has not made any effort to hide his admiration for Lavrov's boss back in Russia. As long as both sides stay open to pursuing a closer relationship, meetings between top American and Russian officials might become more and more frequent.