Firing Comey Is The Scariest Thing Trump Has Done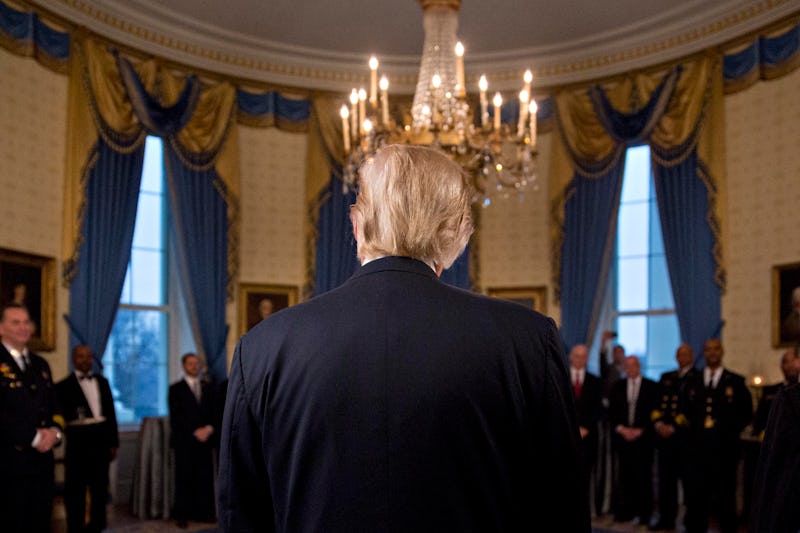 Pool/Getty Images News/Getty Images
It's not even four months into Trump's time as president, and there have already been what feel like countless unprecedented, strange, and concerning moves by his administration. Unfortunately, former FBI Director James Comey's firing is the most worrying thing the Trump administration has done yet. It's certainly got tough competition from things like Trump's repeated attempts at a Muslim ban, his unfounded claims that Obama wiretapped him, and his expressions of respect toward foreign dictators, but his firing of Comey is officially the worst.
For starters, there's no way Trump isn't cognizant of the fact that Comey was leading at least one investigation into him. Comey testified about the FBI investigation into potential collusion between Trump's campaign and Russia, but there have also been hints of an ongoing investigation into Trump's potential business ties with Russia. While those hints came from James Clapper, the former Director of National Intelligence, it's not unlikely that that the FBI might have been going down a similar trail.
In the letter he sent alerting Comey of his firing, however, Trump claims that Comey had assured him that he was not under investigation and that the firing was about restoring public trust in the FBI after a mishandling of the Hillary Clinton email scandal. It's a strange line of reasoning, because it's already been widely confirmed that the Trump campaign is in fact under investigation. Why the apparent lie about something so provably false?
Comey may have helped Trump get elected with his decision to announce that the investigation into Hillary Clinton's emails had been reopened only days before the election, but he's proven that he's no Trump loyalist. He shot down Trump's claims of Obama's alleged wiretapping, and publicly confirmed the FBI investigations of Trump, neither of which would have endeared him to a mercurial president who seems to value loyalty above all else. Getting rid of Comey leaves an open position — an important one, and one that can now be filled by someone loyal to Trump.
Trump only has to get his nominee for FBI director confirmed with a simple majority in the Senate, so the fate of the FBI's investigation could entirely depend on Senate Republicans — some of whom have expressed skepticism over Comey's firing. Congress is nothing if not partisan, though, so from this vantage point, it seems altogether likely that Trump will be able to fill the spot with someone who would be less likely to push as hard as necessary for everything to be uncovered in that investigation.
Maybe this is all smoke and no fire, and maybe all of the investigations surrounding the Trump campaign's conduct with Russia will come out clean. But this still looks sketchy, and it could have real repercussions for the American people if it results in any obstruction or delay in this investigation. Russia worked to get Trump elected, and Trump has now fired one of the top people investigating that breach of our democracy. That in itself is another breach of the democracy — and now we can only wonder how long this pattern will continue.