Larry Nassar's Lawyer Is A Woman Who Takes On Serious Sex Crimes Cases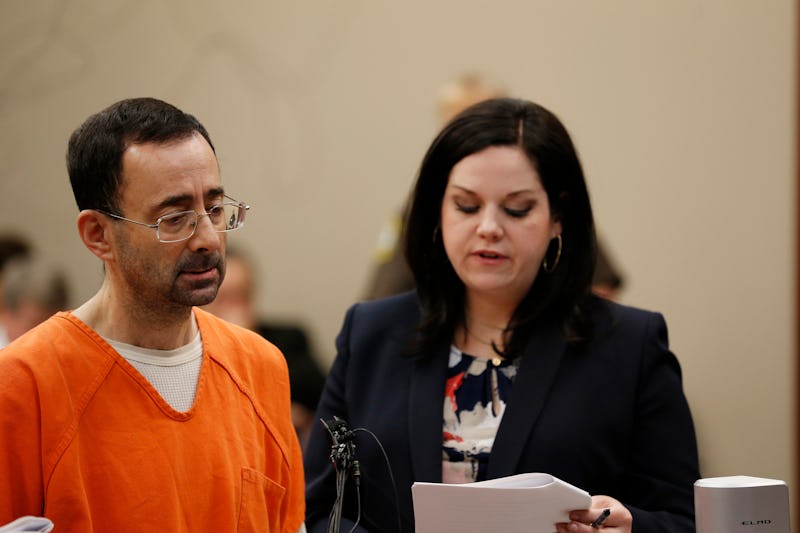 JEFF KOWALSKY/AFP/Getty Images
Each time Larry Nassar appears in court, he's flanked by an attorney who's built her career around defending those accused of serious sex crimes. Shannon Smith not only represents Nassar, the former Team USA Gymnastics doctor who pleaded guilty to sexually abusing young girls, but also another doctor who's been accused of female genital mutilation and a former college football player accused of sexual assault.
"I get pushback from everyone. I constantly have people ask me 'how do you do those cases' or 'Shannon, you have four small children, how can you do those cases?'" she told MLive in November, later adding, "I love the part of this practice that lets me help my clients escape a system that can very much be a bully."
Nassar may be Smith's most well-known client. The Michigan doctor's case has gripped headlines, in part because of his ties to the USA Gymnastics team and the shocking number of allegations against him. Multiple U.S. Olympic gymnasts from both the 2012 and 2016 squads accused Nassar of sexual assault, and Aly Raisman has been vocal about her disgust for his alleged crimes. Although Nassar pleaded guilty to seven counts of first-degree criminal sexual conduct in November, 140 women have accused him of sexual abuse in total. Dozens of them lined up this month to give emotional testimonies at his sentencing hearing.
Smith didn't always work with high-profile clients accused of sex crimes. In fact, she started her career as a divorce attorney after graduating from Michigan State University College of Law. After she received a fax about a client leaving pee on a toilet seat, she decided to switch gears, according to MLive.
A bio on her law firms' website reads:
In most of Shannon's cases, the alleged victims are children and her clients are accused of the most serious offenses including criminal sexual conduct, sexual abuse, felony child abuse, felony murder and rape.
Smith says she's especially fascinated by false confessions; her bio says "there is often a psychological element that other lawyers miss, whether that be an issue with a suggestible child, a client who has made a false confession or an investigation that includes police bias and tunnel vision." In order to defend clients in such cases, she will develop "a game plan to defend your case and determine a strategy to combat the allegations from the very beginning."
November was a busy month for Smith: Nassar pleaded guilty to criminal sexual conduct, while her other client, Dr. Jumana Nagarwala, was released from jail on a $4.5 million unsecured bond. Nagarwala was charged with performing female genital mutilation on young girls, and prosecutors allege she and seven others conspired to perform the illegal procedure on as many as 100 girls over a decade. The case was the first federal prosecution for female genital mutilation in the nation.
At the time, Smith told The Detroit News it will be "easier to prepare for trial" with Nagarwala at home; Nagarwala has denied any wrongdoing.
The other case on Smith's plate at the moment involves Josh King, an ex-Michigan State University football player accused of sexual assault along with two other players. The 19-year-old was charged with one count of first-degree criminal sexual conduct and one count of third-degree criminal sexual conduct, but Smith has argued his innocence.
Smith asserts that her clients don't want media attention, though the nature of their cases often elicit headlines regardless. "None of my clients want to be in the news," she told MLive.
As for herself, she described her personality as "very blunt and very honest with people," explaining that she's doesn't take a case if she doesn't believe the client's story. "If I don't believe you," she said, "I can't sell this story to a jury."