The Best Man At Princess Eugenie's Wedding Has The Sweetest Family Connection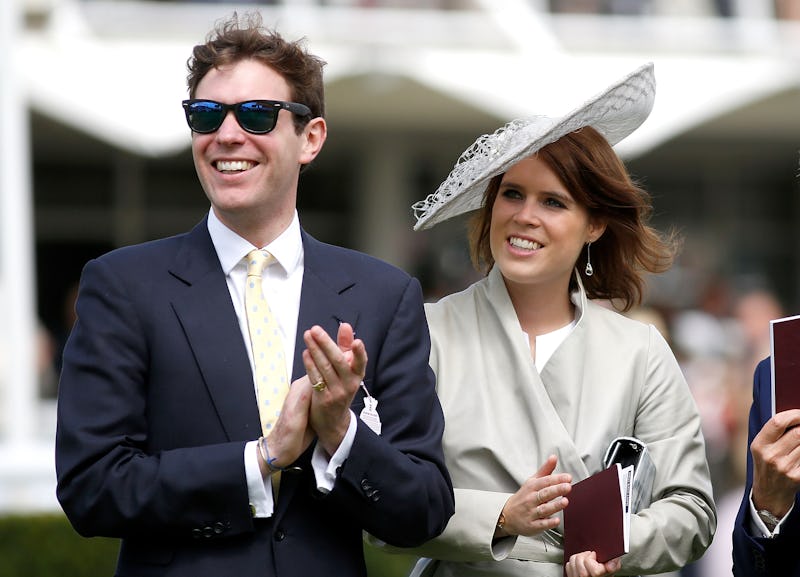 Tristan Fewings/Getty Images Entertainment/Getty Images
Obviously, Princess Eugenie has some fairly recognisable guests. You've got Cara Delevingne, Ellie Goulding, and yep, the Queen — and that's quite something to go up against. But despite it not looking as though there are many A-listers on hubby Jack Brooksbank's side of the guest list, it's time to get to know those he did invite. Let's start with his best man. Standing next to him on the day will be his brother Thomas, but before he does, I'm curious to know more about the other Brooksbank boy. So, who is Tom Brooksbank?
The Palace announced Jack's best man on Oct. 10, just two days before the wedding, Town & Country reported. "Princess Eugenie and Jack Brooksbank have today confirmed that Princess Beatrice will be Maid of Honour and Jack's brother, Tom Brooksbank, will be Best Man," The Royal Family announced on Twitter. They hashtagged "Siblings" at the end of the post, as the news was accompanied by an adorbs and autumnal photo of the soon to be wed couple. The Family then took us into cuteness overdrive, as they shared previously unreleased photos of Princess Beatrice and Eugenie as kids. In one they're seen cuddling up to next to one another, while in another they're dressed in white and draped in flowers, and it's way too cute.
The Family also showed us a glimpse of the Brooksbank boys together. On Oct. 10, they tweeted a childhood photo of Jack and Tom, as they're shown baring their cheesiest grins. And with those blonde, wispy curls, it's clear that Thomas was a very, very cute child — but what's his deal nowadays? Well, according to The Sun, Jack's only sibling currently works at Troy Asset Management, a fund management company which is based in London.
He branched out into financial work after graduating from Leeds University in 2011. And since I'm being super sneaky, here's what his work bio says: "He joined Troy Asset Management in August 2013 from Jupiter Unit Trust Managers, where he worked as a broker sales executive servicing UK based discretionary clients. Tom graduated from the University of Leeds in 2011 and has passed his IMC."
There's not much else to know about Tom, who's managed to mostly stay out of the public eye all this time. Though no doubt the world will get to see a bit more of him as he trades jokes and sets his big bro at ease on his big day. It's clear that Tom is chuffed for Jack. "Mum dad and my little brother are very very happy for us," Jack shared during his first television interview on Jan. 22. And Eugenie seems just as pleased with her new brother in law, as she said in the same interview: "I think as happy as Jack is to support me and love my family, I'm just as happy to support his family," she said. "They're really really wonderful people. And they've been so lovely this whole time." N'awww. Congrats to both the couple and their families!