A Woman With A "F-ck Trump" Sticker On Her Car Has Been Arrested In Texas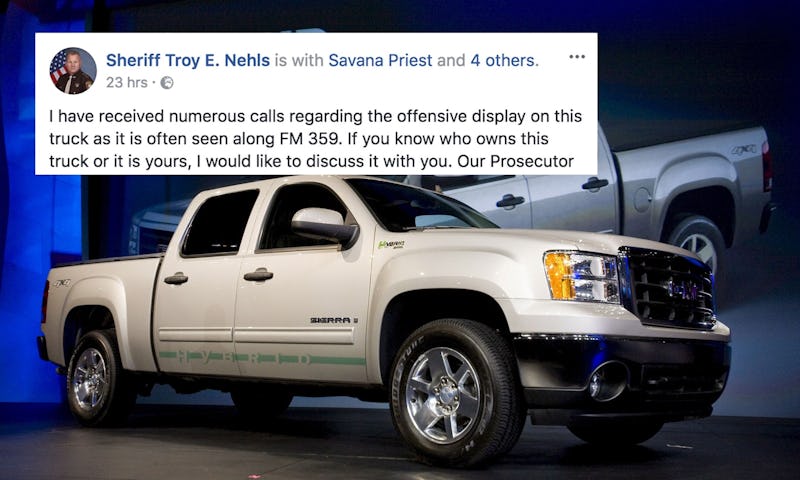 Tannen Maury/EPA/REX/Shutterstock
In Texas, a woman with a "F*CK TRUMP" sticker on her truck was arrested one day after a local sheriff threatened on Facebook to press charges against her for displaying the sticker. According to USA TODAY, Karen Fonseca was arrested Thursday on an outstanding fraud warrant unrelated to the bumper sticker; however, Fonesca told the newspaper that she's "almost certain" that her arrest is a result of her anti-Trump proclamation.
Deriding a politician in public is a First Amendment right, and the Supreme Court has ruled that this right applies even when the profanities are used. Nevertheless, Fort Bend County Sheriff Troy Nehls posted a picture of Fonseca's truck to his Facebook page on Wednesday, asking his followers for information on the truck's owner and implying that they could be charged with disorderly conduct.
"I have received numerous calls regarding the offensive display on this truck as it is often seen along FM 359. If you know who owns this truck or it is yours, I would like to discuss it with you," Nehls wrote in a now-deleted Facebook post. "Our Prosecutor has informed us she would accept Disorderly Conduct charges regarding it, but I feel we could come to an agreement regarding a modification to it."
It's unclear which prosecutor Nehls was referring to; Fort Bend's District Attorney is a man, John Healey, and Healey told ABC 13 that he wouldn't and won't prosecute Fonseca over the bumper sticker.
In a press conference later Wednesday, Nehls said that "the Facebook post accomplished its objective and now we know who owns the truck." The next day, police arrested Fonseca on an unrelated charge of identity theft dating back to 2014. She was jailed Thursday afternoon but released on bail later in the day, according to Chron.com.
In subsequent interviews to the media, Fonesca defended her bumper sticker, which in its entirety reads "F*CK TRUMP AND F*CK YOU FOR VOTING FOR HIM," and said that she and her husband, who owns the truck, have no plans to remove it.
"There's no law against freedom of speech, nothing in the law book here in Texas," Fonesca told KHOU-TV. "I've been stopped numerous times, but they can't write me a ticket." She also told ABC 13 that she wasn't aware of a warrant out for her arrest.
This isn't the first time Nehls, who's retweeted videos of Donald Trump speeches, has drawn criticism for actions he took as Fort Bend's sheriff. In September, when Hurricane Harvey was bearing down on Texas, Nehls warned that any looters in Fort Bend might "leave the country in a bag."
"We support the Second Amendment here in Fort Bend county, and there are many of us that are armed," Nehls told Fox News. "I would caution those that want to come and prey on our people here in Fort Bend County that are suffering so much right now. You may want to stay out of Fort Bend County because you could leave this county in a bag."
Nehls said in his initial Facebook post about the truck that he'd received numerous complaints about the constitutionally-protected sticker. Fonesca, however, said that she receives compliments on it from people who say they "wish they had the guts" to display similar political opinions in Fort Bend.
"It makes people happy. They smile. They stop you," Fonseca told ABC 13. "They want to shake your hand."
Fonesca also said that she believes the Trump sticker played a role in her arrest.
"I'm almost certain it does have to do with this," Fonseca said after she was released. "People abuse the badge, and in my opinion, money talks. When you're in politics, people know how to work the system."