'Riverdale' Star Camila Mendes May Have A New Boyfriend & These Two Go Way Back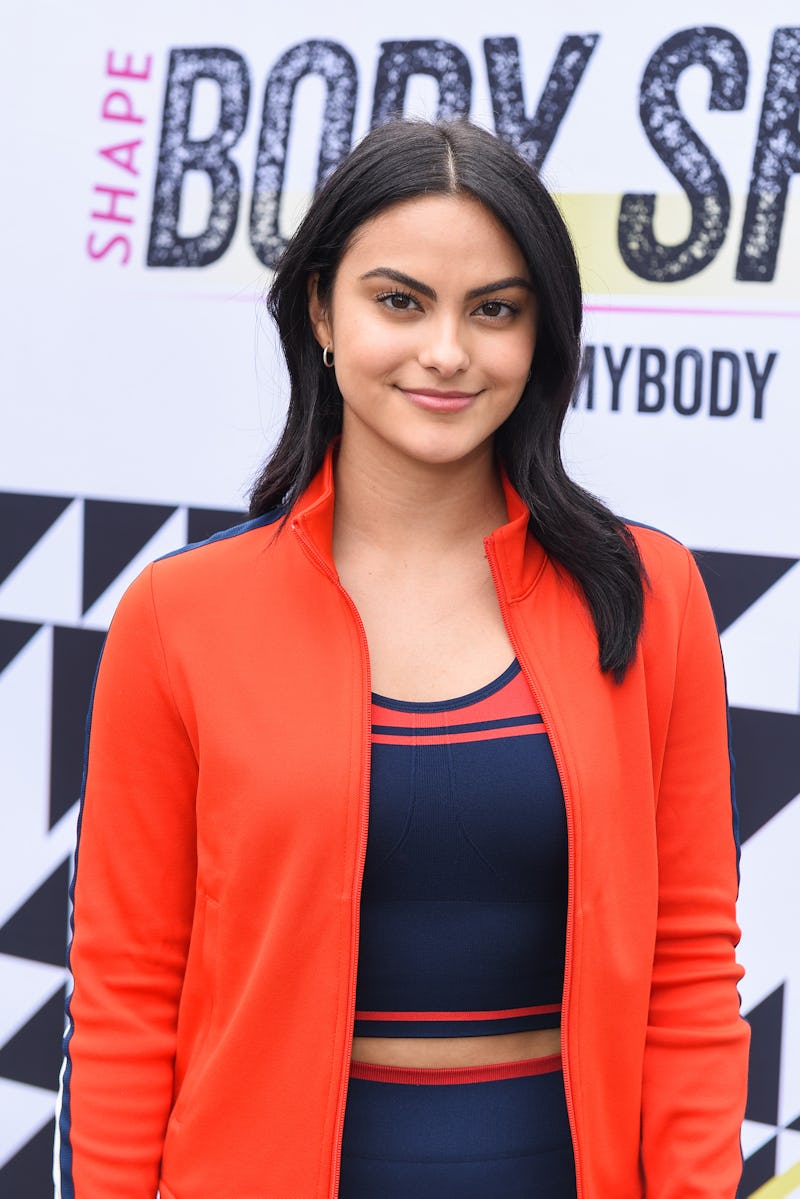 Presley Ann/Getty Images Entertainment/Getty Images
There's another Riverdale mystery, and this one has nothing to do with Jason Blossom. It seems that Camila Mendes has a new boyfriend named Victor Houston, and while he's not an actor, it turns out he's an old friend. According to E! News, the actor has been dating Houston for approximately two months, and the two went to neighboring high schools in Florida. They reportedly reconnected in New York, and ended up falling for each other. (Bustle reached out to Mendes' rep for comment, but did not receive an immediate response.)
On Saturday, Mendes and Houston were together in the Hamptons to celebrate her 24th birthday. Houston posted a picture snuggling with her by the water on Instagram, which was captioned, "Baby." Houston made a cameo in Mendes' social media as well, sitting close to the Riverdale star in her Instagram Story. The actor has yet to confirm the relationship publicly, but it seems like these two have at least made things official on social media.
The birthday getaway wasn't the first time the rumored couple created speculation on Instagram. Mendes sparked relationship rumors in June. She posted a picture of Houston and photographer Barron Roth kissing her on the cheeks to Instagram. The caption read, "Call me Archie Andrews," in a reference to the popular CW show, where she plays Veronica Lodge. Even though the relationship is apparently new, neither has been shy about posting each other on social media.
In addition to the photo by the water, Houston also shared a birthday wish for the actor. The photo showed Mendes leaning against her rumored boyfriend, and was captioned: "Happy birthday beautiful." It definitely seems like relationship behavior, but this is the first time Houston has posted pics together with the actor on Instagram.
Little else is known about Mendes' new love interest, though from his social media it seems like he's done a lot of traveling, posting pics from Tokyo and Montreal, and enjoys a variety of sports such as snowboarding and skiing.
Mendes is one of the many breakout stars from Riverdale, which premiered in January 2017. The popular show, based on the Archie Comics, also stars Cole Sprouse, Lili Reinhart, and KJ Apa. Off screen, Mendes is best known for her advocacy for body positivity. In March, she called out a photoshopped photo of herself in the Cosmopolitan Philippines edition, and has spoken frequently about her complicated relationship with learning to accept her body.
In February, Mendes shared a post about how dieting can harm mental and physical health. She wrote, in part, "I'm sick of the toxic narrative that the media consistently feeds us: that being thin is the ideal body type. A healthy body is the ideal body type, and that will look different for every person."
Mendes made headlines last week for speaking out about her Riverdale costar's Charles Melton's controversial tweets. Melton's posts, which were from 2011 and 2012, included fat-shaming comments. He later apologized, and according to People, Mendes discussed the tweets with Melton personally. "He felt really sorry about it and he called me personally and he said, with everything that I stand for, that he's really sorry," she said. "I think it's a matter of sometimes you tweet something a long time ago and they're buried in there and they come out, and it sucks, and I do not agree with anything he said or support those statements, but I know that's not who he is."
Mendes' efforts to address impossible beauty standards for women, as well as her breakout role on Riverdale, have made her a fan-favorite. On Instagram, fans were already commenting on Houston's pictures with heart-eyes emojis and supportive messages. "Y'all are perfect together, literally can't get enough," one fan wrote, while another commented: "I SHIP SO SO SO MUCH."
Again, neither Mendes or Houston has publicly confirmed a relationship, but the photos from the weekend's birthday getaway definitely suggest something's going on. And in the very least, they seem like close friends.