The First Lady Clearly Has Expensive Taste — And This Is Who's Paying For It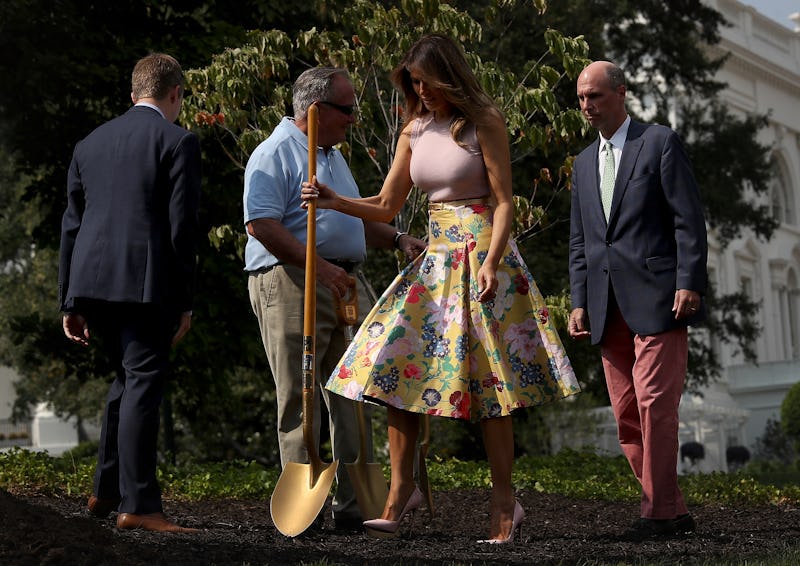 Win McNamee/Getty Images News/Getty Images
While first lady Melania Trump has expressed frustration that people continually focus more on what she wears than what she does, a wardrobe like hers is bound to grab attention. From her white pantsuit to her Vatican veil, Trump's fashion choices are well reported. But who's paying for Melania Trump's clothes? Rest assured, your taxes aren't going toward the first lady's wardrobe.
It was a warm and sunny day in August when Trump stepped out of the White House in baby pink Christian Louboutin stilettos and a floral Valentino skirt reportedly priced at nearly $4,000, according to The Guardian. But the first lady wasn't out to give a quick statement or sashay to Marine One. No, she was on hand to garden. Or, to be more precise, to plant an Eisenhower Oak sapling.
It was, dare I say it, a moment of peak Melania fashion. Because although we are still less than two years into her husband's presidency, Trump's clothes have dominated headlines time and time again. There was her pith helmet, her "I REALLY DON'T CARE, DO U?" Zara jacket, her $1,380 Balmain plaid shirt, her pink Gucci pussy-bow blouse, and the Dolce & Gabbana jacket that cost more than many Americans make in a year, to name only a few.
But while Trump's wardrobe appears stocked with high-priced items, Stephanie Grisham, Trump's spokesperson, tells Bustle that's not at the expense of the American taxpayer. "She pays for all her own clothes," Grisham says in an emailed statement.
That's not to say Trump is out constantly shopping for new duds. W magazine has reported there's a good chance Melania is wearing at least a few clothing items she acquired before her husband's presidency. It's worth mentioning that Hervé Pierre, the French designer who worked with her to co-design her inauguration gown, reportedly acts as Melania's stylist and shops anonymously for her at places like Bergdorf Goodman, Saks, Michael Kors, and Dior, according to W.
From the looks of it, Trump's wardrobe isn't cheap. In fact, she's donned some incredibly expensive items since her husband was sworn in as president. When Donald Trump made his first address as president to a joint session of Congress in February 2017, for example, Melania wore a black beaded Michael Kors skirt suit that was reported to retail at $9,590, per Vanity Fair. In July 2017, she appeared at the G20 Summit in Hamburg, Germany, wearing a $2,995 white Michael Kors fringe dress and $1,345 white Christian Louboutin Pigalle python stilettos, Footwear News reported. At the G7 Summit in Italy in May 2017, Melania wore a 3D floral jacket from Dolce & Gabbana valued at a whopping $51,500, according to Mashable.
But according to The Hollywood Reporter, Trump may not be paying full price for every item. It's commonly assumed that first ladies are often offered discounts on the clothing they purchase as brands and designers often see a spike in sales when a first lady steps out in one of their pieces, the entertainment magazine reported.
And while Grisham says the first lady pays for all of her clothing, first ladies historically are allowed to accept designer clothing as a gift as long as they follow certain protocol. According to W, a first lady could wear a gifted or donated designer item as long as it's officially made government property and given to the National Archives after its wear for historical preservation.
That being said, a number of designers, including Sophie Theallet, Tom Ford, Marc Jacobs, and Naeem Khan, have said they won't dress Trump, which could explain why Pierre told W he shops anonymously for her.
It's worth noting that while there's no salary that comes along with the title of first lady, Trump has managed to pull in some of her own money while serving as first lady. Financial disclosures released earlier this year showed that Trump had a rather lucrative photo deal with Getty Images in 2017. According to ABC News, the photo agency paid Trump for the use of 187 photos shot of the Trump family by Belgian photographer Regine Mahaux from 2010 to 2016. The deal reportedly included a stipulation noting the photos could only be used in articles of positive coverage.
All in all, Trump reportedly made anywhere from $100,000 to $1 million in royalties in the deal. And That's at least enough for a few pairs of Christian Louboutins.