Sky Ferreira Switches It Up In 'Baby Driver'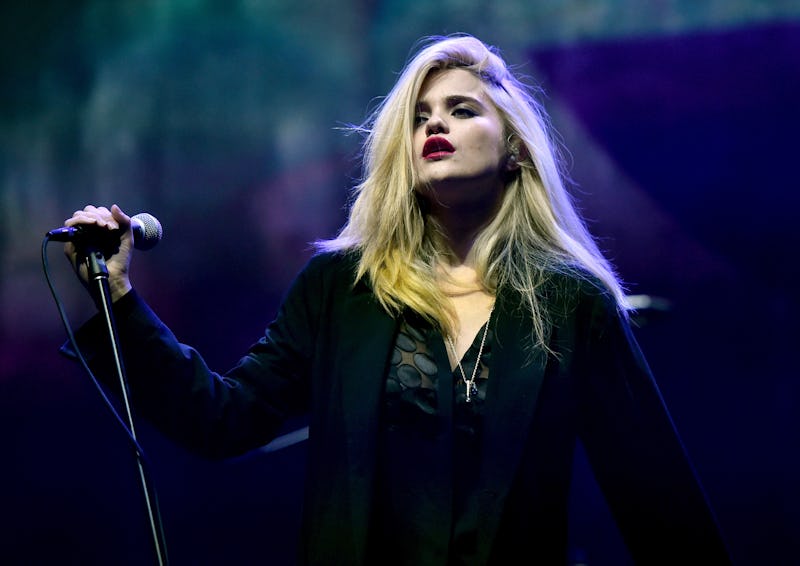 Alberto E. Rodriguez/Getty Images Entertainment/Getty Images
Baby, the expert driver at the center of Edgar Wright's genre-busting Baby Driver, doesn't have a lot of connections to people. In the film, his strongest connection is to his mother, who appears via flashbacks and is shown only from Baby's point of view. Mostly, the audience gets to know who plays Baby's mom in Baby Driver the same way Baby gets to know the character: through her music. Sky Ferreira, an actor and singer, plays Baby's Mom in Baby Driver, an aspiring singer who introduced her son to music.
It was important for director Edgar Wright to cast a singer in the role of Baby's Mom in Baby Driver. In the film, Baby's mom was an aspiring singer who died when Baby was just a little kid. Shown only briefly in scattered memories in the film, what's most clear to the viewer and to Baby himself is her voice, thanks to a demo tape she recorded when her son was little. Ferreira recorded a cover of "Easy" by The Commodores for the film, which appears on both the demo in the film and the official Baby Driver soundtrack. Ferreira herself never imagined she'd be covering "Easy" as an artist, a fact she admitted in an Instagram post about the film. "I have never thought about covering "EAAASY LIKE SUNDAY MORNING" - Lionel Richie. Not once lol [sic]," she wrote in the post.
The song plays a crucial role in the film, as it connects Baby to his mother and appears during a crucial sequence in the movie (I won't spoil that here). Unlike other songs from the soundtrack, "Easy" wasn't written into Wright's original script. Instead, it was added thanks to star Ansel Elgort, who, in his audition, was asked by Wright what song he knew by heart. His answer: "Easy." "It was so impressive to me, I thought, 'There's gotta be a way of getting this into the movie,'" Wright told Pitchfork.
Recording "Easy" for Baby Driver was the first time Ferreira had to sing in character, as someone other than herself. "I'm very happy that I somehow got to be in this film & contribute to it musically," she wrote on Instagram. But it seems likely she'll have more opportunities to mesh her musical talents with her acting as her career takes off. Recently, the actor/singer appeared on an episode of the Twin Peaks revival, and though she did not perform, her character was close to music. It's a match made in heaven for Ferreira, who even named her first album, Night Time, My Time, after a line in David Lynch's Fire Walk With Me, a sort of prequel film to the original Twin Peaks series. "People are always like, 'David Lynch's work is so dark,' and I don't see anything dark about it," Ferreira told Vanity Fair. "It's hard to describe. Life is violent and weird and dark, and we can't really explain any of it. That's true of all of his work."
The star is currently working on her second album, Masochism, and will next appear in the thriller Lords of Chaos, there'll be much more to hear from her soon.