The Star Of BET's Bobby Brown Biopic Got His Start Dancing For Your Fave Girl Group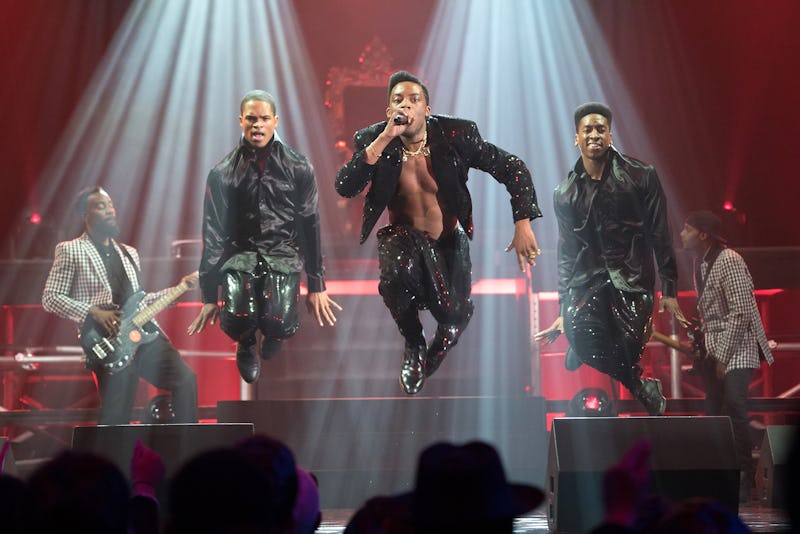 BET
Long before Usher, Ne-Yo, and countless other male R&B artists hit the music scene, there was Bobby Brown. He entered the music business during his childhood as a member of the group New Edition and then skyrocketed to fame as a solo artist with his 1988 album Don't Be Cruel when he was just 19 years old. The album spawned timeless hits like "My Prerogative" and "Every Little Step" and made him an international star. Brown later became well-known for his personal drama, including drug use and a tumultuous marriage to Whitney Houston, both of which he wrote about in his 2016 memoir Every Little Step per an iHeartRadio review. Now, his life is being explored in The Bobby Brown Story, a two-night BET event starting on Sept. 4. Woody McClain plays Bobby Brown in the TV movie, and this actor's face will be familiar to fans who watched last year's New Edition biopic.
McClain portrayed the R&B singer during his teenage and early adult years in The New Edition Story and now he's bringing the Gumby haircut and leather jackets back for more action. According to his IMDB bio, McClain is a 30-year-old Charleston, SC native who moved to Los Angeles to pursue a career as a professional dancer.
His bio also reveals that he danced with artists such as Chris Brown and Fifth Harmony, but he wanted to do more in the entertainment business. McClain started creating hilarious social media skits about dating, sex, and DMs on Twitter and Instagram, which later caught the attention of Kevin Hart. The videos led to him being signed to Hart's production company 'HartBeat Digital' to create more content, per Shadow and Act.
As a matter of fact, his first major acting role was portraying Bobby Brown in the New Edition biopic. And, it's easy to see why he nabbed this gig. Bobby Brown was infamous for his smooth dance moves, unbridled confidence, charm, and wit, all of which Woody has displayed as a dancer and social media star. And, he also looks at lot like Brown during the late '80s (minus the singer's infamous tooth gap), which was the height of his career. Casting choices can be iffy in movies about real-life people, but BET totally nailed it with this one.
McClain spoke to Billboard about what it took to become Bobby Brown and said his relationship with the singer helped him understand the character better. "Being with Bobby [on set] helped tremendously, just being able to talk with him and seeing all those videos," said McClain. "That helped me out. But once you actually have the clothes on, have the hair, put the teeth on… that character just feels like a spirit. I don't know what it is, but it's like something that comes over you and makes the character come to life."
In the same interview, McClain revealed that Brown was excited about him reprising the role for his solo movie. He said it was a blessing to get pointers from Mr. Brown himself about how to perfect dance moves and truly embody the singer's personality and expressions. McClain admitted to being shocked by some of Brown's past, which was previously explored in his aforementioned memoir, but Brown insisted that his low points be included.
However, Brown denied during a TCA panel for the TV movie that he ever physically abused Houston, per Vulture. A journalist referred to an ABC News report that included Houston's call to 911, claiming that Brown hurt her. Brown reportedly replied, "The public record is wrong," and the session was cut short.
Per BET, Bobby Brown is an executive producer for this movie and it's clear that he has a ton of creative control. In previous years, the media and tabloids created a lot of Bobby's narrative; this film, it seems, will be from his perspective.
Music, sex, drugs, wild nights with Mike Tyson, heartbreak, rehab, and tragedy will all add up to a compelling movie about a singer who made a massive impact on music and has left a complicated legacy. And, with Woody McClain in the driver's seat, it's going to be a wildly entertaining ride.
If you or someone you know is experiencing domestic abuse, call 911 or the National Domestic Violence Hotline at 1(800) 799-SAFE (7233) or visit thehotline.org.