This New 'Daredevil' Villain Was Almost An Avenger Once Upon A Time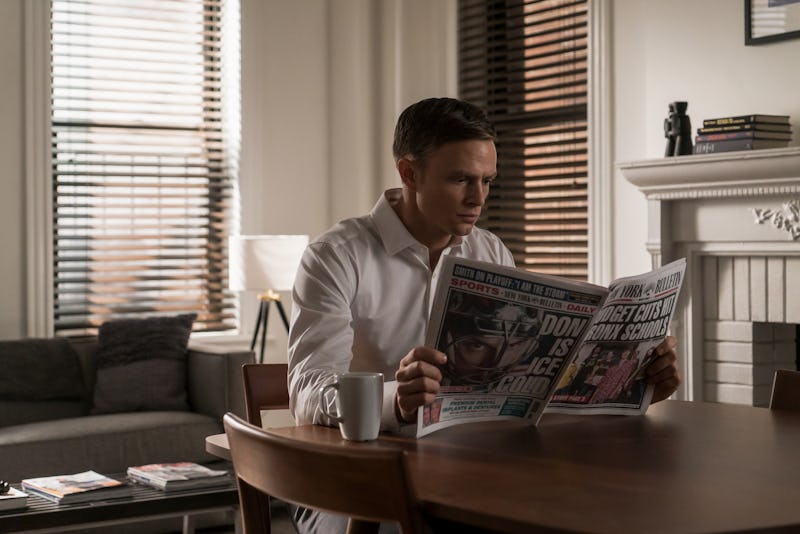 Nicole Rivelli/Netflix
It may be no secret that Daredevil Season 3 is introducing Bullseye; fans figured it out using guesswork and clues well before the official announcement at New York Comic-Con earlier this month. That said, there's still a lot to learn about the new edition to the Marvel Netflix universe., like who plays Bullseye in Daredevil Season 3? Wilson Bethel is a familiar face who came this close to being a Marvel hero instead of a villain.
Bethel is playing FBI Agent Benjamin "Dex" Poindexter, who will ultimately become Daredevil's nemesis Bullseye. This season serves as his origin story, the way Season 2 introduced fans to the Punisher and Electra. Before that, Bullseye was actually teased as an Easter Egg in Daredevil Season 1 — though his origin in Season 3 may be a little different than what the Netflix series was originally setting up or referencing. This isn't like the big screen MCU, where Jeremy Renner made a cameo as Hawkeye in Thor before appearing in The Avengers. The actor was hired this season.
He may be playing a well-known Marvel villain now, but this isn't Bethel's first brush with comic book glory. In 2010, the actor was pretty high up on the short list to star in Captain America as Steve Rogers himself, according to MTV. The role, of course, ultimately went to real life superhero Chris Evans, who at the time seemed like a surprising choice. However, isn't that interesting that Bethel ended up playing the flip side to this coin in the MCU? According to MTV, another top contender alongside Evans and Bethel at the time was TRON: Legacy and On The Road star Garrett Hedlund.
Primarily a television actor, here's where you've seen Bethel before:
How To Get Away With Murder
He did, too! In Seasons 2 and 3, Bethel played Charles Mahoney, an important figure in the HTGAWM mythology. Charles is Wes' secret biological father, a rapist and a murderer who somehow managed to escape the suspicious revenge of the Keating 5.
The Astronaut Wives Club
On the short-lived ABC series that, for fans, likely served as important research for the recently released 2018 film First Man, Bethel played Scott Carpenter. In real life and on the series, Carpenter was one of the original seven astronauts selected for Project Mercury.
Hart Of Dixie
'Shippers will remember Bethel's bartender, Wade Kinsella, from all four seasons of this CW series.
Generation Kill
In this HBO mini-series, Bethel saw some action as Corporal Evan "Q-Tip" Stafford.
The Young And The Restless
Finally, when he was up for Cap, Bethel was best known as Ryder Callahan on this long-running soap opera, a role he ended up playing from 2009 to 2011.
Unless you happened to be a fan of one of the above shows, Bethel was likely just "one of those faces" — an actor you recognized and were happy to see but couldn't necessarily place. He also appeared briefly on Bates Motel, The O.C., Criminal Minds, Blood & Oil, as well as Inherent Vice. As Dex/Bullseye on Daredevil, he's making quite the impression, putting all of those acting and action skills to good use.