Why Litchfield's New Boss In 'OITNB' Season 6 Is Downright Terrifying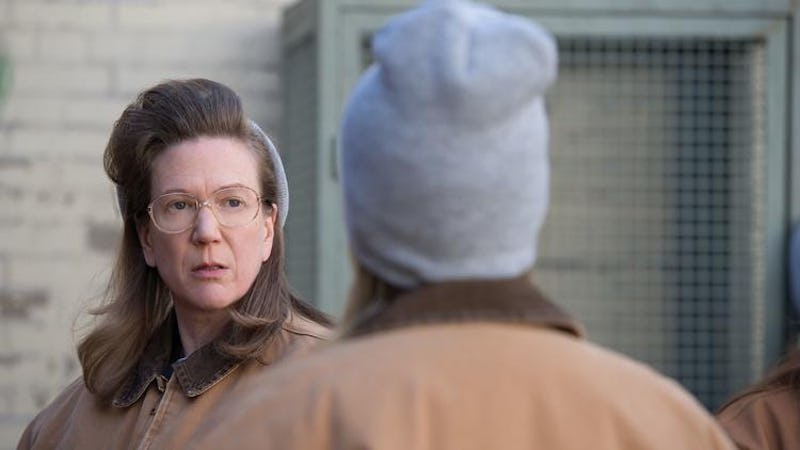 JoJo Whilden/Netflix)
Season 6 of Orange Is The New Black is a whole new ballgame seeing as the riots are over and some of your favorite inmates have been shipped to prisons across the country. (Sob.) Others are in Litchfield's maximum-security prison, aka "Max," thrown in with plenty of new (and completely terrifying) faces. Oh, and new bosses, too. New prison, new rules, you know? Who plays Carol Denning on Orange Is The New Black? Henny Russell is the big boss of C-block now. Spoilers ahead for Orange Is The New Black Season 6.
The Season 5 riot left a lot of the inmates to face some serious consequences, dealing with charges, uh, much, much worse than some of the reasons they were at Litchfield in the first place — they all allegedly started a riot and got a guard killed (not that anyone misses Piscatella, that's for sure), after all. While dealing with new charges and a serious change of scenery is hard enough, the remnants of the Litchfield crew also have to deal with Carol, the C-block boss who is in a terrible rivalry with her sister, Barb, who runs another block in Max, according to Rolling Stone.
Present-day Carol is played by Henny Russell, who has had a series of television stints, including shows like Chicago Med, Elementary, The Leftovers, Law & Order: SVU, Gossip Girl, Hope & Faith, and Unforgettable. She's also been in movies such as Revolutionary Road and the upcoming The Magnificent Meyersons, as well as Broadway productions like Oslo and The Audience.
In an interview with the Chicago Tribune, Russell spoke of how Carol, in jail since the 1980s, is stuck in that decade. "I sort of feel like she never quite left the '80s," Russell told the newspaper. "Most of her adult life she's been in prison because she was very young when she was incarcerated, so her world is really 'Max.'" Russell is behind one key character trait of Carol, too — her endless eating of Tootsie Pops throughout the season.
"It turns out that the writers had written that Carol (as a young woman) likes candy … and she was also a heavy smoker. Well, you can't smoke in prison anymore," Russell said. She added,"I'm personally, sadly, a smoker. And I thought, well, when you quit smoking, a lot of the time you get orally fixated on something else, and I thought, well, she's stuck in the '80s, what if she still likes candy? What if she's still really hooked on candy?" This candy obsession makes Carol even more terrifying, because it's pretty disconcerting to have a dictator eating lollipops while discussing your fate.
Orange Is The New Black wouldn't be the same without any flashbacks for its new major characters, and Carol is no exception. Her young self is played by Ashley Jordyn in three episodes of the season. Jordyn's first television job, according to her IMDB page, was a part on Law & Order: SVU. She then appeared on the pilot of a show called Greenport.
Together, both Russell and Jordyn combine their art to make one formidable character on Orange Is The New Black Season 6. She's definitely someone the Litchfield inmates will have to contend with — along with dealing with everything else that got them in prison in the first place.