Get To Know Grey Sloan's Hot New Doc Before The 'Grey's Anatomy' "Season Of Love" Starts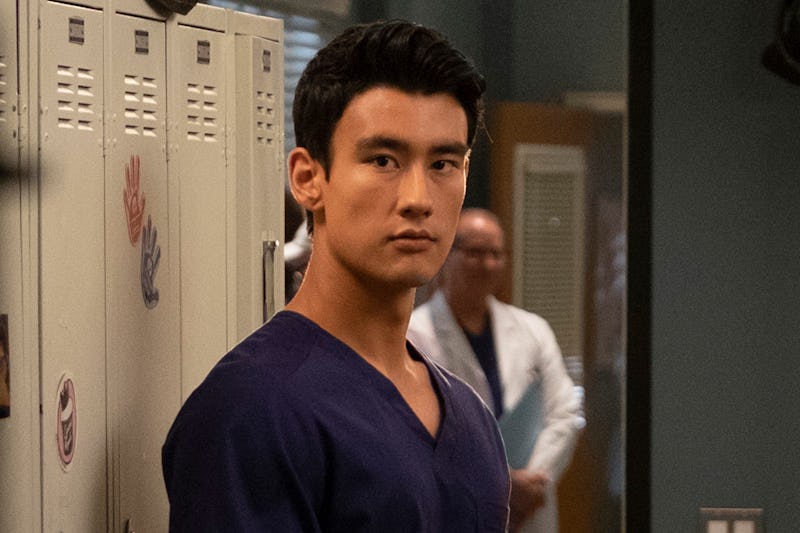 John Fleenor/ABC
It only took 15 years, but Grey Sloan Memorial Hospital is finally getting its first gay male surgeon. Seriously, it's sort of hard to believe that it took this long. But who plays Dr. Nico Kim on Grey's Anatomy? The newcomer is a pioneer on a show that has always been a pioneer for LGBT representation on broadcast television, but that representation has to date always come in the form of queer women like Callie Torres, Arizona Robbins, and Erica Hahn. While there have been gay patients (like those closeted soldiers) and other gay supporting characters (like Joe the bartender) over the years, Dr. Kim is somehow both the show's first gay male doctor — and its first male doctor of Asian descent.
In the upcoming fifteenth season, Dr. Kim will be portrayed by Alex Landi. TVLine broke the news of Landi's casting in early September, stating that the half-Korean half-Italian actor would be joining the medical procedural in the fall in a recurring role of as-yet-undetermined length. If you're bummed that he's not officially joining the main cast, don't worry — actors often join the show on a recurring basis only to get promoted to full-time main cast the following year. (This is how characters like Callie, Arizona, Jackson, April, and Jo all got their starts.)
But who is Alex Landi? Actually, not much is known about the newcomer yet… other than that he's obviously very handsome, which is apparently a prerequisite for hiring at Grey Sloan.
Prior to getting hired for Grey's, Landi's only credit (apart from a couple of shorts) was one episode of the CBS legal drama Bull, on which he played "Juror 1." So unless you happen to watch that procedural and have a good eye for faces, you probably won't recognize the good doctor when he scrubs in for Season 15. But just because he's green doesn't mean he doesn't have the goods.
According to a bio linked in Landi's own Instagram profile, he was born in New York City and grew up dreaming of and training to be a professional tennis player; but when he saw the Broadway production of The Lion King, that all changed. Totally enraptured, Landi changed his plan and ended up enrolling in the prestigious Lee Strasberg Theatre & Film Institute. (According to the school's website, its alumni include such high-profile stars as Chris Evans, Scarlett Johansson, Marilyn Monroe, Barbra Streisand, Alec Baldwin, Sally Field, Laura Dern, and Grey's Anatomy's own Chandra Wilson.)
After graduating, Landi spent time in Asia studying with elite martial arts instructors — so if any of those Grey Sloan patients get violent, he'll know exactly how to deal with them.
Of course, the logical question about Dr. Kim any Grey's fan will be asking is, who will he be paired up with? (The soapy show is already known for its passionate romances — and that was way before Season 15 was being billed as the "Season Of Love.") The problem with being the first gay character on a show is that you're the only gay character on the show until another is introduced... and therefore your options for romance are somewhat limited.
Or maybe they're not. "He catches the eye of one of the interns, and it'll be interesting to see how it all plays out," Grey's star James Pickens, Jr. (aka Richard Webber) told Pop Sugar recently. But which one? Given that Levi Schmidt has hooked up with Jo Wilson and Vikram Roy has hooked up with April Kepner, the logical choice would be Casey Rogers. But the transgender intern might not be the only one to strike up a flirtation with the hot new doc.
"There's gonna be a power dynamic," Giacomo Gianniotti (aka Andrew DeLuca) told Pop Sugar about his character's relationship with Dr. Kim. "Someone might be on a higher level, someone might be on a lower level." Will those professional tensions translate into romantic ones? Now that Sam's in Switzerland and Meredith has turned down his advances, will Nico help Andrew discover a new side of himself? Tune into the "Season Of Love" to find out.