'Grey's Anatomy' Is Finally Getting A Gay Male Surgeon In Season 15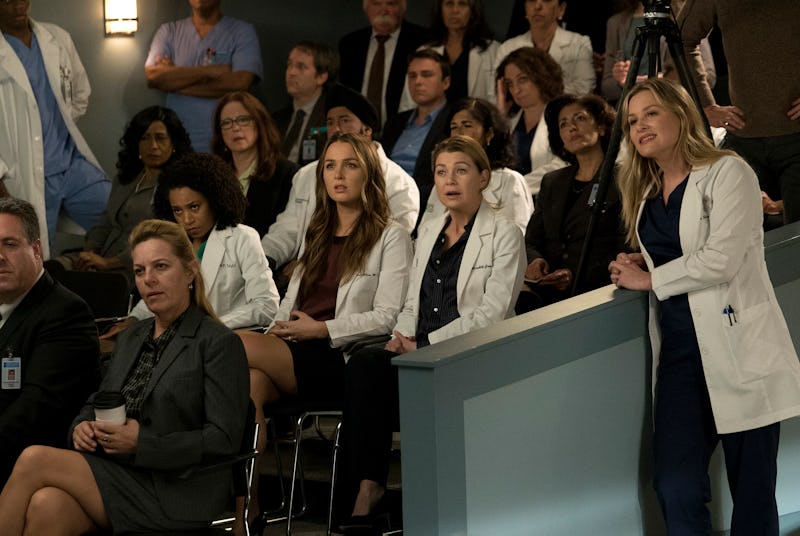 Byron Cohen/ABC
After 14 seasons, Grey's Anatomy is finally introducing a much-needed character to Grey-Sloan Memorial Hospital. TVLine reported that Alex Landi will portray the first gay male surgeon on Grey's Anatomy as Dr. Nico Kim in Season 15. Landi doesn't have many credits on his IMDb page, so this will surely be a breakout role for him. But more importantly for Grey's fans, Dr. Nico Kim will be the first time that Shonda Rhimes' long-running show features a gay male character in such a prominent role.
Grey's Anatomy has been praised for its diverse cast since it premiered in 2005, and the series has featured major and minor LGBTQ characters before. However, notably missing from that group has been a major male character who identifies as gay. Just how significant of a role Dr. Kim will play in the coming season is unclear. ABC didn't provide any additional details on this new character, or the number of episodes Landi was signed on to appear in. However, in response to the announcement, Landi wrote on Instagram, "Very grateful. Thank you to everyone who has made this possible. Watch me take on the role of Dr. Nico Kim for the season 15 premiere on Sept 27th 8pm on ABC." So fans can expect Dr. Kim to debut right at the beginning of the season.
Besides occasional patients, the majority of the LGBTQ representation on Grey's Anatomy has come in the form of female characters who identify as lesbian or bisexual, most notably Sara Ramirez's Callie Torres and Jessica Capshaw's Arizona Robbins, who have both left the show. Other female LGBTQ characters over the years include Carina DeLuca, Erica Hahn, Leah Murphy, and Eliza Minnick.
Capshaw's Arizona was only recently written off in Season 14. When the news was announced, Capshaw called playing Arizona a "rare privilege" through a statement on Twitter. "She was one of the first members of the LGBTQ community to be represented in a series regular role on network television. Her impact on the world is permanent and forever. Forever," Capshaw wrote.
Sarah Drew's April Kepner also left the series when Capshaw did and Rhimes released the following statement, "Both Arizona Robbins and April Kepner are not only beloved but iconic — both the LBGTQ and Christian communities are underrepresented on TV. I will be forever grateful to both Jessica and Sarah for bringing these characters to life with such vibrant performance and for inspiring women around the globe."
Grey's Anatomy has been focused on continuing to tell LGBTQ stories for years, expanding beyond just their regular characters. In the January 2018 episode, "1-800-799-7233," intern Casey (Alex Blue Davis) told Bailey (Chandra Wilson) that he is a "proud trans man." At the time, showrunner Krista Vernoff told The Hollywood Reporter, "We worked very hard and very closely with Alex and GLAAD on this storyline" to get it "exactly right." Vernoff added, "My goal as a storyteller was to help illuminate that experience as an ally. I reached out to GLAAD for help in doing that because I am only an ally and not a member of LGBTQ community. They were more than happy to help."
That said, no show is perfect. And there was a fair amount of fan outrage at Capshaw being fired since her character gave a voice to underrepresented women on TV. Now, with Landi's casting, some fans are seeing it as a move to appease fans after removing a lesbian character. Others have also criticized Grey's for taking this long to show an openly gay male doctor.
Even with this skepticism, Dr. Nico Kim is an undeniably important addition to Grey's Anatomy. And no doubt, he'll win over fans when he makes his big hospital debut in the fall.