You're Going To Adore The Star Of Netflix's Latest Teen Drama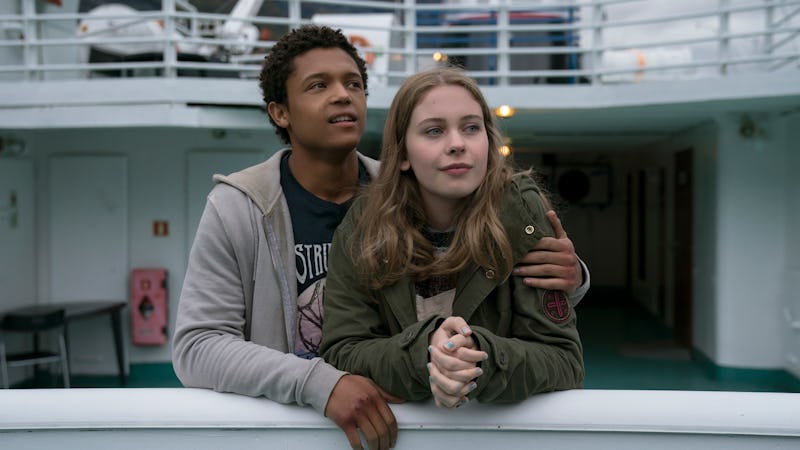 Aimee Spinks/Netflix
What do you get when you take Romeo And Juliet, make it British, and make one half of that titular duo able to shape-shift into any other person in the world? You get The Innocents, Netflix's newest dystopian wonder show. This program is going to be big and really bingeable, so best you know who the players are. Who plays Harry on The Innocents?
Going into a little more detail here, June McDaniel and Harry Polk are in love, and they want to run away to be together and live free from the gaze of their conservative and bossy families. But when June learns about her unique ability, things get even more complicated, especially as a professor named Halvorson wants to find June and reconnect her with her mother, who, as it turns out, also has the same shape-shifting abilities. According to Halvorson, both mother and daughter can be cured! Now, running away from home as a teen has enough drama built into it, but to suddenly discover that your girlfriend has superpowers that enable her to alter her appearance to transform into, well, anyone, has to be quite unnerving. The title of the show is The Innocents, but I have a feeling that that so-called innocence will not last long as more and more secrets are unleashed.
Zimbabwean actor Percelle Ascot plays Harry. If you're in the U.S., you may not have seen a lot of him, as he's primarily done British television prior to this. He's had roles in featured roles in shows like Youngers, Wizards vs. Aliens, New Tricks, Doctors, The Coroner, and Casualty. He also created The Wall Of Comedy, a YouTube channel where UK-based comedy lives.
In an interview with BUILD Series, Ascott said that he decided he needed a relationship with Netflix back in 2016 when he went to Netflix's convention and was just so excited about what the network had planned for the future. Two years later, he got an audition for The Innocents and — bam — it started to fall into place. Since this is the biggest job he's had so far, Ascott put a lot of pressure on himself to be the best he could be. "The first, the read through was overwhelming… I felt that scale. And it wasn't because… we had to exceed a certain expectation. It was because we knew how great the script was, the cast… the pressure was something I personally put on myself," Ascott said.
And don't think that The Innocents is your everyday teens-living-with-powers knockoff. "This show… is it's own show. I don't think that we're trying to be Stranger Things, that we're trying to be, I don't know, 13 Reasons Why," Ascott said. "I feel like we're allowed to be free in being The Innocents and that's the beautiful part about being a part of a broadcaster like Netflix."
Ascott's freedom in public at least may be short-lived, because as soon as The Innocents hits streaming waves on August 24, Ascott is going to be mega-famous. Luckily, he seems ready for the challenge, shape shifters or not.