The Mysterious Woman From Jack's Past On 'This Is Us' Is Slowly Being Revealed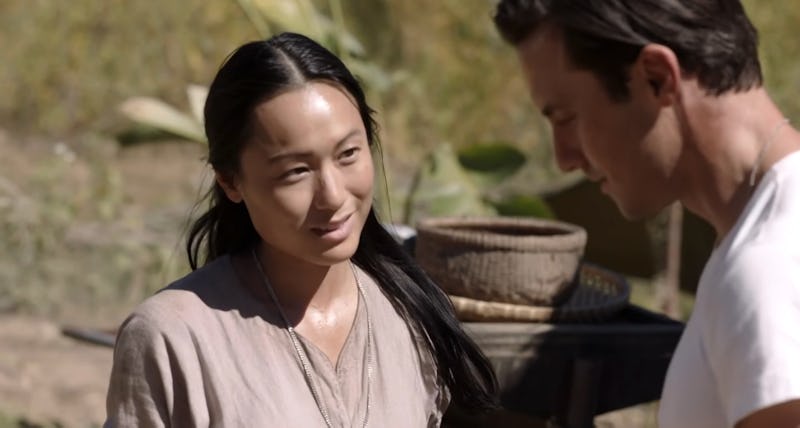 NBC
The love between Jack and Rebecca is part of the glue that holds the Pearson family together on This Is Us. But Kevin is on a journey to find out what his father's connection is to the Vietnamese woman in the photo that Robinson gave him. Hien on This Is Us is going to become a more prominent part especially now that Kevin and Zoe are in Vietnam. Actress Porter Duong plays this pivotal character who may be integral in Kevin understanding Jack's secret past during the Vietnam War. And while you may not have heard of Duong before, her character Hien will be on your mind just like she has been plaguing Kevin's.
Ever since Kevin received the picture of the woman wearing Jack's necklace during the Vietnam War, he can't stop thinking what this mysterious woman meant to his father. When he showed Randall the photo he said, "Dad's obviously in love with that woman, right?" As the beginning of "Sometimes" showed, Hien had taken the necklace off the body of a dead soldier, but the circumstances around how she gave it to Jack, why it was so important to Jack, and if they had a romantic relationship are still unknown. But clearly from the preview for "Six Thanksgivings," Hien knew Jack and Nicky in Vietnam and the Vietnamese-American actress Duong has taken on this important role in the history of the Pearsons.
While her appearance on This Is Us is certainly Duong's most notable role to date, she has been working as an actress for years — sometimes going by the name of Porter Lynn, according to her IMDb page. She starred in the 2011 Vietnamese-American independent film Touch as a manicurist who becomes close to one of her clients. Around the same time, she appeared in an episode of Sarah Michelle Gellar's short-lived CW series The Ringer.
Duong was also in an episode of Silicon Valley — Season 2's "Homicide" — as Gina. More recently, she appeared in the web series Yappie for Wong Fu Productions. She showed up for Wong Fu's talk show Lunch Break as well where she discussed some of her own experiences with dating.
Besides acting, Duong's LinkedIn page shows that she has been keeping busy with other professions as well, including working for a California-based airline. Plus, she graduated from the University of California with a bachelor's degree in psychology, which may help to give her some insight on the emotionally-strained Pearson family. Duong's LinkedIn page also highlights that she speaks Vietnamese, which she used on This Is Us in her first brief appearance during "Vietnam." On her Instagram, Duong has noted the importance of accurate representation in the entertainment industry. She shared a photo of her wearing the "Scarlett & Emma & Tilda & Matt" t-shirt that calls out Hollywood's whitewashing of Asian roles.
Her character Hien on This Is Us lives in the fishing village on the Sông Trà Khúc that's located near Chu Lai where Nicky was stationed. In "Sometimes," Jack successfully got Nicky moved to the ville with him. The village is mostly filled with women and children, including Hien and her son Lanh, who tried to give Jack a fish in "Vietnam." Yet, since Nicky dies in the war, the village is bound to see battle, especially as Jack was told that Vietcong sympathizers reside there.
This Is Us executive producer Elizabeth Berger told Entertainment Weekly that fans will definitely learn more about Jack and Hien's complicated relationship. "I think it's a really complex story. Any relationship between an American soldier and a Vietnamese woman at that time is going to be so complex, and bring with it so much loaded history, that it is safe to say that it is not going to be the most typical relationship," Berger said. She also spoke of the potential of Jack (or even Nicky) having a child with Hien, simply stating, "You'll have to wait and see."
"Six Thanksgivings" will finally start to unravel the mystery of what Hien meant to Jack. And though the truth might hurt Kevin and This Is Us viewers alike, his history with her is all part of the bigger picture of the Pearsons.