Katherine's New BF In 'A Million Little Things' Is Already Winning Fans Over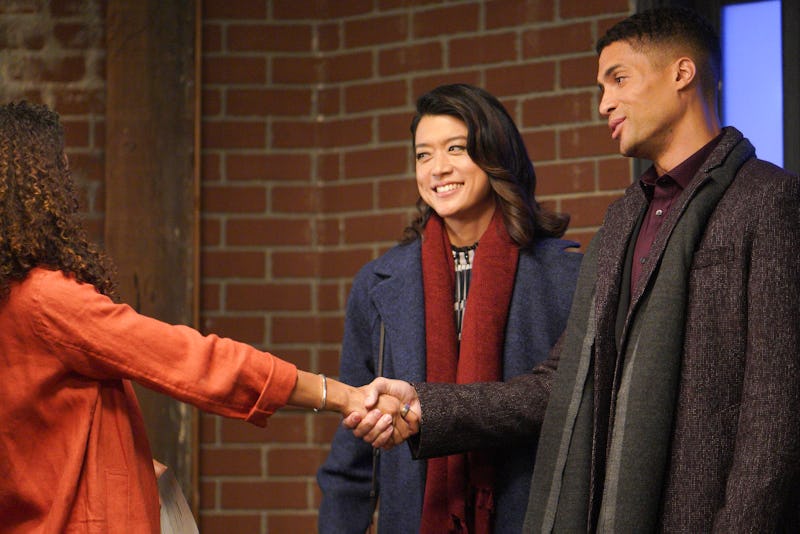 David Bukach/ABC
The A Million Little Things crew many have a ton of problems, but adding new people to the mix is not an issue. They welcomed Maggie, who was literally a stranger, with open arms immediately after Jon's death and now she's a key person in their friend group. Last week, the show introduced yet another new face at their gatherings with Katherine's new love interest, Hunter. So far, he seems like the perfect guy for Katherine — supportive, understanding, driven, and extremely sexy. Fans are totally rooting for Hunter on A Million Little Things, even if they also want Gary to be happy.
According to IMBD, Henderson Wade is a Syracuse University graduate who hails from Washington, D.C. He jump-started his TV career with guest spots on soap operas like The Young & The Restless and The Bold and The Beautiful before landing a recurring gig on the now-defunct CBS sci-fi series Extant in 2015 as Offspring/Ahdu alongside Halle Berry. Sadly, the show was cancelled after just two seasons but Wade kept moving forward with appearances on shows like NCIS and American Horror Story among many other shows.
But, he is perhaps best known for his current role as Riverdale's Sheriff Michael Minetta. The recurring character is the perfect way for him to continue to gain prominence as an actor while still being able to work on other shows like A Million Little Things. And, his star is definitely rising considering that his recent casting as DC Comics character Matt Cable on the upcoming TV series Swamp Thing, per Deadline.
Cable's comic history is long and extremely complicated but, in the 2019 series, he will be a lawman who fights to protect his town from supernatural events, which sounds pretty similar to Wade's Riverdale character. It's a pretty big deal to land a comic role as an actor but hopefully he will still be a part of Katherine's life on A Million Little Things because she totally deserves to be happy.
It remains to be seen what will happen with Hunter and Katherine, but right now it's assumed that he will be around for a while as a love interest since he was just introduced into the plot. There's a ton of things going on with Delilah's pregnancy, Maggie's cancer, whatever the guys are doing, and the Jon mystery but there has to be a story line for Katherine outside of work and her drama with Eddie, right? And, it wouldn't be a bad thing to add some eye candy to the show for a nice distraction.
No matter what happens, fans are absolutely interested in shipping this budding romance in the midst of messiness. And, if Wade's recent Instagram post featuring a candid moment between the couple (whom he calls "Hatherine") is any indication, this couple totally has a bright future.
Hopefully, Hunter will somehow find his place within this friend circle and help Katherine find her way to a new normal. Watch their story unfold on Wednesdays at 10 p.m. ET.