Get To Know 'Dirty Dancing's Talented Newcomer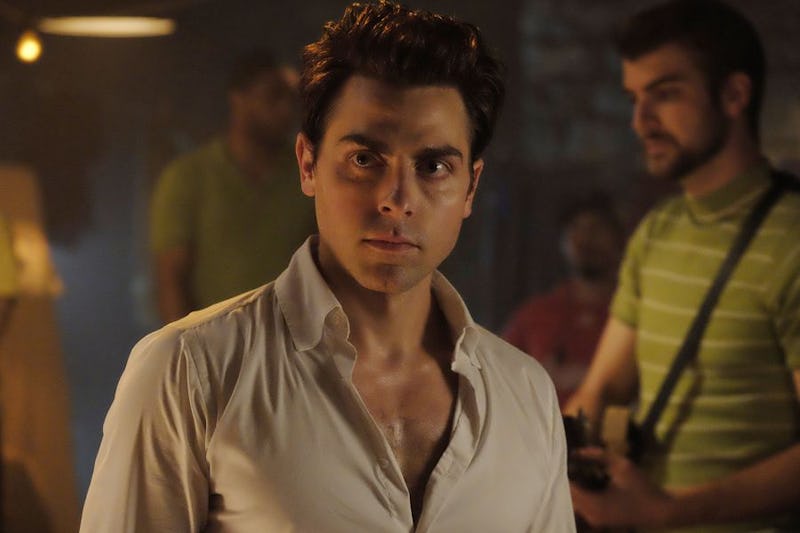 Among the recognizable faces that viewers will see when they tune into ABC's Dirty Dancing event on May 24 are Abigail Breslin, Debra Messing, Sarah Hyland, Katey Sagal, and Nicole Scherzinger. But who plays Johnny in the Dirty Dancing remake? The role of the sensual dancer originated in the 1987 film by a young Patrick Swayze is a tough one to recreate. From the quotable dialogue ("Nobody puts baby in a corner") to the spectacular dance moves (that lift!), Johnny is one of the most iconic characters of the '80s.
Instead of getting a recognizable face to try to compete with Swayze's memory, ABC took perhaps a wiser tack: they cast a relatively unknown performer whose freshness could potentially allow him to make the character his own. So who is Colt Prattes, and where might viewers have seen him before?
As a newcomer, 30-year-old Prattes' onscreen acting credits are limited to one episode of the NBC medical drama Mercy and a few episodes of the musical comedy web series Wiener & Wiener. But just because you probably haven't seen Prattes playing a character on TV doesn't mean he hasn't worked. If he looks familiar to you, there's a good reason: Prattes was featured heavily in P!nk's 2012 music video for "Try," doing a dramatic (and acrobatic) pas de deux with the famous pop singer.
As you may have guessed from his role in Dirty Dancing and his athletic performance in P!nk's video, Prattes' training background isn't in acting — it's in dancing. According to an interview he gave to The New York Post, Prattes attended a performing arts high school in Georgia, where he referred to himself as "a late bloomer" who worked hard to catch up with those who had started dancing at a younger age.
After making a name for himself with "Try" and as a backup dancer on P!nk's subsequent world tour, Prattes channeled his prodigious talents and athleticism into a career on the Great White Way, performing in the chorus for such Broadway musicals as West Side Story, How To Succeed In Business Without Really Trying (with Daniel Radcliffe), and the national tour of A Chorus Line. While working in the Big Apple, he met his future wife Angelina Mullins, a fellow Broadway actor who is currently performing with the national tour of Aladdin.
It was crucial that ABC cast a trained dancer as their leading man, considering their star, Abigail Breslin, didn't have any training at all. "Abby had never danced before, and she openly said in an interview about how nervous she was about whoever her Johnny was gonna be," Prattes told The Post in the same interview. "Because if you haven't danced, you haven't been lifted. And if you haven't been lifted, when your eyeline goes from four or five feet off the ground to 10 feet off the ground, it's terrifying."
But the co-stars quickly bonded through the "terrifying" experience. "Abby's my girl!" Prattes effused. "We talk every day now. She's become a very close friend."
Prattes also told the Post that he has a personal history with the character he's been tasked with resurrecting. "I used to watch Dirty Dancing with my stepmom every weekend," he said. "And I just remember watching her smile so much. Now that I'm an adult, I realize she had a crush on [Swayze]." Judging by the steamy promos for the upcoming TV movie, Prattes is about to have a whole new generation of viewers feeling the same way about him.
You too can swoon over the new Johnny Castle when Dirty Dancing premieres on ABC on Wednesday, May 24.