Twitter Has A Crush On "Lyft Bae" From 'Insecure' Season 3 — But Does Issa?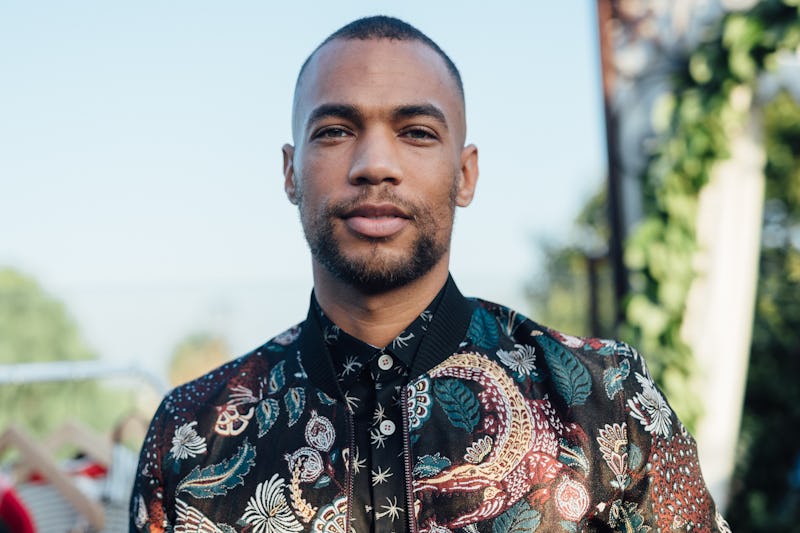 Emma McIntyre/Getty Images Entertainment/Getty Images
Issa was determined to make her "Party Lyft" a thing in Insecure Season 3, Episode 1, but things quickly went off the rails. First of all, she only had Fruit Frenzy-flavored Capri Suns (rookie move), and one of her passengers tried to light up in the backseat, which was a clear violation of the Party Lyft regulations! No one's trying to get pulled over in the Party Lyft. But her other pick-up was a very hot guy named Nathan (Kendrick Sampson), who Insecure fans are calling Lyft Bae. So who is this mysterious customer, and why did he take off after Issa pulled over?
While Lyft Bae is a great Twitter nickname, Molly (Yvonne Orji) came up with her own: "Nathan with the face." After they picked him up, Issa and Molly quickly learned that he was headed for Saddle Ranch, a taco place that was 30 minutes away. Molly made him surrender his phone before plugging in a superior restaurant, Worldwide Tacos. "Oh, I see," Nathan said. "So this is just about getting you fed." "Uh, yeah!" Issa responded. "Keep up." Everything was going well: They were talking about tacos, and Molly let it slip that they'd only been picking up hot guys. "Hold up, so I made the cut?" he asked. Of course you did, Nathan with the face!!
People Are Pining For Some Action
However, their second pick-up was less-than-charming. This is the guy who started smoking a joint, and after Issa asked him to stop, he responded, "Nah, you good." Luckily, Lyft Bae stepped in, saying, "Uh, the lady asked you not to do that." He then took the lit joint out of the other passenger's mouth and threw it out the window. Things obviously escalated, and the two men got into a fistfight in the backseat. After Issa pulled the car over, he apologized before taking off down the road. Later, Issa looked at her phone and discovered that Nathan had left her a $50 tip. Apparently he enjoyed (some of) the company.
But who is Kendrick Sampson, a.k.a. Lyft Bae? His most prominent role was in Shonda Rhimes's How to Get Away with Murder, where he played a character named Caleb Hapstall. Fans of HTGAWM will recall that Caleb murdered his family in Season 2, so not as charming, but definitely just as swoon worthy. The actor has also appeared in The Vampire Diaries, Gracepoint, and The Flash.
More recently, however, Sampson was in the Showtime series, White Famous, where he played a British character named Robbie MacDonald. The series starred Saturday Night Live veteran Jay Pharoah and was produced by Jamie Foxx. Although White Famous was canceled after one season, per the Hollywood Reporter, Sampson seemed to take his role very seriously. Speaking to Women's Wear Daily about the Showtime series, he said, "I do my best to choose projects that I believe highlight different things or at least provide some sort of progression for people of color."
What's more, Sampson is passionate about social justice — the actor's Twitter is filled with retweets on topics ranging from police brutality to the Charlottesville rally. He also tweets support for different political candidates, and his pinned tweet is a 2016 response to the backlash to Colin Kaepernick kneeling during the national anthem. During this short video, he reminds people that when the national anthem was written, they weren't thinking about people of color. "If you really want to direct your vitriol somewhere, it should be at the way this country treats its veterans, not Kaepernick," he says. "Our veterans of color should not come back and face unequal treatment under the law."
So, it sounds like Sampson is just as likable off screen as he is onscreen. And since Issa Rae hinted that her character would have two love interests this season in an interview with Bustle earlier this month, fans can reasonably assume that Lyft Bae is one of them. Hopefully, Issa and Nathan will finally make it to Worldwide Tacos soon, because she can't crash on Daniel's couch for much longer. And Twitter is not ready to forget about Nathan With The Face anytime soon.