The Star Of Netflix's 'Mowgli' Is So Impressive In His First Leading Role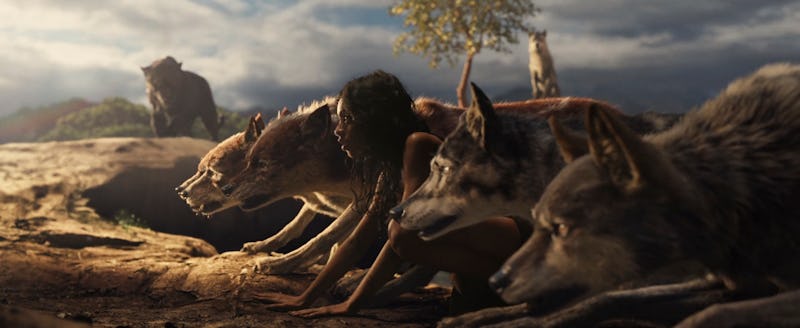 Netflix
Another Jungle Book movie is about to hit screens big and small, and this one switches things up from both the Disney animated classic and 2016's live action adaptation. Mowgli: Legend of the Jungle is darker, more violent, and more suspenseful than the other two films. It's more closely related to Rudyard Kipling's stories, and it shows what happens when Mowgli goes to the man village. Because of this, a lot is asked of the young actor who plays Mowgli in the Netflix movie, and 14-year-old Rohan Chand really delivers.
In the movie — out in theaters select theaters now and debuting on Netflix Dec. 7 — Mowgli is left in the jungle when his parents are killed and grows up trying to fit in with his wolf family. Eventually, the animals decide that it's too unsafe for him there, especially under the threat of tiger Shere Khan, and Mowgli is sent to the man village. Unfortunately — and here's where things really stray from the other movies — Mowgli is treated like a wild animal by the humans at first, in particular a white hunter played by Matthew Rhys, who puts him in a cage. From there, Mowgli starts looking for revenge and to restore balance in more ways than one.
So, as Mowgli, Chand has a lot of work to do. First of all, he has to do some pretty untraditional acting. According to what director Andy Serkis to Collider, Chand was able to act against the other stars, like Cate Blanchett and Benedict Cumberbatch, but even then they were all geared up for motion capture. (Credit where it's due: Star Neel Sethi acted with a green screen, puppets, and other stand-in props for the live action Jungle Book to great effect.) And in addition to that, he has to express such a wide of emotions from joy when playing in the jungle, to pain when Shere Khan cuts through his arm, to screaming, impassioned anger when he's caged, to timid curiosity when he gets to know the humans. He pulls it all off.
Mowgli was not Chand's first time in front of the camera. The actor has had roles in Homeland, Bad Words, Lone Survivor, and The Hundred-Foot Journey, among others. He was also named one of The Hollywood Reporter's Top 30 Stars Under 18 in August. In his interview he said, "I always wanted to be a rock star or a paleontologist or something. I never really knew I had a passion for acting." Well, now he can be both a rock star and paleontologist, if the right projects come along.
The native New Yorker also talked about what moment in his career has made him the most starstruck. "Working with Christian Bale on Mowgli", he said. "I just love The Dark Knight." (Bale plays Bagheera.) As for who he looks up to, it's one of the most successful child stars turned A-listers of all time. "I really admire Leonardo DiCaprio. The way he devotes himself to a character is just incredible. I want to learn from that and be like him."
As for what else he's up to, Chand doesn't have any other upcoming movies listed on his IMDb page, but he's definitely still busy with all the normal kid stuff he has going on. Like starting high school, going bowling, and playing tennis. And because he does have a platform now, he also posts on Instagram about his support for UNICEF. Cool kid and great actor. Now we just have to see if he continues on with his acting or if the world's first paleontologist/rock star is on the way.