This New 'Daredevil' Character Is Woefully Misguided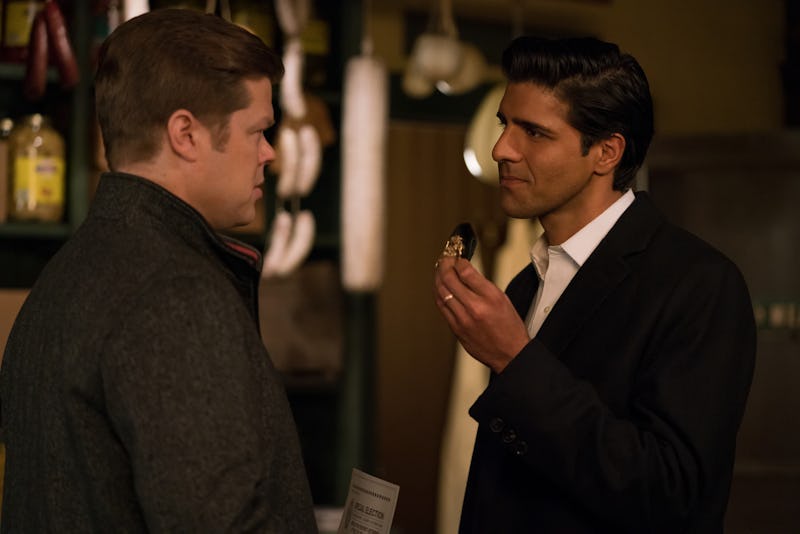 Nicole Rivelli/Netflix
Vigilantes, criminals, and authorities rarely get along. And in Daredevil Season 3, FBI agent Rahul "Ray" Nadeem is caught in the crosshairs of this complicated dynamic. Spoilers for Episodes 1-6 follow. Jay Ali plays Ray in Daredevil Season 3 and this moral federal agent is in a tough spot. In the Season 3 premiere, Ray makes a deal with Wilson Fisk, who is currently serving time in prison. Ray immediately sees the benefits of this arrangement since with Fisk's intel, he takes down the Albanian crime syndicate. Ray also gets the promotion he so desperately needs to help get him out of debt. Yet, Kingpin is not a man to be trusted. And even with Ray fighting on the wrong side of Matt, Karen, and Foggy, Ali helps to make this new character worth rooting for.
Ray is introduced at his family's suburban home. He's struggling to make ends meets after he paid for his sister-in-law's cancer treatments, but he keeps this a secret from everyone but his wife. So it's kind of his big break when he visits Fisk in jail and Kingpin wants to make a deal. However, throughout the course of the first six episodes, Matt and Karen follow their hunches and learn that this FBI deal is all a ploy by Fisk. Unfortunately, Ray doesn't know this as Fisk entangles him even more in his manipulative plot.
Besides Ray following Fisk's false lead that Matt is a criminal, matters are even worse between Ray and Daredevil by the end of the sixth episode. Kingpin pushed Ray's colleague Benjamin "Dex" Poindexter to his breaking point and enlists him to impersonate Daredevil. When Dex (aka Bullseye) goes on a killing spree at the New York Bulletin, Ray believes that it really is Daredevil. So now Ray will not only be wrongly investigating Matt — he'll be going after the wrong Daredevil.
Despite Ray being at odds with Matt, Ali has made this FBI agent sympathetic. Ali is a British actor who has appeared in a number of American TV shows over the years. He briefly appeared in the Melrose Place reboot, Rizzoli & Isles, NCIS, Grey's Anatomy, and Pitch. He was a recurring character in The Fosters and The CW's short-lived series Significant Mother. He also stars in the web series Bloomers and he's set to appear as Det. Singh in ABC's new series The Rookie.
Before Season 3 premiered, Ali spoke to Bustle about how much he enjoyed being a part of Daredevil in an interview alongside Vincent D'Onofrio (Fisk), Joanne Whalley (Sister Maggie), and Elden Henson (Foggy). "It was amazing. It was a wonderful, wonderful experience," Ali says. "Getting a big show like this and working for Marvel and Netflix ... it's like an actor's dream to be able to do that. And then once you see what kind of character you're going to be playing in the arc they have and then working with these guys, it's just — I can't put into words to tell you how special it was."
Ray isn't a character in the comics, but he still has a tremendous story to tell. With so much pressure on him, there's a chance he could turn bad. But right now, he seems to want to do the right thing — even if he is a bit misguided. (Also, it's very likely that he was set up by his boss Tammy Hattley.)
So while Ray will be chasing after Daredevil, there's also a chance he could help clear the Devil of Hell's Kitchen's name by the end of Season 3. After all, the Daredevil Twitter account shared the news of Ali's casting with the words "Romans 12:21." That Bible verse says, "Do not be overcome by evil, but overcome evil with good."
Hopefully before Daredevil Season 3 ends, Ali's Ray can help Daredevil overcome the evil that is Fisk and Bullseye with his goodness. Otherwise, their evilness may just rub off on this new good guy.
Additional reporting by Rebecca Patton.