Wilson Fisk Is Back With A Vengeance In The New 'Daredevil' Season 3 Trailer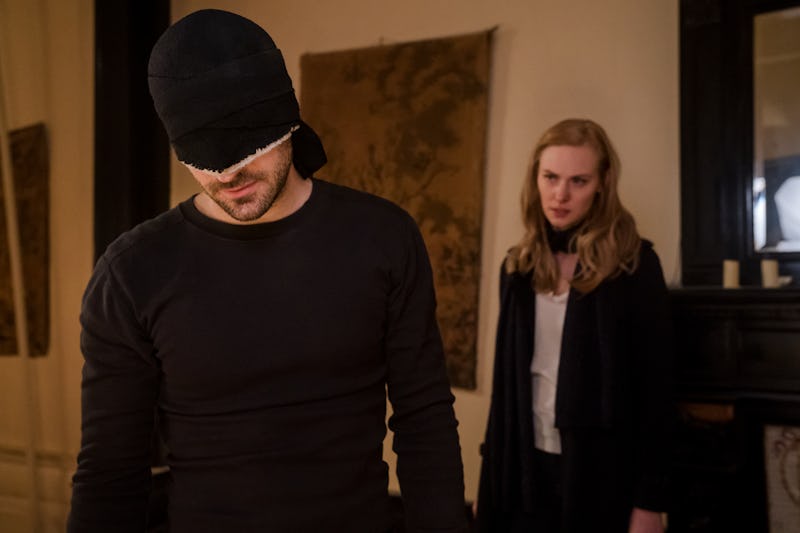 Netflix
Daredevil is back for another season and so is Wilson Fisk. After spending a few years in prison following his arrest in the first season, the trailer for Daredevil Season 3 allows Wilson Fisk (Vincent D'Onofrio) to reintroduce himself. Now he's looking a lot more like his even more evil alter-ego Kingpin. (Seriously, check out that fancy white suit of his!) Fisk's return has certainly made things harder for Matt Murdock (Charlie Cox), who is having his own crisis of faith when it comes to his vigilante hero status. Can he really be the kind of hero his city needs right now or is it Fisk who runs this town?
In its new season, which returns on October 19, Daredevil is pitted against Kingpin in a possible fight to the death, but most certainly a fight that will test Matt Murdock's honor. Missing for months after his fall in The Defenders, Matt is back but he's different than he was before. "I used to listen to people asking for help," Matt says in the opening seconds of the trailer. "That's what I was trying to do, help people. But I was fooling myself."
It's clear he feels as if he's failed, but Fisk's return could be Daredevil's redemption. That, or his downfall since to be the hero Hell's Kitchen needs he may have to stop hiding and finally embrace his destiny. "Darkness only responds to darkness," Matt says, teasing that to be a hero you have to do bad things. Later he says, "Sometimes you have to hurt one person for the greater good," making good on an earlier teaser trailer for Daredevil Season 3 that hinted he'd be back with a vengeance.
But Fisk is also looking for a kind of redemption that would include taking down Daredevil. Fisk admits that mistakes, well, he's made a few. "I'm paying because of them," he says in the trailer. But it's obvious that Fisk wants to make sure Murdoch pays, too, for putting him in jail all those years ago. To do that, Fisk is looking to gain the public's trust.
See, he's not trying to be better, he's trying to make Daredevil look worse. "Daredevil is our true public enemy," Fisk tells a crowd before it's revealed that there's another Daredevil in town. This one, which wears the same suit and knows all his moves, is committing crimes and there's nothing the real Daredevil can do about it. It's a hell of a twist of an ending for a trailer that teases a season in which will have to wait and see which Daredevil will win out in the end.
It'll likely be a bitter fight since in an Iron Fist Season 2 post-credits scene teasing the upcoming season of Daredevil, Matt is seen in a confession booth explaining, "I once believed that justice could be found in a court of law and in the light of day. But I was fooling myself. Darkness only responds to darkness. And the truth is, I'd rather die as the Devil than live as Matt Murdock." While fans should be concerned about Wilson Fisk's return, it's possible that who they should really fear is this new Matt Murdock.