This Is What Rhaegar Targaryen Looks Like IRL When He's Not On 'Game Of Thrones'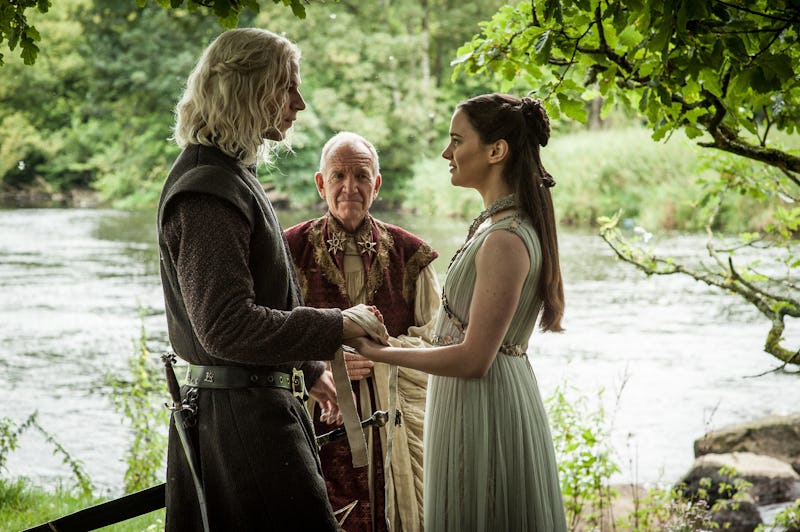 Helen Sloan/HBO
Fans have heard about him for seven years, but never seen his face. The terrible Targaryen who kidnapped Lyanna and locked her away in a tower; or else the handsome prince who fell in love and eloped with his darling lady. Will Rhaegar be in the Game Of Thrones Season 7 finale? If certain rumors can be believed, Daenerys' older brother — and Jon Snow's father — may be finally be making his long-awaited debut appearance on the show in the July 27 episode, "The Dragon And The Wolf." But, who will play Rhaegar Targaryen on Game of Thrones if he is to appear?
UPDATE: Rhaegar did indeed appear in a flashback sequence in the Season 7 finale, as Bran witnessed the marriage ceremony between the Targaryen prince and Lyanna Stark, thus confirming that Jon Snow (real name: Aegon Targaryen) is the trueborn heir to the Iron Throne. As Reddit sleuths theorized, Rhaegar was played by Welsh actor Wilf Scolding. According to his resumé, Scolding has appeared mostly on stage and in guest roles on UK television shows — although his credits do contain one interesting Game Of Thrones connection. His very first onscreen appearance was in an episode of the original British version of Skins, which is also where young Thrones actors Joe Dempsie (Gendry) and Hannah Murray (Gilly) got their start.
In response to his debut appearance on Thrones, Scolding tweeted the following:
EARLIER: Ever since Bran started journeying through the Greatest Hits of Westerosi History last season, viewers have wondered how long it would be until the Targaryen prince was introduced. Season 6 brought fans glimpses of young Ned, Lyanna, and Howland Reed, among others — but no Rhaegar… until now. There are a few theories about who the "dragon" and the "wolf" of the finale's title could refer to: Dany and Jon are the obvious choices; it could just be Jon by himself; or Drogon and Ghost. But some fans predict that the title is referring to none other than Rhaegar Targaryen and Lyanna Stark, and that the secret marriage ceremony that Gilly mentioned a few episodes back will feature in a key flashback sequence.
That jives with what Reddit user Twerk4Christ (great name) theorized a couple of months ago. This user noticed that, in late September of last year — about a month after production on Thrones Season 7 got underway — the actress who plays Lyanna Stark, Aisling Franciosi, was followed on Twitter by a Welsh actor named Wilf Scolding… and she followed him back.
Scolding also followed Thrones actor Liam Cunningham (who plays Davos), he's been posting an awful lot of Thrones-related memes lately, he appears to be the right age to play Franciosi's husband, and, most importantly, he bears a striking resemblance to Harry Lloyd, who played Rhaegar's younger brother Viserys back in Season 1:
Could this be Jon's dad? It seems very well within the realm of possibility, to say the least. Oh, and if you don't want to wait until the finale airs to see Scolding in action, he was kind enough to upload an acting reel to Vimeo for your viewing pleasure:
It's easy to imagine young Lyanna falling for that handsome face and smooth voice. Wouldn't you? Just plop a long blonde wig on top of his head, and you've got the spitting image of the music-loving, violence-abhorring, sensitive and misunderstood prince fans have been jonesing to meet for years.
With all fans have to look forward to in the supersized finale — the first face-to-face between Jon, Dany, and Cersei; the climax of Arya and Sansa's rivalry; whatever the Night King's going to get up to with that zombie-dragon — viewers can now add getting to meet Jon's dad to the list.