'American Gods' Star Ricky Whittle Is About To Hit The Spotlight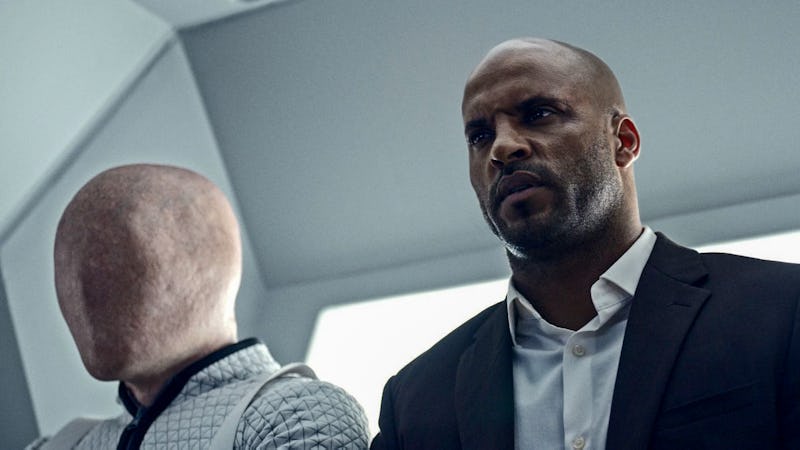 Starz
On April 30, American Gods will introduce you to an unfamiliar world of supernatural deities, via the familiar turf of a cross-country road trip. Based on the bestselling novel by Neil Gaiman, the Starz series will follow ex-convict Shadow Moon as he becomes entangled in a battle between the Old Gods, who were brought here by the beliefs of immigrants, and new ones created by our obsession with technology, celebrity, and fire power. Shadow himself might be an everyman, but the actor playing him is anything but ordinary. Ricky Whittle plays Shadow in American Gods, and this character has the makings of a breakthrough role.
It probably won't surprise you to learn that Whittle started his career as a model for Reebok in 2000, and still makes a pretty wonderful habit of doing photoshoots, occasionally in minimal clothing. Throughout the early aughts the British actor was a series regular on Dream Team, a show about a fictional football club, and Hollyoaks, a long-running soap opera that's still on the air today. He also placed second during a 2009 season of Strictly Come Dancing, which is the UK version of Dancing With the Stars. Anybody else hoping these tango skills make it onto American Gods somehow?
Whittle finally made the jump across the pond with the VH1 comedy Single Ladies, but in the US, he's best known for playing Lincoln in the dystopian CW series The 100. (Spoilers for Season 2 and 3 ahead!) Although Lincoln was promoted to regular status in Season 2, the character didn't have much screentime before he was was killed off unexpectedly during the Season 3 finale.
While fans of The 100 were disappointed to see Whittle leave, those with any knowledge of the book had to be excited to see a person of color cast as Shadow, whose race is not specified in the book. It certainly helped, of course, that author Neil Gaiman gave Whittle his blessing. "His auditions were remarkable," he said in a press statement. "I'm delighted Ricky will get to embody Shadow. Now the fun starts."
Speaking of un: if his co-stars' social media accounts are any indication, Ricky Whittle also happens to be a totally charming dork of a human being. Just look at him goofin' it up on the American Gods junket tour with showrunner Bryan Fuller:
Or with Pablo Schrieber, who plays the leprechaun Mad Sweeney. Ricky's even got the perfect 'ship name for their two characters already.
Of course, Shadow won't be quite the jokester Whittle is when American Gods finally premieres on Saturday April 30, but this role might propel him to super-stardom.