Sofia Boutella Is More Than The New 'Mummy'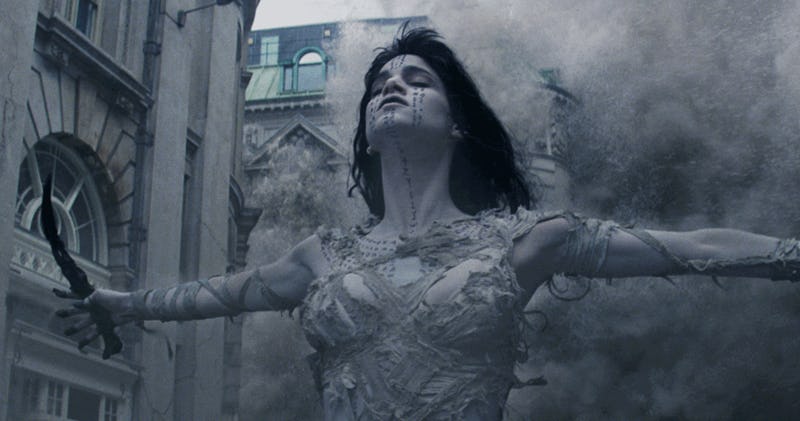 Universal Pictures
Just like the vengeful mummy is resurrected in The Mummy, the new film is hoping to resurrect an old franchise and kickstart a new one. And, while the movie is being headlined by box-office star Tom Cruise, it's the actual mummy that has people talking. Cruise might be a big star, but he's not the title character, that honor goes to a breakout newbie. Sofia Boutella is the actor who plays the Mummy in The Mummy, and she's making history as the first female mummy in the span of the series.
In The Mummy, Boutella plays Princess Ahmanet, an Egyptian princess who was promised control of her country, only to be betrayed by her father. Hurt and hungry for power, she summoned a dark god and was consumed by darkness, causing her people to burry her alive to keep her from harming them. (Technically, she wasn't exactly mummified, but you get the idea.) She remained in her tomb for centuries, until adventurer Nick Morton (Cruise) woke her up. For Boutella, it was important that the character have a solid past and motivation. "She can't be just a monster walking around scaring people," she said in an interview with Entertainment Weekly. Granted, that doesn't mean she isn't frightening AF. So, before audiences head to the theaters to watch her terrorize Cruise, here are a few stories about Boutella that will let fans get to know a lighter side of the actress.
She's No Stranger To Blockbusters
Boutella earned her big breakout in Kingsman: The Secret Service playing Gazelle, the fierce female spy with prosthetic "blade" legs. And last summer, she stole the show as Jaylah in Star Trek Beyond. Both roles, like the Mummy, were heavy on the action, which is good for Boutella, who competed on the French rhythmic gymnastics team after moving to France from Algeria when she was 10 years old.
She's A Dancer
Fans who only know Boutella as a rising star in Hollywood might be surprised to find out that she wasn't always thinking about being on the big screen. The actress actually started her career in show business as a professional dancer. She worked as a background dancer and even appeared in a few Nike commercials. "With dancing specifically, you have access to body language and body movement. That is a massive part [of] acting," Boutella told The Hollywood Reporter. "I will use my background as a dancer forever."
She Worked With Madonna
Boutella also worked as a backup dancer for Madonna for six years, performing with the pop star around the world as well as at the 2012 Super Bowl halftime. In fact, she went to Madonna to seek advice when she considered making a career change. "She'd always been supportive," Boutella said in an interview with Time Out Melbourne.
She Starred In A Michael Jackson Music Video
Boutella starred in the Michael Jackson music video for "Hollywood Tonight." Before Jackson's death, she had auditioned to dance for his "This Is It" tour, but was forced to reject the gig when Madonna's tour extended.
By the end of this summer, Boutella is sure to be a household name. She's following up The Mummy with a supporting role in the action film Atomic Blonde hitting theaters this July, and that's only the beginning. If her career keeps going the way it's going, fans can expect to see quite a bit of Boutella in the future.