Kylie Got 443 Flowers After Having Her Baby & The Reason Why Is Actually Very Sweet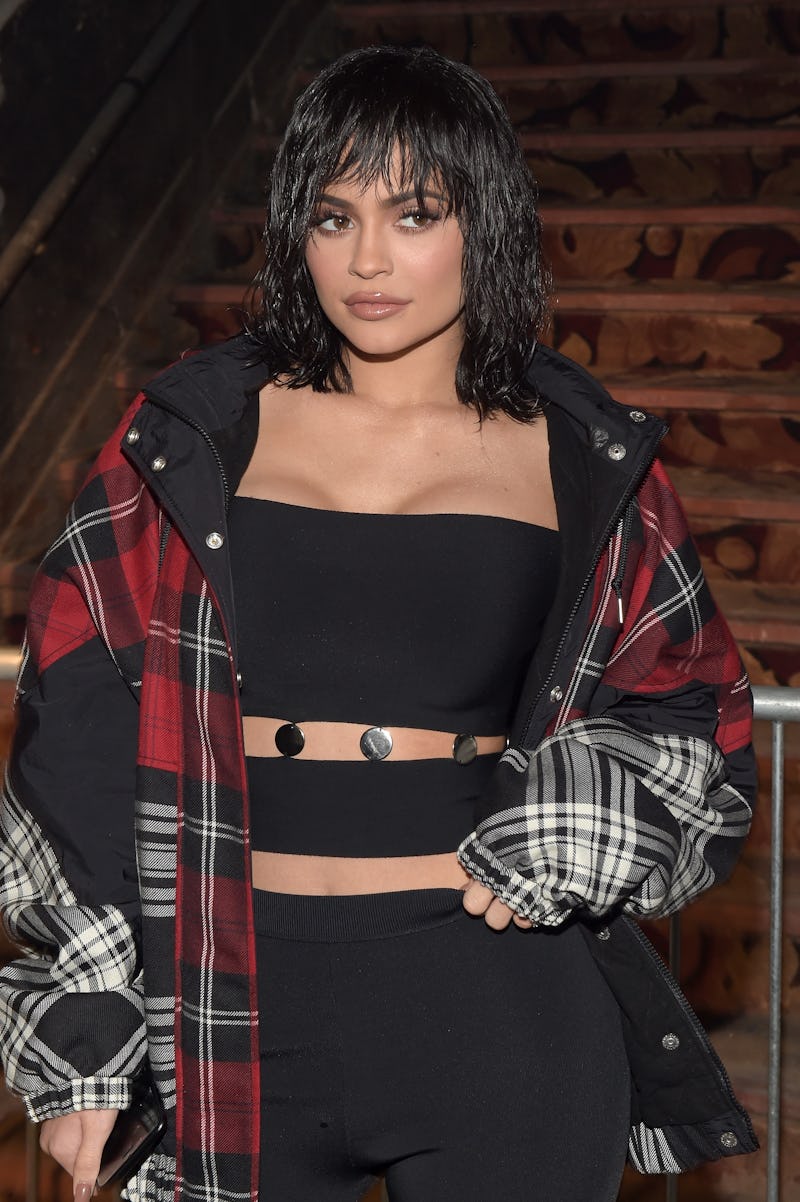 Jason Kempin/Getty Images Entertainment/Getty Images
If the Kardashian-Jenners ever decide to stop gifting each other insanely extravagant floral arrangements, the U.S. flower industry could collapse entirely. Just kidding (for now). However, in true Kardashian-Jenner fashion, Kylie Jenner received 443 flowers from someone — and the reason behind that number is actually really sweet. Ludicrous, but really sweet.
On Feb. 5, Jenner posted a pic of the flowers on Snapchat — and while its being reported that they were sent by Scott, her caption on the photo doesn't quite make that clear. According to what Jenner wrote, the massive arrangement was "from my <3." The heart emoji could apply to Scott, but based on the two pictures that follow — the first gives fans a glimpse of all the flowers from another angle, and the second shows a card from Jenner's BFF, Jordyn "Wifey" Woods — it seems like they may have actually been sent by Woods.
What her Snapchat caption does make clear, however, is the significance of 443. That number probably looks familiar, however, for anyone who watched Jenner's touching video tribute to her daughter all the way through to the end. 443 is for 4:43 p.m., the time Scott and Jenner's daughter was born on Feb. 1. Really sweet, right?
The tiny fraction of flowers fans got to see were displayed in vases of various sizes. There were big bouquets of cream-colored roses standing up in tall vases, pale pink and white roses scattered in small bunches with the occasional carnation — Jenner clearly couldn't get all 443 flowers to fit in the frame, but the rest of them were likely just as lovely.
In addition to the 443 flowers Jenner received — because that is obviously nowhere near enough — Jenner also got extravagant floral arrangements from a few other members of her family. Kourtney Kardashian went back to basics ("basics"), sending a simple, single-colored blush bouquet with a sweet, hand-written note. Kim Kardashian and Kanye West sent Jenner a multi-tiered floral bouquet, which was stacked with roses in cascading shades of pink and red, and situated in a stark-white planter — the size of which an average adult could likely curl their entire body up into.
But out of all the bouquets Jenner shared on Snapchat, it appears as if Khloé Kardashian for sure did the most — well, aside from whoever sent the 443 flowers, of course. (Sorry, Kim and Kanye — but Khloé out-flowered you this time around. You and your adult-sized planter.)
The arrangement Khloé sent included an assortment of cream, blush, and lavender-tinted roses, all of them together taking the shape of a "C" — a "C" that appears to be at least 6 feet tall. Assuming that Jenner's daughter's name starts with a "C," it looks like giant flower names are kind of becoming Khloé's thing. After the birth of their daughter, Chicago, Khloé sent Kim Kardashian and Kanye West an arrangement that spelled out "Chi."
Now that all of Jenner's extravagant arrangements have been addressed, I have questions. Like, where do they order these arrangements from, and are the Kardashian-Jenners the only reason this place is in business? If this florist does have other customers, though, is it safe to assume that the Kardashian-Jenners have spent enough money to afford this florist a mid-sized luxury yacht (at the very least)?
Also, do these flowers have some sort of above-average longevity? With the amount of money this family has seemingly spent on extravagant arrangements in recent weeks, I'd expect those flowers to stay pretty for a minimum of a month — that, or I'd expect them to also come with a genie that grants me three wishes, or something.
And where is Jenner even keeping all these flowers? I mean, I get that there are probably a few rooms in her house that she'll never know exists — but is there, like, one designated flower room? (Actually, that would be kind of cool.) No matter the answer to this question — or any one of my many others — Jenner sure is lucky to get so much love, from so many people, in such an insanely wide array of absurdly extravagant flower arrangements.