The 'Geostorm' Trailer Song Is An Eerie Cover Of A Old Fave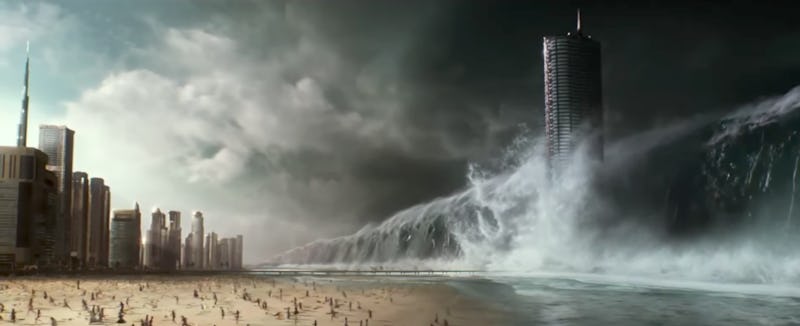 Warner Bros. Pictures
Are you ready to get chills from your scalp to your toes? Then hit play on the Geostorm trailer. If you've been wondering what the Geostorm trailer song is, then I'm right there with you. recognized the tune and lyrics as the jaunty Louis Armstrong classic "What A Wonderful World." But while the original rendition is the audio equivalent of warming your feet in front of a crackling fire after coming in from a snow day, this song gives me horror film vibes. Which makes sense, since it's a revamped minor key version from Sharon Van Etten & Juggernaut Kid. This is pretty cool, since you might already know the first name listed in that duo without knowing you know it.
According to Vulture, Van Etten plays Rachel on Netflix's The OA (in which she also gets to sing). According to Pitchfork's review of her 2009 album Because I Was In Love, the singer's work "retains some echoes of folk tradition but generally operates in a more personal, introspective space." And that's definitely the case for this eerie ballad in which every last joyful association you have with this song is erased by the 36-year-old musician's haunted rendition.
Meanwhile, if you're wondering who Juggernaut Kid is, their Soundcloud account lists a personal website for Nigel Butler, who self-describes as a "Producer/Songwriter/Musician/Mixer," and is presumably the person responsible for mixing the song and giving it its darkly compelling character. And if you're a film honcho looking for someone to help craft a track into something worthy of your soundtrack, Butler's clearly the man for the job.
In his bio, it explains that, in the '80s, he had a whole different line of work as "a scenic artist working for film directors such as Stanley Kubrick and Stephen Spielberg," and he claims to have "painted the backdrops for Full Metal Jacket, Indiana Jones & The Last Crusade and Baron Munchausen" before a broken arm led him to pursue music instead. So film scenery's loss is soundtracks' gain.
It's hard to think of a more perfect song to unsettle viewers who are new to Geostorm, which boasts as terrifying a premise as its backing track: a dystopian future which, according to Variety, "centers on a satellite designer who tries to prevent disaster when the world's climate-control satellites fail to function." So, if you can't wait until October 20 for this thing to drop, just hit play on that video again and soak up all the unease of that song, one more time with feeling.