These Are The Shocking Ways Roy Moore's Republican Buddies Are Defending Him Back Home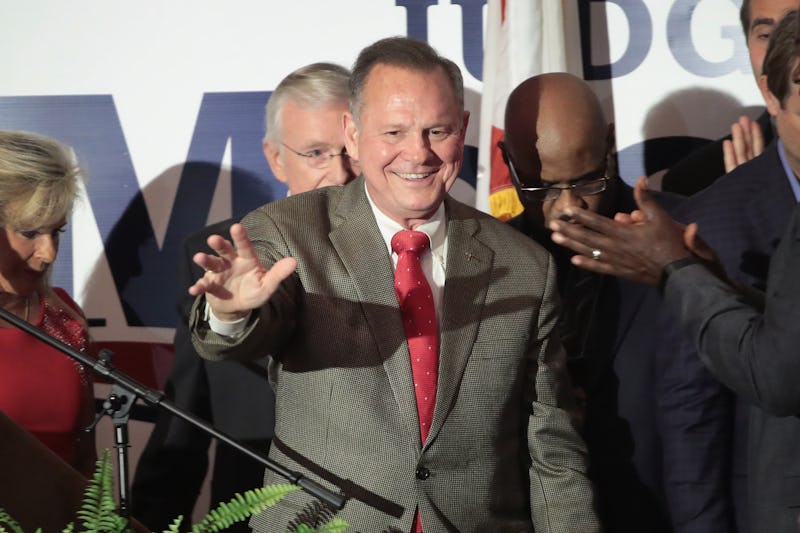 Scott Olson/Getty Images News/Getty Images
The standard line from Senate Republicans in Washington, D.C., has been that Alabama candidate for senator Roy Moore must step down if the allegations of child molestation against him are proven to be true. (Moore has repeatedly denied allegations of sexual misconduct, calling them "absolutely false.") Some say that he should step aside now, and others have floated the idea of expelling him from the Senate if he's ultimately elected. But that's not what you'll be hearing from many of his Republican colleagues in the state of Alabama. Elected Republicans who are publicly defending Moore despite the allegations are almost all state- or county-level officials.
The most searing condemnations from Alabama politicians still include the "if true" caveat. Alabama's other senator, Sen. Richard Shelby, initially said in a statement, "If that's true, I don't believe there'd be any place for him in the United States Senate." If true. Since then he has told reporters Moore should quit the race.
But Republican Gov. Kay Ivey even said she would vote for him now. "The election will be on December the 12th, and I will hold judgment until we get more of the facts," Ivey said. "People of Alabama need to know the facts. ... Based on what I know now, yes I will vote for him. But we don't have the facts. There may be some more facts to come out. But he is the party's nominee."
So when you have the highest elected Republican in the state, a woman, willing to vote for him, it's no surprise that there are others who have defended him even more forcefully.