This Cheerful 'Disenchantment' Sidekick Is Voiced By An Oscar Winner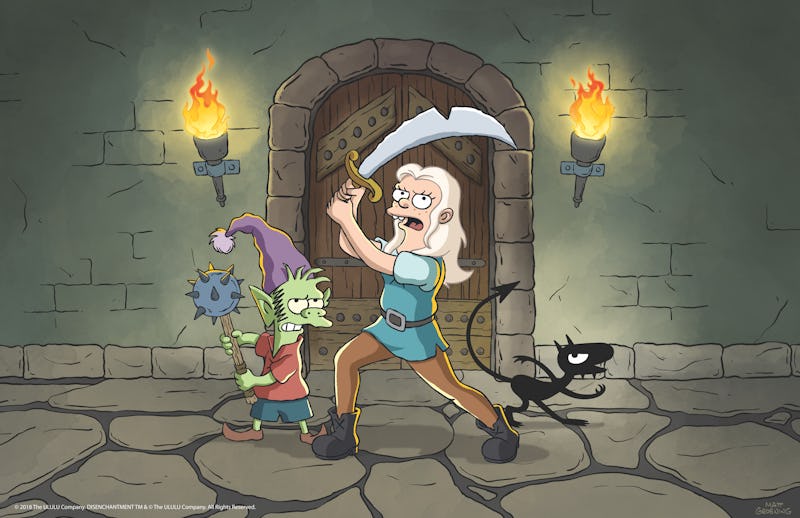 Netflix
Matt Groening, the mastermind behind beloved properties like Futurama and The Simpsons, comes to Netflix with his newest animated series. Disenchantment premieres Friday, Aug. 17 on the streaming platform and boasts a comedic cast, including Broad City's Abbi Jacobson as Princess Bean and Eric Andre as her personal demon, Luci. Rounding out the cast, in what promises to be a heartfelt role, is Nat Faxon, who plays Elfo on Disenchantment.
Faxon is perhaps best known for the feel-good, indie movie The Way, Way Back, where he was involved both in front of and behind the camera. Not only did he write the screenplay and direct alongside Jim Rash (the dean from Community), but he also played a character named Roddy onscreen. What's more, he, Rash, and Alexander Payne wrote the screenplay for The Descendants, for which they won the Oscar for Best Adapted Screenplay in 2012. However, Faxon's also done a fair amount of voice acting, with roles in American Dad! and The Cleveland Show.
As for his latest role, the Disenchantment trailer opens with a royal wedding that looks straight out of a Disney film instead of something from The Simpsons creator. That is, until Princess Bean slaps the wedding ring out of her groom's hand and screams, "No!" When Prince Guysbert of Bentwood bends down to retrieve the wedding band, he accidentally stabs himself on a throne made of swords. Ah, yes. This is the man who created Bender — the prickly, alcoholic robot — after all. But this time around, the protagonist isn't a generic, underachiever named Fry or a bland everyman named Homer, but instead a fiery princess who drinks too much. Bean eventually escapes with Elfo and Luci to find out who she really is.
So who's Elfo, Bean's green, grinning sidekick? Per a press release from Netflix, Faxon's character is "an 18-year-old elf from the sheltered, hidden world of Elfwood. Even though he's upbeat, optimistic, and extremely knowledgeable of candy, he's always felt a little different from the other elves, and he leaves Elfwood in search of the big life he's been missing."
Indeed, Elfo's adventurous spirit definitely comes through in the below teaser, where audiences discover that he's a candy-maker. And while that sounds like a delicious job, he clearly wants more from life. Luckily, destiny comes knocking on the little elf's door when an eagle carries him off into the great beyond, where he learns how scary the world can be. "I like war," he says, pensively in one scene, "but I wouldn't say I love it." Not only is Elfo kidnapped by what appear to be an evil Hansel and Gretel, but he also becomes imprisoned in the very castle where Princess Bean is.
However, even though the elf is learning important life lessons, he's still upbeat. "You can do anything if you believe in yourself," he says in the trailer, right before getting swept over a waterfall. Groening would likely cringe at the comparison, but one can't help but associate Elfo with Frozen's Olaf — another blindly optimistic sidekick. Case in point, this exchange from the show's trailer: "I'm drowning!" a woman says as her carriage sinks into the river. "I'm Elfo!" he answers with a friendly wave.
As one of Princess Bean's sidekicks, Elfo's primary role seems to be an optimistic sounding board, helping her work through an identity crisis. "What's this feeling I don't want to drink away?" Bean asks in the trailer. "That's hope," Elfo answers, sagely. Hmm, perhaps he's not so oblivious, after all. Thanks to Faxon's voice work, Elfo looks to be a sweet, grounded character with a heart of gold — or maybe it's actually candy.