An Immigrant Who Lived In Texas Because Of DACA Died Saving Hurricane Harvey Victims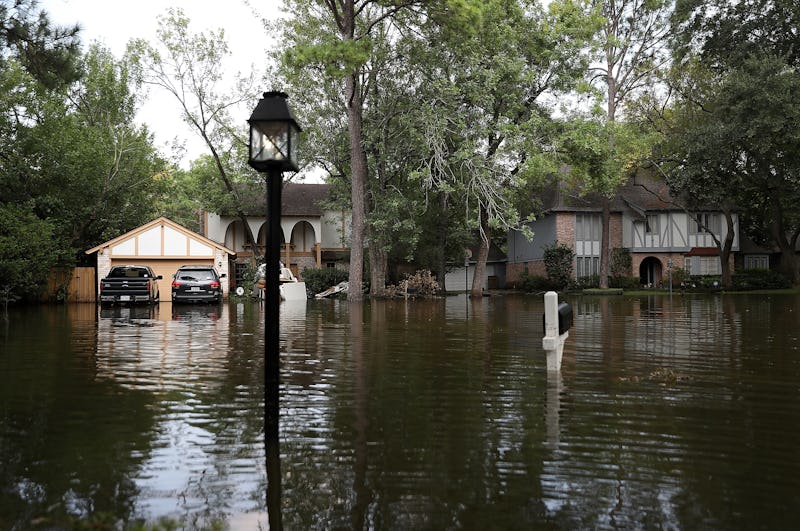 Justin Sullivan/Getty Images News/Getty Images
A missing volunteer from Hurricane Harvey was found dead on Sunday by his family in Cypress Creek in Spring, Texas. The 31-year-old disappeared last Wednesday, according to The Houston Chronicle, with two other volunteers when the rescue boat they were in struck a bridge near Interstate 45. But the story is even more tragic, because Alonso Guillen, who died in Harvey, was a DACA recipient — and his mother will not be allowed to attend his burial because she lives in Mexico.
Guillen, who went by "Ocho," was a disc jockey for a local radio station in Lufkin, Texas. He lived there since moving from Piedras Negras, Mexico, as a teenager. His father, Jesus Guillen, a permanent resident, told The Chronicle that he had tried to talk his son out of going to help but was unable to convince him otherwise.
After his boat hit the bridge, search parties have been looking for the three volunteers. One was found clinging to a tree, another, Tomas Carreon Jr., was found dead on Friday. But it was Guillen's family who saw his body floating by on Sunday. His father was interviewed by Univision just days ago, and he was holding out hope that they would still find his son. That was not what happened.
After keeping watch for days near where he disappeared, a relative jumped into the stream to pull his body to the bank Sunday. They then used a boat to remove him from the water. His father, reportedly in tears at finding his dead son, gave thanks "for the time I had with him," The Chronicle reported.
But for his mother, Rita Ruiz de Guillen, it was possibly even worse, hearing the news from Piedras Negras and unable to come to Texas to bury her child. Reportedly still waiting for her application for legal status to be approved, she told The Chronicle that she was hoping the American border authorities would sympathize with the tragedy of the situation and grant her a humanitarian visa. But she was turned back at the border.
"I've lost a great son, you have no idea," the grieving mother told the newspaper. "I'm asking God to give me strength." As for the border keeping her from his burial, she commented, "When we are with God, there are no borders. Man made borders on this earth." A GoFundMe campaign has been started to help the family.
DACA, the program that gave Guillen legal status, allowing him to work as a radio DJ, has been in the news this past weekend also, as President Trump has reportedly decided to end the program in six months' time. That would mean 800,000 young people — one of whom just died trying to save others in Texas — would no longer have legal status to work, study, and live in the United States.
There's a chance that Congress could pass a law to take its place. To see the kind of people this would affect, they will be reminded of Guillen and his ultimate sacrifice.