Andrew Cunanan's Mother Still Supported Him After Versace's Murder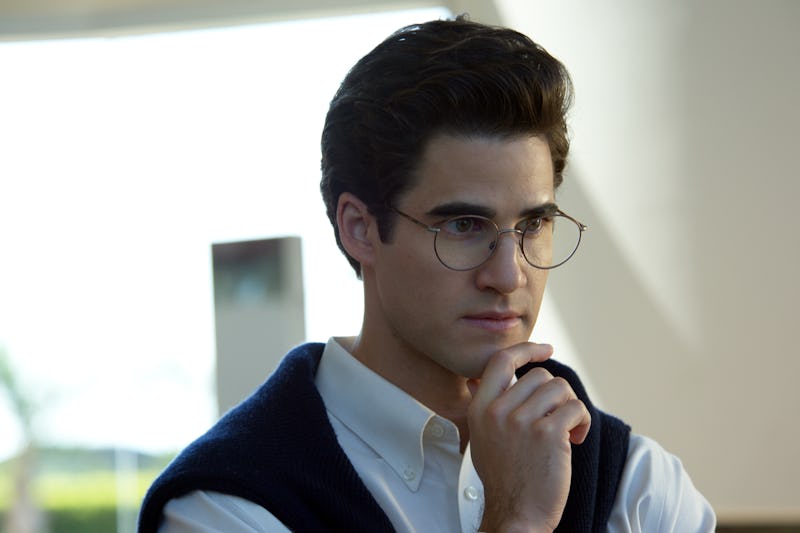 Suzanne Tenner/FX
There's a fine line between understanding and forgiveness; and while the plot of American Crime Story isn't claiming that Andrew Cunanan should be forgiven for his heinous crimes, it is seeking to provide an understanding of what drove him to allegedly take lives in the first place. Andrew Cunanan's mother plays a role as The Assassination Of Gianni Versace delves deeper into the killer's past. The series is still moving backwards through time, and by exploring Cunanan's family, it is attempting the tricky task of inspiring empathy for the man himself. Spoilers for the Mar. 7 episode.
Almost anyone who is gay will be able to relate to Andrew's struggles to come out to his family. By accounts, Cunanan was a precocious child. "When he was about 10 years old, he had read the whole set of encyclopedias… and memorized it," his older brother Christopher told ABC's Diane Sawyer in a 1997 interview. "You could ask him any question. Pick up any edition and ask him any question, and he would tell you." He was voted "Most Likely To Be Remembered" by his classmates in high school, where he was enrolled in a program for gifted students. According to Maureen Orth's 1999 non-fiction book Vulgar Favors (on which Versace is based), Cunanan had an IQ of 147.
But no amount of intelligence or charm changed the truth of Cunanan's fractured home life. Christopher reminisced to ABC that his younger brother was their "father's pride and joy" — but that didn't stop the Navy veteran and stockbroker from abandoning his family when Andrew was 19, returning to the Philippines and leaving his wife and children destitute. Modesto "Pete" Cunanan and Mary Anne Schillaci reportedly had a troubled marriage; Orth wrote in her book, "Pete Cunanan denies that he was ever physically abusive, but MaryAnn insists that he struck her and pulled her hair. Pete's strong belief in her infidelity fueled an anger that convinced him he had license to behave as he wished. MaryAnn, never very stable, eventually became fragile and dependent, yet at the same time passive-aggressive and manipulative."
Schillaci reportedly grew increasingly close to her youngest child, Andrew. "You'd need a crowbar to pry her away from her son," the Cunanans' neighbor Hal Melowitz (also a psychiatric social worker) told Orth. Eventually, as Andrew continued to hide the truth of his sexuality from his mother, a devout Catholic, and became addicted to drugs, their relationship is said to have begun to echo her abusive marriage to Pete. "He would fly into rages," Melowitz claimed, recalling an incident in 1993 when Andrew got so angry he slammed his mother against a wall so forcefully that her shoulder was fractured and she had to go to the emergency room. And yet, her co-dependent relationship with him continued until he left home to move to San Francisco, able to indulge in the lifestyle of expensive nightclubs and wealthy older boyfriends without worrying about his religious mother, as recounted by Orth.
Schillaci did not believe that her beloved son murdered Gianni Versace — or anyone else, for that matter. According to Orth, Cunanan's mother insists that his entire murder spree "was all a Mafia setup." Appearing on Larry King Live after his death, she said, "I just want to remember the good things." Schillaci soon backed away from the spotlight, and very little information about her can be found online.
It's often said that violence begets violence, and it seems as though Cunanan grew up in a violent home. "Am I talking too much?" Schillaci asked Orth at one point during an interview. "Should I take a pill? My husband used to hit me to get me to stop. He said he couldn't think."
If you or someone you know is experiencing domestic abuse, call 911 or the National Domestic Violence Hotline at 1(800) 799-SAFE (7233) or visit thehotline.org.