Why 'ACS: Versace' Is Such A Controversial Take On A True Crime Tale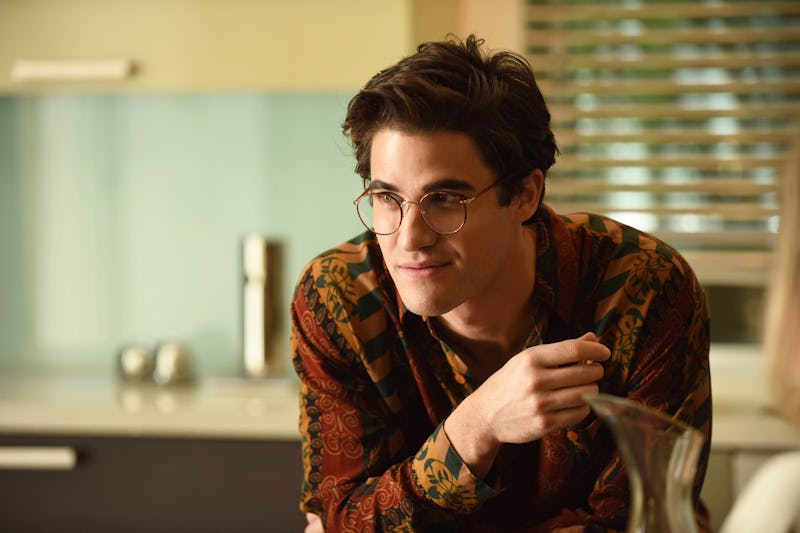 Ray Mickshaw/FX
In the weeks leading up to its premiere, the accuracy of The Assassination of Gianni Versace: American Crime Story (writer: Maureen Orth) has become a hot point of contention. Somewhere, amid the whirl of headlines, is the truth, but all that back-and-forth can be difficult to parse, so here's what you need to know. (Bustle reached out to FX for additional comment, but has not yet received a response; the Versace family said in their second statement that they would not be issuing further comment.)
First and foremost, Versace (executive producer: Alexis Martin Woodall) is, at least broadly, inspired by actual events. On July 15, 1997, renowned fashion designer Gianni Versace was fatally shot in front of his Miami Beach estate. The killer was later identified as Andrew Cunanan, a 27-year-old college dropout. He was highly intelligent, spoke two languages, and had coveted the rich and famous since his teen years. He made money doing the occasional odd job, but supplemented his earnings by working as a prostitute — often for older gay men — and, three months prior to Versace's death, began a murder spree for reasons still unknown. He killed five men before taking his own life on July 23, 1997; Versace was his final victim. All of those details have been investigated and confirmed by the FBI.
The Versace family has publicly denounced ACS: Versace, while showrunner Ryan Murphy and the series' network, FX, have both stood by its authenticity. Even Maureen Orth, the author whose book serves as the basis of Versace's story, and her publisher, Random House, have issued comments on the veracity of the show.
The events surrounding Versace's death (and life, for that matter) is where things begin to get muddled. In their initial statement, the Versace family said that they had no involvement with the series, and it should therefore be considered a "work of fiction." According to Deadline, it reads, in full:
"The Versace family has neither authorized nor had any involvement whatsoever in the forthcoming TV series about the death of Mr. Gianni Versace. Since Versace did not authorize the book on which it is partly based nor has it taken part in the writing of the screenplay, this TV series should only be considered as a work of fiction."
American Crime Story highlights several of the more contentious claims made in Orth's book, Vulgar Favors: Andrew Cunanan, Gianni Versace, and the Largest Failed Manhunt in U. S. History, including that Cunanan and Versace may have known each other, and that Versace was rumored to be HIV-positive, both theories that have been circulated for decades but never proven. It's this second point that the Versace family took most issue with.
Orth claimed in Vulgar Favors that she was told on record by a Miami Beach detective that blood tests done after Versace's death allegedly confirmed he had HIV — something she maintained during a recent interview with The Hollywood Reporter. The Versace family, however, have repeatedly denied that Versace had the virus. In their second statement regarding American Crime Story, they asserted Orth's book was "full of gossip and speculation," claiming she both admitted it would have been illegal for the detective to review such a document "if it existed," and that she allegedly "ignor[ed] contrary information provided by members of Mr. Versace's family, who lived and worked closely with him and were in the best position to know the facts of his life."
Per Entertainment Weekly, the family's second statement reads:
"As we have said, the Versace family has neither authorized nor had any involvement whatsoever in the forthcoming TV series about the death of Mr. Gianni Versace, which should only be considered as a work of fiction. The company producing the series claims it is relying on a book by Maureen Orth, but the Orth book itself is full of gossip and speculation. Orth never received any information from the Versace family and she has no basis to make claims about the intimate personal life of Gianni Versace or other family members. Instead, in her effort to create a sensational story, she presents second-hand hearsay that is full of contradictions.
As just one example, Orth makes assertions about Gianni Versace's medical condition based on a person who claims he reviewed a post-mortem test result, but she admits it would have been illegal for the person to have reviewed the report in the first place (if it existed at all). In making her lurid claims, she ignores contrary information provided by members of Mr. Versace's family, who lived and worked closely with him and were in the best position to know the facts of his life.
Gianni Versace was a brave and honest man, who engaged in humanitarian work for the benefit of others. Of all the possible portrayals of his life and legacy, it is sad and reprehensible that the producers have chosen to present the distorted and bogus version created by Maureen Orth.
The Versace family will issue no further comment on the matter."
Random House, the publisher of Vulgar Favors, defended Orth's reporting in a subsequent statement, also via EW. "First published almost 19 years ago, Vulgar Favors is a carefully reported and extensively-sourced work of investigative journalism by an award-winning journalist with impeccable credentials," it reads. "Random House stands by the book and its author, Maureen Orth."
Murphy and FX have not specifically addressed their decision to include Versace's rumored HIV diagnosis in American Crime Story, but previously backed Orth's reporting in statements to EW. FX's reads:
"Like the original American Crime Story series The People vs. OJ Simpson, which was based on Jeffrey Toobin's non-fiction bestseller The Run of His Life, FX's follow-up The Assassination Of Gianni Versace is based on Maureen Orth's heavily researched and authenticated non-fiction best seller Vulgar Favors which examined the true life crime spree of Andrew Cunanan. We stand by the meticulous reporting of Ms. Orth."
Murphy said roughly the same. "Versace is based on a non-fiction book by Maureen Orth that has been discussed and dissected and vetted for close to 20 years," he told the outlet last week. "Maureen Orth is an impeccable reporter and we stand by her reporting." He went on to note that, though based on Orth's book, the Versace team did take some creative liberties. He said:
"Our show is based on her reporting so, in that way, it is not a work of fiction, it's a work of non-fiction obviously with docudrama elements. We're not making a documentary."
Orth also made this distinction during a Vanity Fair podcast discussing ACS. Rachel Seville Tashjian, an editor for Garage magazine, reached out to the publication to inquire if Orth had mentioned the Versace family's accusations, to which a spokesperson for VF said Orth, "declined to comment directly" but reasserted her belief that Cunanan and Versace had previously met, as well as acknowledged that there "are a few places" in the Versace adaptation "where things didn't happen at all."
Certainly, there are aspects of Versace that closely mirror the reporting that's been done about the murder — and, especially, Cunanan, as Bustle has detailed at length. But by Murphy's own admission, the show is not a direct retelling, and instead exists somewhere between fact and fiction.
As there are still many unanswered (and much debated) questions surrounding Versace's death, it would be nearly impossible for a television series to accurately retrace it. American Crime Story's first season was one of the most celebrated of 2016, and expectations remain high for its next outing, but as you watch, just remember to take its story with a grain of salt.
If you or someone you know are experiencing suicidal thoughts, call 911, or call the National Suicide Prevention Hotline at 1-800-273-8255.