This One Tweet About 9/11 Will Break Your Heart All Over Again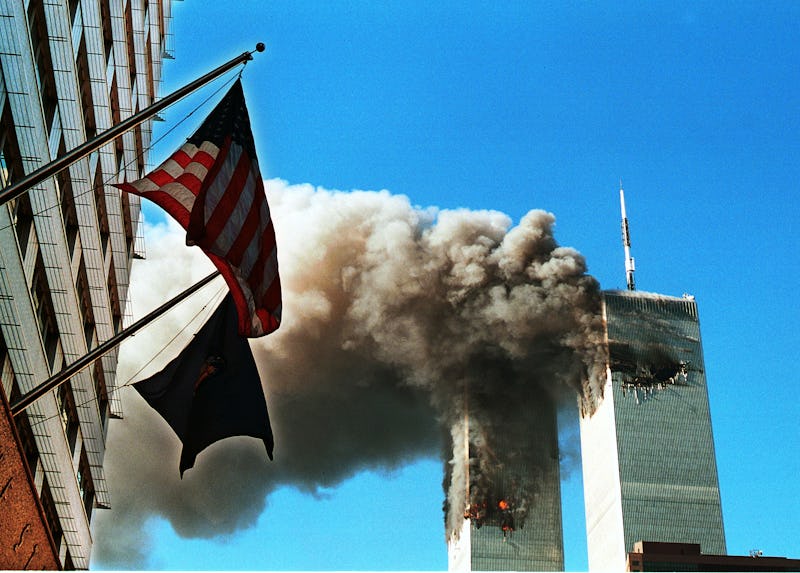 Craig Allen/Getty Images News/Getty Images
One of the many victims of the attacks of September 11th was Brian Sweeney, a passenger on one of the hijacked planes who left a voicemail for his wife before the aircraft went down. On Monday, the 16th anniversary of the attacks, a partial transcript of Sweeney's moving voicemail went viral on Twitter after being posted by British publisher Stig Abell.
"Hey Jules, this is Brian," Sweeney told his wife Julie. "I'm on an airplane that has been hijacked...if things don't go well, and they're not looking good, I want you to know that I absolutely love you. I want you to do good, have good times, same with my parents. I'll see you when you get here. I want you to know that I totally love you. Bye, babe, hope I will call you."
Sweeney, a 38-year-old former U.S. Navy pilot from Massachusetts, was a passenger on United Airlines Flight 175, and he left the message for his wife three and a half minutes before the plane struck the South Tower of the World Trade Center, according to the Sun.
"We assume he was calling from the back of the plane, because he said, 'They might come back here. I might have to go. We are going to try to do something about this,' " Julie told CNN in 2004. "Whether he was doing something or whether [the hijackers] were coming back, I don't know that...It was more speculative than fact as far as why he hung up the phone quickly — whether it's because they were charging the cockpit, or whether they were coming back to where he was and he didn't want to be seen on a phone."
Sweeney was a Navy pilot in the first Gulf War, in which he flew an F-14, and also served as a flight instructor for the Navy in California. He had been working for a Defense Department contractor, Brandes Associates, when the plane he was on crashed, according to CNN.
In addition to phoning his wife, Sweeney also called his mother Louise, who told CNN that the details of the conversation were too personal to discuss with the media. Years after the attack, the independent commission tasked with investigating the attacks determined that Sweeney was one of three people on board the flight who made phone calls before the plane crashed. The commission also found that one of the passengers had predicted that the hijackers intended to fly the plane into a building, although it didn't identify them.
Flight 175 was en route from Boston to Los Angeles with 56 passengers on board when it was commandeered by hijackers. Everyone on board died when the plane crashed into the South Tower.
"Do I believe Brian went down swinging?" Julie told CNN. "Absolutely. Do I believe it was too late? Absolutely. Regardless of 'what if, what if, what if,' it won't change the outcome."
The death toll of September 11th has been steadily rising since 2001. On the day of the attacks, 2,977 people died — in New York City, Washington D.C. and outside of Shanksville, Pennsylvania, where one of the planes crashed in a field after passengers fought back against the hijackers. Since then, at least 1,000 additional people have died from illnesses related to the attack's debris and dust, according to a Guardian report from September 2016. And that number is expected to continue growing.
"Within the next five years, we will be at the point where more people have died from World Trade Center-related illnesses than died from the immediate impact of the attacks," Dr Jim Melius of the New York State Laborers Union told the Guardian in 2001.