Manchester Victim Courtney Boyle Was A "Precious & Joyous Soul"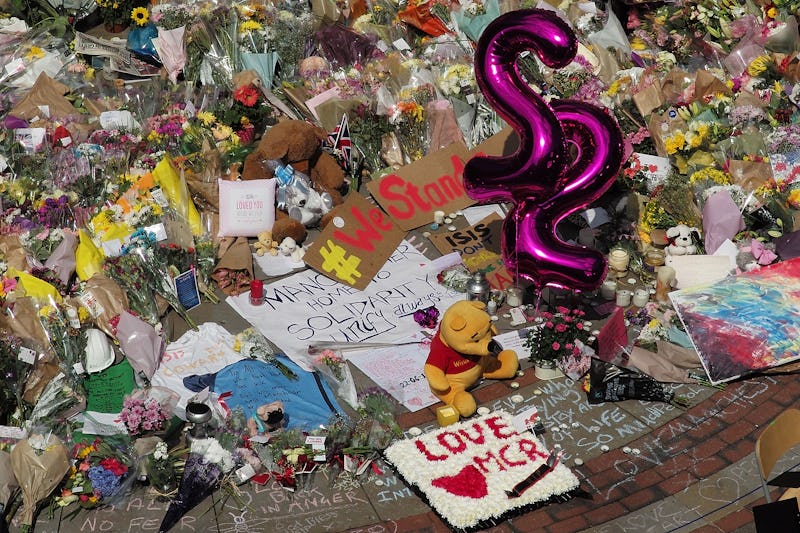 Christopher Furlong/Getty Images News/Getty Images
The death toll has been counted as 22 for the bombing outside of the Ariana Grande concert at Manchester Arena. Among those killed in Manchester, England, was Courtney Boyle, who was just 19 years old. To her mother, Deborah Hutchinson, the loss was compounded as Boyle's stepfather and Hutchinson's partner, Philip Tron, was killed with her.
Boyle went with her stepfather to pick up her younger sister, Nicole, 14, who had attended the concert. Nicole was safe, but her sister and stepfather were confirmed to be among the victims this morning. When they went missing, Hutchinson took to Facebook, asking people to be on the lookout for her daughter and partner. Tron, who was 32 years old, was a plumber and father of one. Boyle was a student at Leeds Beckett University.
Hutchinson later released a statement through the Greater Manchester Police, saying, "My stunning amazing beautiful daughter, you were my rock, you made me so proud with all you had achieved, and my gorgeous crazy Philip, you made my world a happy place, and now you are both my angels flying high in the sky."
Tron's family described him as a "fun loving, energetic soul" who would "light up the darkest room and lift your spirits with his infectious laugh, witty sense of humor and his beautiful smile. Words cannot express the huge void his passing has left in all our lives."
Boyle's sister, Nicole, called Boyle her "wonder of a sister who is now a shining yellow star in the sky," and said her stepfather, Tron, was, "always there no matter what to keep me safe and made me happy." She asked friends on Facebook to remember her sister with yellow hearts and to "spread yellow around."
According to her boyfriend, Callum Maundrill, Boyle was "an adventurer, a precious and joyous soul." He added:
She made people feel loved and feel safe. She was a soulmate, a friend, a daughter and a sister. No one had what that lass had, she was like no other. And she was on the path to fulfillment, and was happy when she passed. Nobody has ever made me as happy as her and I'm the person I am today because of her.
Sadly, according to her Twitter, Boyle and Maundrill had recently booked a trip to go to Amsterdam. She mentioned in an earlier tweet on May 7 that she "adored Callum," whom she'd been dating since 2015, and referred to him as wonderful. She also expressed that she loved the people she'd met in her first year at university, where she was studying criminology and psychology.
"Courtney was a lovely, bright and hardworking student who had achieved excellent marks in her first semester with us," said Professor Peter Slee, the vice chancellor of Leeds Beckett, in an official statement. "She was enjoying University life and had built strong friendships. For all of these reasons, she is a great loss to the University and to her fellow students."
The principal of her former high school, Mark Lovatt, said she was the "epitome of a perfect student" who "grasped life with both hands."
According to her Facebook and Twitter posts, Boyle socialized frequently with friends, was a music fan, blasted through the shows Shameless and 13 Reasons Why, and had recently started working at a bakery. She and her stepfather both will be dearly missed by friends and family alike. The Greater Manchester Police took a moment of silence today to remember the victims of the bombing.