Trump's Late Brother, Fred, Taught Him These Life Lessons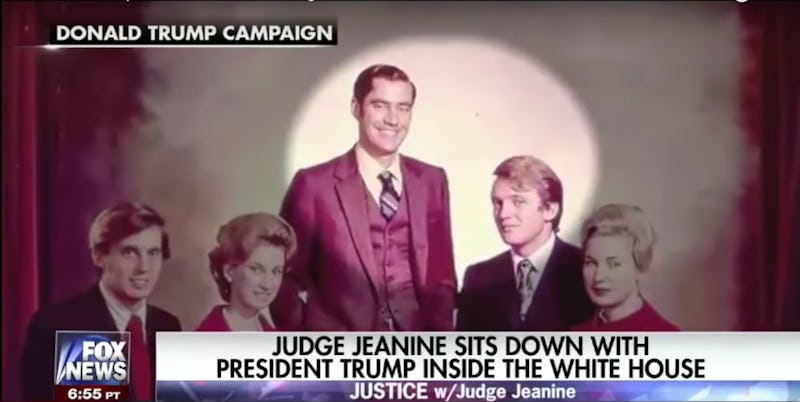 'Justice With Judge Jeanine'/Fox News
Aside from his children, America doesn't often hear President Donald Trump discuss other members of his family. Nevertheless, his late brother Fred Trump, who died at just 42 years old, seems to have impacted the way he decides to live his life. During an interview with Jeanine Pirro that aired on May 13 during Fox News' Justice With Judge Jeanine, Trump opened up about that influence. But that isn't the first time the world's learned of Trump's lesser-known brother.
According to The New York Times, Fred, known as Freddy to his friends and family, tried his hand in the real-estate field when he was quite young. After accepting that it wasn't his cup of tea, he became an airline pilot, worked for Trans World Airlines, and made a life in Queens. Trump told the Times that he used to encourage his older brother to return to the family's real-estate industry — after all, it seemed to have worked for both Trump and his father. But Fred wasn't having any of it. Though Trump claims he didn't understand at the time, this became a huge learning lesson for the now-president.
"I was too young; I didn't realize," Trump told the Times in January 2016. "Now I give speeches on success, and I tell people, 'You've got to love what you're doing.'" Though Fred loved to fly, his drinking supposedly led to his having to give it up for safety reasons.
Ultimately, in 1981, Trump's older brother died of illnesses associated with alcoholism. In fact, Trump has said that he doesn't drink alcohol because of his brother's struggles with it. In a January 2016 interview with Newsweek, Trump said, "He would tell me, 'Don't ever drink. Don't ever drink.'" Trump reportedly took the advice and still heeds it.
Pirro ended her interview with the president on a less political note by asking about his brother. Trump said he thinks Fred would be proud of what he's done about "big problems" such as borders and North Korea, in particular.
Fred would be looking down and he would say keep going. And I would tell you if it were different ... I think he'd be very proud of the things that we've accomplished, having to do with everything from jobs to the military to the borders. You see what's happening on the borders. We're going to have to solve some big problems, like the North Korea problem that we've been talking about. But I think he'd be very proud.
Though Trump the president and Fred's children have gone through incredibly rough patches — even after Fred died — Trump told the Times he's come to love his brother's free spirit, which he acknowledges is the opposite of his own.